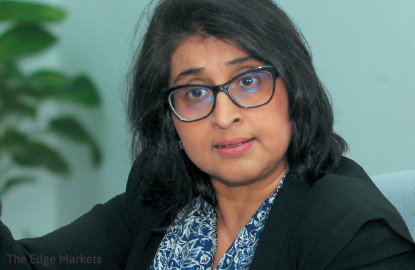 KUALA LUMPUR (Oct 7): Rita Benoy Bushon announced in a statement today she will be retiring as the chief executive officer of Minority Shareholder Watchdog Group (MSWG) as of Jan 1, 2017, after eight years of holding the position.
During her tenure, Benoy Bushon attended over 300 annual general meetings in Malaysia, highlighting important issues of corporate governance to both investors and companies, such as the fairness of corporate proposals and other governance issues, as well as communicating to them via MWSG's various publications, e-newsletters and company engagements.
The success of these efforts was reflected in MSWG's increase on the ASEAN Corporate Governance Scorecard (CG Scorecard) — a scorecard that uses standardised parameters to measure corporate transparency all across the ASEAN region.
MSWG's internalisation was done via the CG Scorecard as well as the MSWG's efforts of networking with international bodies such as the International Corporate Governance Network (ICGN), Organisation for Economic Co-operation and Development (OECD) and the Asian Development Bank (ADB).
Benoy Bushon was also instrumental in the formation of the Council for Institutional Investors, which focuses on stewardship and responsible investing practices, in 2015, following the development of the Malaysia Code for International Investors in 2014.
Besides her various leadership roles, Benoy Bushon also wrote articles and publications during her tenure, the most noteworthy of those being the Malaysia-ASEAN Corporate Governance Report 2015, the Report of AGM Practices by Malaysian Companies and the Investor Stewardship and Key Priorities 2016.
"I wish to thank the Board of MSWG for giving me the opportunity to head MSWG and to the Management for their team effort to pursue the objectives of MSWG," stated Benoy Bushon in an official letter, announcing her retirement.
MSWG was established in 2000 with the aim of protecting the interests of minority shareholders through shareholder activism, and promoting proper governance among public listed companies.