This article first appeared in The Edge Financial Daily, on April 2, 2019.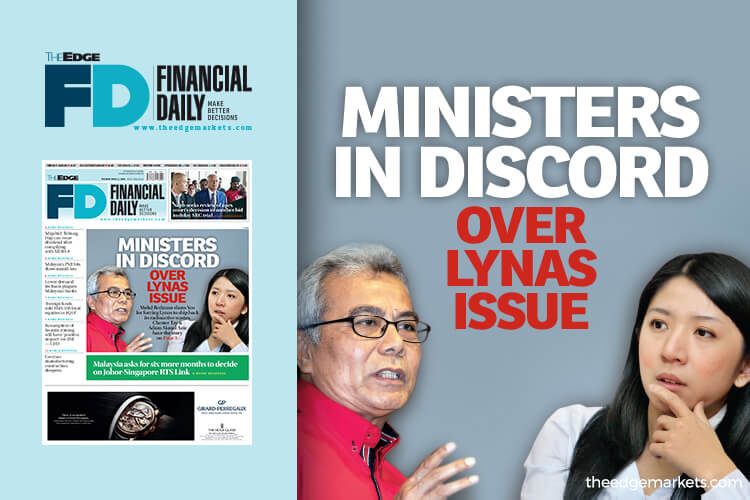 KUALA LUMPUR: In a surprising turn of events, Entrepreneur Development Minister Datuk Seri Mohd Redzuan Md Yusof yesterday lambasted his colleague Yeo Bee Yin, who is the energy, science, technology, environment and climate change minister, for compelling Lynas Corp Ltd to ship out its wastes from the country, saying her stand was not one that was endorsed by the cabinet.
He said Yeo has to "take responsibility" for her statement — issued in December last year — on the matter, saying the cabinet had never decided on any measure to manage the wastes produced by the Australian rare earth miner's Lynas Advanced Materials Plant (LAMP) in Gebeng, Kuantan, Pahang.
The Alor Gajah member of parliament (MP) also said Lynas' investment in Malaysia is "too big to ignore", and that the cabinet is not supposed to force the company to export its plant's wastes back to Australia, unless they are "very unsafe".
His comment, said to reporters in Parliament yesterday, came after he remarked on Saturday that the government would allow Lynas to continue its operations at LAMP in the interest of foreign direct investment.
Mohd Redzuan's statement raised more than a few eyebrows, as the matter is not under his ministry's purview.
The episode happened after Deputy Energy, Science, Technology, Environment and Climate Change Minister Isnaraissah Munirah Majilis told the Dewan Rakyat yesterday that the ministry had written to Yeo's Australian counterpart to collaborate on the transfer of Lynas' accumulated radioactive wastes from Malaysia to Australia.
Isnaraissah revealed this during the ministerial question-and-answer time, when she responded to a question from Wong Chen (Pakatan — Subang) on steps taken by her ministry to ensure Lynas takes back its residual wastes to Australia. Wong was referring to the radioactive water leached purification (WLP) solid wastes that had accumulated at LAMP from 2012, which totalled 451,564 tonnes as at December last year.
Isnaraissah added that the cabinet-approved task force responsible for overseeing Lynas' obligation to take the wastes out of Malaysia is still identifying international procedures and instruments to facilitate the process.
"[This is done while] taking into account legal, safety and security aspects to ensure the safety of the public, the workers, and the environment," she said.
Soon after, however, Mohd Redzuan met with reporters and slammed Yeo for her decision to compel Lynas to ship out the wastes as a precondition for the renewal of the rare earth miner's three-year temporary storage licence for WLP residue, which is up for renewal in September.
"We have an independent high-level committee [that studied the issue]. I would suggest that the government make the findings of the report [the committee submitted to the ministry] public, so that people understand exactly how we are going to manage Lynas. But, as it is now, it is too early to make a decision to compel Lynas to take back its wastes," he said.
"We are a government that is friendly to business, so we have to come out with measures to manage the wastes. Lynas' investment is too big to ignore. You had an agreement to allow investors to come into this country previously ... We cannot just simply force someone to take back their wastes, that was not the condition in the contract.
"If the committee thinks that [the wastes are] unsafe, say  [they are] very unsafe, then we have to shut it (the plant) down. But as it is now, there is no indication, as far as I know, that the plant is unsafe, other than a suggestion that the wastes should be taken back," he added.
Mohd Redzuan added that the cabinet's decision is "clear": to allow Lynas to operate.
While Yeo could not be reached for comment as calls and text messages to her phone went unanswered, Kuantan MP Fuziah Salleh said Mohd Redzuan had no "locus standi" to comment on the issue as it does not fall under his ministry.
Speaking to pressmen later in Parliament, Fuziah said Yeo's ministry is the rightful one in charge of addressing the LAMP issue, which has nothing to do with Mohd Redzuan's entrepreneurial development portfolio.
"Let the ministers settle this, because MESTECC (ministry of energy, science, technology, environment and climate change) has to answer this, in regard to the risks. On investment, it is under Miti (ministry of international trade and industry) and Mida (Malaysian Investment Development Authority). [It has] nothing to do with the entrepreneur development ministry.
"He (Mohd Redzuan) has no locus standi. I have locus standi [because it's in my constituency]. I maintain my stance and agree with what the MESTECC minister has said on precondition for renewing the licence, which is they (Lynas) have to send the wastes back to Australia. The due date has not lapsed yet. It is in September," said Fuziah, who is also deputy minister in the prime minister's department.
Fuziah also reiterated her stand that the government should not renew Lynas' licence if the company cannot meet the precondition.