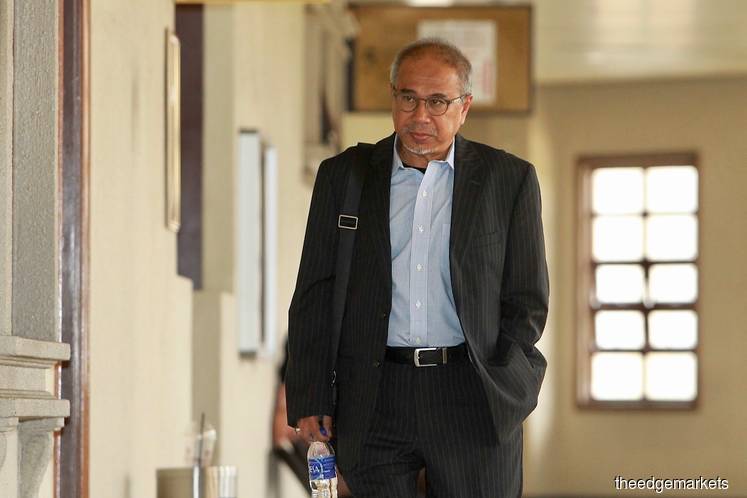 KUALA LUMPUR (July 9): The court was told today that the Minister of Finance is the Minister of Finance Inc, based on the Ministry of Finance (Incorproration) Act 1975 (Act 375) which was read by the 44th prosecution witness, former deputy treasury secretary-general Datuk Mat Noor Nawi.
During re-examination by deputy public prosecutor (DPP) Datuk Suhaimi Ibrahim, Mat Noor, 64, was asked to read out a Federal Gazette, as well as Act 375, amid a difference in interpretation by the defence.
"Datuk, you have read through the gazette. There has been a different interpretation by the lawyers. From what you have read, who makes the decision on the implementation of documents and administration for Minister of Finance Inc (MOF Inc)?" asked the DPP.
"The Minister of Finance," responded the witness.
He was then asked to read section 3 of Act 375, which says: "The minister for the time being, charged with responsibility for finance, shall be a body corporate under the name of Minister of Finance Inc".
"So that means the Minister of Finance is the corporation," said the DPP.
Datuk Seri Najib Razak was prime minister from 2009 to 2018 and was finance minister from 2008 to 2018.
During cross-examination, lawyer Harvinderjit Singh brought up the gazette and said that either two of four senior officers of MoF Inc, namely the treasury secretary-general, deputy treasury secretary general, division secretary or deputy division secretary, can sign-off on decisions made concerning MoF Inc.
The lawyer added that the Minister of Finance II, who was Datuk Seri Ahmad Husni Hanadzlah in 2011 and 2012, was the one in charge of MoF Inc.
However, the witness said he did not fully agree with the lawyer.
Mat Noor also revealed during cross-examination, that he received a letter signed by then Prime Minister Datuk Seri Najib Razak for his appointment as adviser at SRC International Sdn Bhd.
Mat Noor had mentioned this to the Malaysian Anti-Corruption Commission (MACC) when he recorded his statement, he said, and had also told DPP Suhaimi about the letter.
During re-examination, Suhaimi asked if he could retrieve the letter but he said that the letter was lost over the years.
"I kept the letter with me before, but I lost it over the years, as I left MoF for EXIM Bank. It was probably lost during the moving process," he said.
"Were you ever asked to find the letter?" asked the DPP.
"Yes, I was asked to. I even went back to my old office to find it, but it was nowhere to be found," said the witness.
Mat Noor explained that the letter did not specifically outline his role at SRC, although he believes that his role as adviser meant he had to advise the chief executive officer and managing director Nik Faisal Ariff Kamil.
He said he had called Nik Faisal to his office on two occasions to explain future plans for SRC.
Najib faces multiple counts of criminal breach of trust, money laundering and abuse of power, involving a total of RM42 million SRC funds.
He is alleged to have received RM27 million and RM5 million on Dec 26, 2014, and another RM10 million on Feb 10, 2015.
His trial resumes tomorrow.
Read also: MoF witnesses: 'Top-down' decisions made on SRC govt guarantees, ownership change