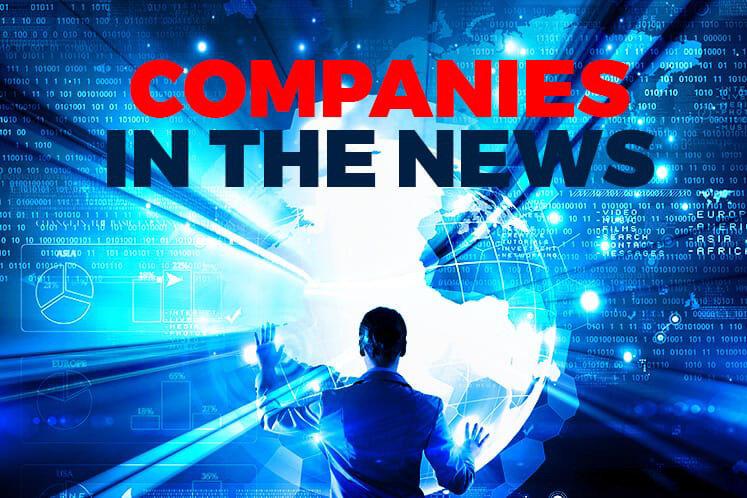 KUALA LUMPUR (MAY 18): Based on corporate announcements and news flow today, companies in focus on Friday (May 21) may include the following: Minho (M) Bhd, Petronas Dagangan Bhd, Tan Chong Motor Holdings Bhd, IOI Properties Bhd, Kumpulan Perangsang Selangor Bhd, Ho Hup Construction Bhd, Kerjaya Prospek Group Bhd and UMW Holdings Bhd.
Minho (M) Bhd, which provides kiln-drying services, has proposed to acquire a 5.02-acre piece of industrial land in Kapar, Klang for RM19.6 million, as it seeks to expand its timber storage facilities.
Its unit Victory Enterprise Sdn Bhd had signed a sales and purchase agreement with Preferred Plot Sdn Bhd to buy the land, which is adjacent to its existing factory.
"It is very suitable for the expansion of timber storage facilities of Victory Enterprise, as it will save cost on the transportation of timber and [is] also easier to manage," Minho said.
Petronas Dagangan Bhd (PetDag)'s net profit in the first quarter ended March 31, 2018 fell 13.7% to RM218.48 million, from RM253.15 million in the same period a year ago, dragged by lower performance of its retail and commercial segments.
Quarterly revenue, however, climbed 4.33% to RM7.07 billion, from RM6.78 billion a year ago, thanks to stronger performance at its commercial segments, where the products saw an 8% growth in sales volume, as well as a 2% increase in the average selling price.
The group declared an interim dividend of 13 sen per share, to be paid on June 14.
Looking ahead, it said the retail market is anticipated to be competitive, as car sales have continued to decline since 2015, coupled with an increasing number of energy efficient vehicles, as well as the rise in usage of public transportation and ride hailing services.
Tan Chong Motor Holdings Bhd has reported a net profit of RM4.25 million for its first quarter ended March 31, 2018, from a net loss of RM35.32 million in the corresponding period last year, owing to reduced net debt.
TCM's revenue improved by 4% to RM1.03 billion, from RM995.65 million previously.
Looking ahead, the group expects the automotive sector to remain challenging in a highly competitive market.
IOI Properties Bhd's net profit for the third quarter ended March 31, 2018 jumped 38% year-on-year to RM166.65 million from RM121.14 million, thanks to lower operating expenses, a significant contribution from its joint-venture firms, and lower taxes.
Quarterly revenue, however, slumped 40% y-o-y to RM541.21 million from RM895.82 million, owing to lower contribution from Klang Valley and overseas projects in the property development segment, the group's quarterly results filing today showed.
For the cumulative nine months, IOI Properties' net profit dropped 11% y-o-y to RM518.64 million from RM584.23 million, while revenue declined 29% y-o-y to RM2.12 billion from RM2.99 billion.
Going forward, IOI Properties said it remains optimistic that its properties across strategic locations in Malaysia and overseas will continue to draw prospective buyers.
Kumpulan Perangsang Selangor Bhd's 51%-owned unit Aqua-Flo Sdn Bhd has received a letter of extension to supply chemicals to water treatment plants operating under the Air Selangor Group, for a further period of five and a half months.
It said estimated sums for the projects during the extended period will amount to RM25.08 million.
The contract, which was for a duration of two years until May 15, 2018, will now expire on Oct 31 this year instead.
This includes its three projects for PNSB Water Sdn Bhd, Konsortium Abass Sdn Bhd, and Konsortium Air Selangor Sdn Bhd of the Air Selangor Group, which had commenced on May 16, 2016, following the letters of awards to Aqua-Flo then.
Ho Hup Construction Bhd said it will unveil property projects worth RM1.7 billion for this financial year ending Dec 31, 2018, after holding off new launches in the past few years.
"It is quite a big endeavour. But we think that the [weak] sentiment is towards the end of the cycle, and that has improved tremendously in the last couple of months, more so now with the results of the general election," its chief executive officer Datuk Derek Wong Kit Leong told a Press conference after the group's annual general meeting.
The group currently has a tender book of RM2 billion, and an order book of RM400 million comprising all government-related jobs sustainable for three years, said Wong.
Kerjaya Prospek Group Bhd's executive director Datin Toh Siew Chuon, wife of group executive chairman Datuk Tee Eng Ho, has acquired an additional 24.05% interest in the property company GSB Group Bhd for RM16.51 million cash.
The acquisition, through Javawana Sdn Bhd, a private vehicle of Eng Ho, his brother Tee Eng Seng and Toh, was done at 13 sen per share for 127 million GSB shares.
GSB's total landbank held for development is about 91 acres across Klang, Shah Alam and Bentong, with a total book value of RM65.8 million.
UMW Holdings Bhd has changed the prices of its Toyota and Lexus vehicles following the zero-rating of all goods and services under the Goods and Services Tax effective June 1.
UMW Toyota Motor Sdn Bhd president Ravindran K assured customers that any relief and benefit from the new tax structure would be fully passed on to them.
The newly appointed Federal government announced on Wednesday that all goods and services would be zero-rated with respect to GST.