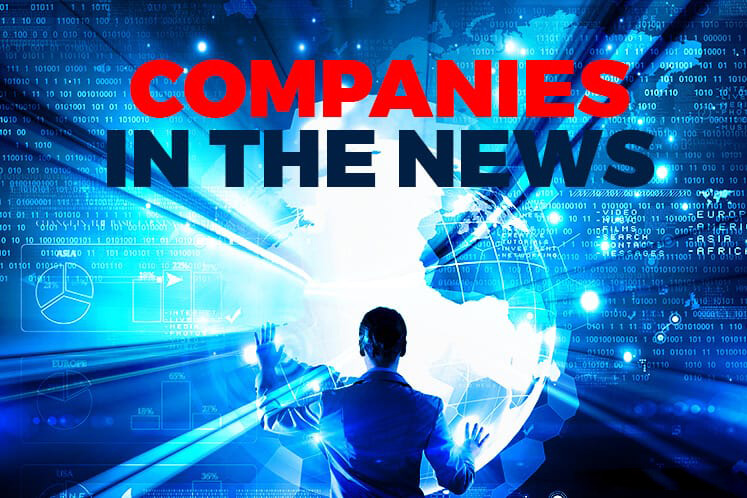 KUALA LUMPUR (Feb 19): Based on corporate announcements and news flow today, companies in focus on Tuesday (Feb 20) may include: Minda Global Bhd, Pansar Bhd, Ranhill Holdings Bhd, Brite-Tech Bhd, Rohas Tecnic Bhd, Microlink Solutions Bhd, JAKS Resources Bhd and Star Media Group Bhd.
Minda Global Bhd, which debuted on Bursa Malaysia's Main Board today after taking over the listed status of Asiamet Education Group Berhad, said it will focus on reenergising its business strategy and implementing a more prudent financial management over the next 12 to 18 months.
The education group serves over 5,000 students from over 35 countries. It now seeks to develop new programmes to expand its study disciplines and improve growth in student intake.
The education group plans to achieve a higher level of synergy between its various holdings. Its director Tan Sri R Palan said Minda Global is well-positioned to face the challenges of the industry.
Pansar Bhd said it is not aware of reasons for active trading of its shares on  Feb 15, other than that it is in the stage of formalising "some contracts" in response to the unusual market activity (UMA) query.
Pansar received an UMA query from Bursa Malaysia last week, after the counter saw 5.12 million shares traded during the day's half-day trading session — over 14 times its 200-day average of 349,761 shares — and hitting its 15-year high of 80 sen, before settling up three sen at 79 sen.
Pansar is currently in the stage of bidding, discussing, negotiating and evaluating some contracts but the Company has yet to receive the letters of award.
Ranhill Holdings Bhd said its indirectly-owned subsidiary AnuRAK Water Treatment Facilities Co Ltd has secured a 66 million baht (RM8.19 million) contract to upgrade Amata Water Co Ltd's wastewater treatment plant (WWTP) in Amata City Industrial Estate, Rayong, Thailand.
This follows the approval of the proposal by Amata to expand the capacity of the plant from 10 million litres per day (MLD) to 15 MLD.
The new upgrading project will cover the construction of an additional module of the existing wastewater treatment plant facilities built by AnuRAK to treat increasing volume of industrial wastewater at the industrial estate.
The construction period for the project is estimated to take six months, starting from May 2018.
Brite-Tech Bhd is being sued by a former executive director for allegedly divulging his personal data, contained in a letter from the Internal Revenue Board, to certain employees.
Chan Ah Kien, in his suit, alleged that the content of the letter was also negligently divulged to a tax agent between June 19 and 20 last year.
Also being sued is Brite-Tech's wholly-owned subsidiary Hooker Chemical Sdn Bhd, in which Chan had served as a director.
Chan is claiming for general damages for negligence, breach of duty of care to be assessed by the court, breach of confidence and privacy.
Rohas Tecnic Bhd's 75%-owned subsidiary HG Power Transmission Sdn Bhd has been awarded two contracts for the supply and installation of transmission lines by Tenaga Nasional Bhd, worth a combined RM249.63 million.
Rohas Tecnic said the first contract comprises works for 31.8 km of a 500 KV double circuit transmission line from PMU Bentong South to PMU Lenggeng and 22.3 km of a 275 KV double circuit transmission line from PMU Lenggeng to PMU Mahkota Cheras with the total value of RM126.85 million and its completion period is 723 days.
The second contract entails the supply of 31.9 km of 500 KV double circuit transmission line from PMU Bentong South to PMU Lenggeng and 32 km of 275 double circuit transmission line from PMU Lenggeng to PMU Makhota Cheras. It is worth RM122.78 million with a completion period of 723 days, said Rohas Tecnic.
Microlink Solutions Bhd said Bank Kerjasama Rakyat Malaysia Bhd (Bank Rakyat) has cancelled the non-binding Letter of Intent issued to Microlink in July 2016, inviting the company to participate in discussions to enhance the bank's system.
The cancellation letter thanked the company for attending the discussions and for providing its proposals on the project but advised that it will not be pursuing the discussions further with the company due to a change of project requirements and specifications.
The two parties were in discussions in July 2016 to finalise the project costs, scope of work and timeline for works to upgrade Bank Rakyat's core banking system.
JAKS Resources Bhd has instructed its solicitors to file an injunction at the High Court to restrain two financial institutions from releasing a bank guarantee related to the acquisition of a piece of land from Star Media Group Bhd.
The irrevocable and on demand bank guarantee was made as security to ensure JAKS Island Circle Sdn Bhd (JIC) — a 51%-owned unit of JAKS — performs its obligations under the sale and purchase agreement (SPA) signed with Star Media in August 2011 for the purchase of land for RM135 million.
The SPA followed the joint development agreement (JDA) signed in 2010 for a mixed development project to be constructed on the piece of land in Section 13, Petaling Jaya, with an estimated gross development value of RM370 million.
The RM50 million bank guarantee comprises guarantees of RM25 million each from two financial institutions. One guarantee had expired on Feb 15, while the other will be expiring on April 15.
JAKS said Star Media has not granted an extension for the bank guarantee and has given notice to the two issuing financial institutions on Feb 15 to call on the bank guarantee, which means that JIC will have to pay the RM50 million sum to the issuers.