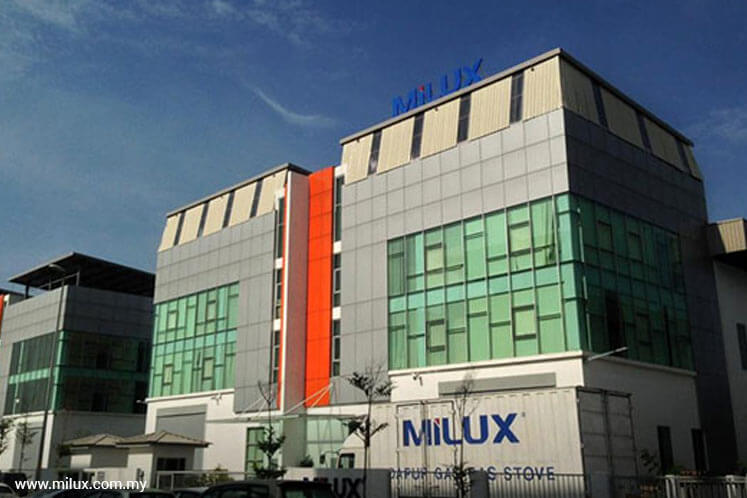 KUALA LUMPUR (May 3): Milux Corp Bhd's new major shareholders have launched a cash offer to buy out other shareholders of the loss-making gas and electrical appliance maker for RM23.14 million or 80 sen per share.
In a filing with Bursa Malaysia today, Milux said it has received a conditional mandatory take-over offer from Topspike Holding Sdn Bhd and Asia New Venture Capital Holdings Sdn Bhd (ANVCHSB) – which collectively own 46.83% of Milux's shares – to buy the rest of the company's shares.
Topspike is jointly owned by Datuk Wira Ling Kak Chok (50%+1 share) and Gan Boon Lay (50%), while ANVCHSB is a wholly-owned subsidiary of Asia Capital Fund Ltd, a private fund company. Yee Carine owns an 80% stake in Asia Capital Fund, while the remaining 20% is held by Teh Sok Hoon. 
Topspike and ANVCHSB today acquired 25.48 million shares or a 46.83% stake in Milux for RM20.39 million or 80 sen per share. Out of this total, Topspike owns 16.21 million shares or a 29.78% stake in Milux, while ANVCHSB owns the remaining 9.28 million shares or a 17.05% stake.
Prior to the shares acquisition, both Topspike and ANVCHSB do not hold any shares in Milux.
Milux said the offer price of 80 sen per share represents a 0.62% discount to its last closing price of 80.5 sen yesterday but a 2.7% premium to the five-day volume weighted average price of Milux shares of 77.9 sen.
It added that the joint offerors intend to maintain the listing status of Milux on the Main Market of Bursa Malaysia.
"The joint offerors also do not intend to invoke the provisions of Section 222(1) of the CMSA to compulsorily acquire any outstanding offer shares for which valid acceptances have not been received prior to the closing date," it added.
Milux saw its net loss widen to RM2.08 million for the financial year ended Dec 31, 2018 (FY18) from RM839,000 in the previous year, while revenue fell 2.6% to RM77.64 million from RM79.69 million in FY17. 
Milux shares closed down 0.5 sen or 0.62% at 80 sen today, with 2,000 shares done, bringing a market capitalisation of RM43.53 million.