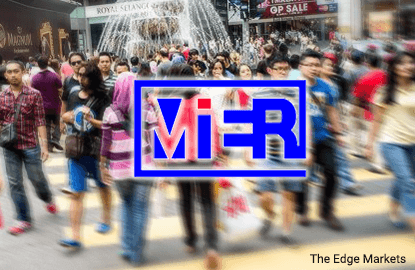 KUALA LUMPUR (July 26): Malaysia's full year economy is expected to grow at 4.2%, the lower range of Ministry of Finance (MOF)'s forecast, as the risk of Brexit has mitigated the catalyst of Bank Negara's recent rates cut, says Malaysian Institute of Economic Research (MIER)'s executive director Dr Zakariah Abdul Rashid.
Zakariah said although the central bank's recent rates cut is expected to boost spending, the effective demand had gone down with the Brexit, and this may affect the country's growth in future.
"We expect slower growth after Brexit. Thus, Bank Negara's (move to) increase liquidity is to mitigate the falling demand of Brexit," he told reporters in a press conference during the 31st National Economic Briefing.
MOF is forecasting the country's economy to grow between 4% to 5%.
On July 13, Bank Negara slashed the overnight policy rate (OPR) by 25 basis points to 3%. This was an unexpected move, as the last rate cut was in 2008, and the last adjustment was made in July 2014.
Zakariah opined that without the OPR cut, the Malaysian economy would be subject to more downside risks.