This article first appeared in The Edge Financial Daily, on January 11, 2019.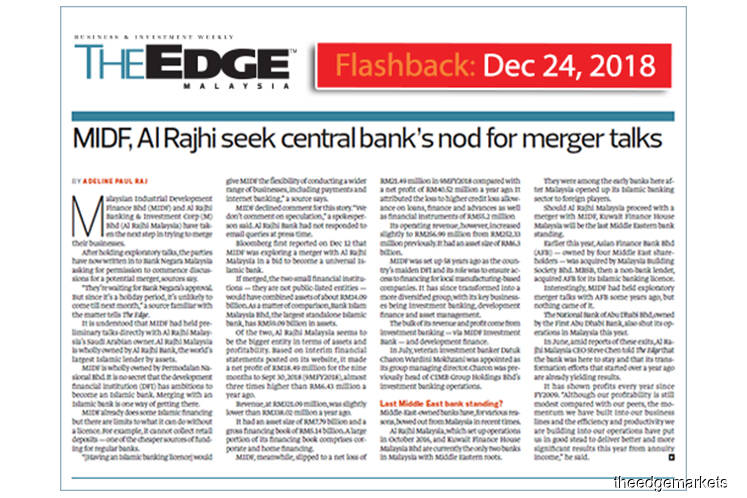 KUALA LUMPUR: Malaysian Industrial Development Finance Bhd (MIDF) and its Saudi Arabian counterpart Al Rajhi Banking & Investment Corp have taken the lead to start the year talking about a merger, and they have been given three months to complete the talks.
This confirmed The Edge Malaysia weekly report on Dec 24 last year that MIDF had held preliminary talks directly with Al Rajhi Banking & Investment Corp (M) Bhd's (Al Rajhi Malaysia) Saudi Arabian owner in trying to merge their businesses.
In a statement yesterday, MIDF said it has received a letter from Bank Negara Malaysia (BNM) stating that the central bank has no objections for MIDF and its sole shareholder Permodalan Nasional Bhd (PNB) to start negotiations with Al Rajhi on a proposed merger with its local unit Al Rajhi Malaysia.
MIDF was quick to add that the announcement should not be construed as implying that a final merger agreement will be reached or that BNM has approved the merger.
"MIDF will have to obtain prior approval from BNM or the minister of finance, with the recommendation of BNM, as the case may be, pursuant to the Islamic Financial Services Act 2013 and the Financial Services Act 2013 before entering into any agreement to effect the proposed merger.
"If an agreement is achieved, it will also be subject to various conditions, including all relevant legal requirements and the approval of all regulatory authorities involved, in both Malaysia and Saudi Arabia," it added.
MIDF said further announcements on the proposed merger will be made at the appropriate time as negotiations progress. "In the meantime, business will continue as usual," it said.
"We look forward to having fruitful discussions with Al Rajhi Banking & Investment Corp and to a mutually beneficial outcome," MIDF group managing director Datuk Charon Wardini Mokhzani said.
Bloomberg first reported on Dec 12, 2018 that MIDF was exploring a merger with Al Rajhi Malaysia in a bid to become a universal Islamic bank.
The Edge Malaysia reported that if merged, the two small financial institutions — they are not public-listed entities — would have combined assets of about RM14.09 billion. As a matter of comparison, Bank Islam Malaysia Bhd, the largest standalone Islamic bank, has RM59.09 billion in assets.
Of the two, Al Rajhi Malaysia seems to be the bigger entity in terms of assets and profitability. Based on interim financial statements posted on its website, it made a net profit of RM18.49 million for the nine months to Sept 30, 2018 (9MFY18), almost three times higher than the RM6.43 million a year ago.
It had an asset size of RM7.79 billion and a gross financing book of RM5.14 billion.
Should Al Rajhi Malaysia proceed with a merger with MIDF, Kuwait Finance House Malaysia will be the last Middle Eastern bank standing, according to The Edge Malaysia report.
Last year, Malaysia's banking sector saw non-bank lender Malaysia Building Society Bhd (MBSB) completing its acquisition of Asian Finance Bank for RM644.95 million in February.
The acquisition had paved the way for MBSB to become a full-fledged Islamic bank.