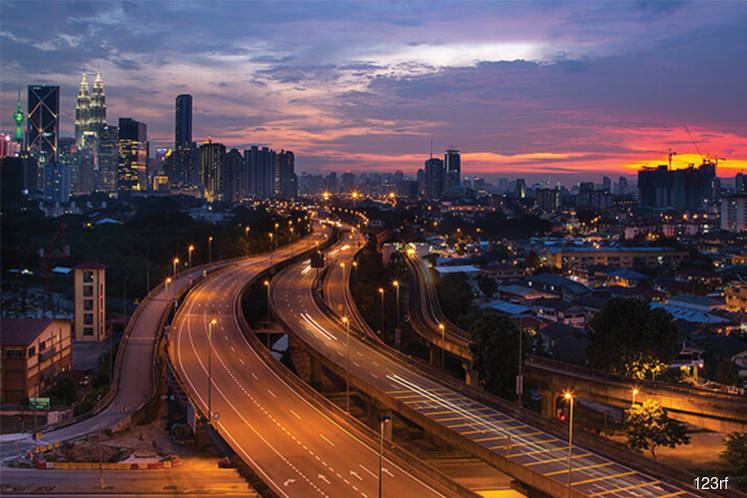 KUALA LUMPUR (June 28): Malaysia's overall business performance for the second half of this year is expected to improve steadily on signs of recovery in the April 2019 economic index, says MIDF Research.
In its monthly economic review today, MIDF highlighted that the services, mining, and construction sectors will enjoy a steady pick-up in line with the recovery.
"Strong domestic demand and low inflationary pressure are fundamental factors supporting the services sectors.
"Nevertheless, manufacturing sector, which is [an] export-oriented sector, is predicted to experience moderation following the global trade slowdown," it said.
According to MIDF, Malaysia's leading economic index surged by 2.6% month-on-month in April 2019, as six out of seven components recorded increases.
It pointed out that the main gains came from real imports of semi-conductors (0.8%) and real imports of other basic precious & non-ferrous metals (0.7%).
Among the economic indicators, MIDF revealed that in April 2019, exports growth rebounded to the positive territory of 1.1% year-on-year, after recording consecutive months of contraction.
"Sector wise, manufacturing exports growth remain on uptrend at 2.7% y-o-y. Meanwhile, both agriculture and mining goods exports growth continued to be in negative territory of -9.3% y-o-y and -1.5% y-o-y but on improving trend," it said.
At the same time, Malaysia's industrial production index (IPI) expanded steadily by 4% y-o-y in April 2019, highest since October 2018 and outpacing market expectation of 2.5% y-o-y.
The growth, MIDF said, is mainly attributed by rebound in mining output and continuous expansion in manufacturing and electricity output.
"Moving forward, we foresee IPI performance to expand at a moderate pace in 2H19 underpinned by lower OPR (overnight policy rate) effects, low inflationary pressure, stable domestic demand, positive progression in construction sector and gradual pick-up in commodity prices.
"Nevertheless, trade war factor remains as downside risk to global trade activities as well as Malaysia's industrial activities," it added.