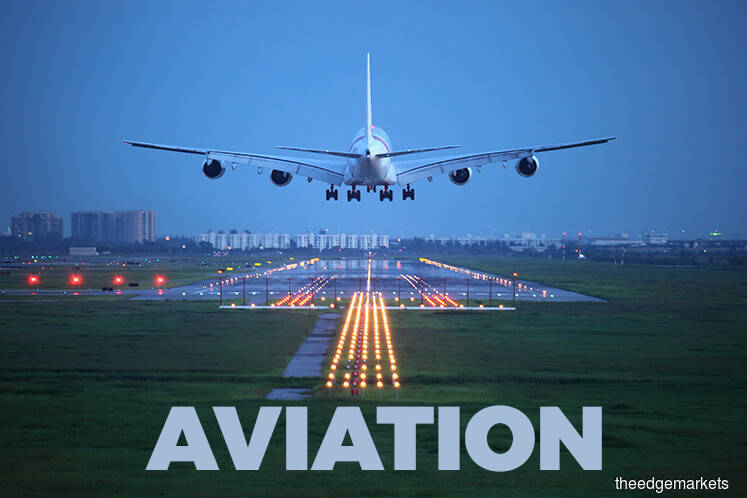 KUALA LUMPUR (July 13): The Malaysian Investment Development Authority (Mida) expects the Malaysian aerospace industry to generate a revenue of RM55.2 billion by 2030.
In particular, Mida is expecting the revenue from maintenance, repair and overhaul (MRO) to be RM20.4 billion, as well as a revenue of RM21.2 billion from aero-manufacturing. It also expects engineering and design services to generate an additional RM13.6 billion.
Mida deputy chief executive officer Datuk N. Rajendran said the agency is focusing on the airline sector, specifically the aerospace industry, because it is one of the factors that have been identified under in the 11th Malaysia plan to provide growth to the industry development in the country.
"We will be looking at the ecosystem of the aerospace industry and at what are the gaps, and who are the potential companies that can be targeted to fill up this gap in the ecosystem," Rajendran told reporters after signing a memorandum of understanding (MoU) with Malaysia Airports Holding Bhd (MAHB) today. 
The main objective of the MoU is to explore potential areas of collaboration between MAHB and Mida to facilitate foreign direct investments (FDI) into Malaysia via promotion and implementation of investments that would achieve value accretion to the national economy.
"We are trying to promote and attract FDI through two main locations, that is the KLIA Aeropolis, as well as the Subang Airport Regeneration Initiative. All this will be carried out in alignment with  MAHB's goals and aspirations in championing the Industry 4.0 principles," said MAHB acting group chief executive officer Raja Azmi Raja Nazuddin. 
KLIA Aeropolis is a flagship airport city development within the 100 sq km of KLIA land in Sepang, which will be focusing on the off-terminal real estate development, complementing MAHB's existing airport operations. 
Meanwhile, the Subang Airport Regeneration Initiative is a strategic initiative by MAHB to revitalise the Subang Airport ecosystem, where it is envisioned to be positioned as a hub for business aviation and a complete aerospace ecosystem. 
Raja Azmi said MAHB hopes the projects will achieve a steady state by 2025 and that it will have a mature operation by then. 
"It is now a work in progress, so we hope that most of the moving parts will be steady and actually fully operational by 2025." 
It was highlighted that more than 200 companies are currently involved in MRO, aero-manufacturing, education and training, systems integration and engineering and design activities in Malaysia. For the first three months of 2018, Mida reported the aerospace industry registered approved investments of RM175.4 million from four manufacturing projects and RM8.59 million from one MRO project.
Through the MoU, MAHB is optimistic it will increase foreign investments into the Malaysian aerospace industry.
"We have got a lot of huge global players in the logistics arena and the MRO arena, who have already expressed interest. This collaboration actually provides a lot more confidence for investors that we are actually doing something that is very concrete. It is a big step forward in terms of building confidence in actually crystallising those expressions of interest," Raja Azmi said. 
MAHB also shared that they envisage another one million square feet of land to be developed at the KLIA Aeropolis over the next two to three years, in addition to their current projects with Cainiao, the logistics arm of Alibaba.