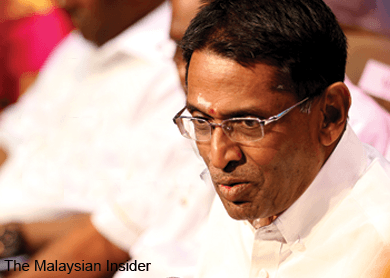 KUALA LUMPUR (Feb 17): MIC deputy president Datuk Seri Dr S. Subramaniam says today the 2009 central working committee (CWC) will proceed with fresh elections to comply with the Registrar of Society's (RoS) recommendations, with or without the party president's consent.
Dr Subramaniam said the decision by Datuk Seri G. Palanivel to challenge the RoS's decision in court was a "waste of time".
He said MIC was in urgent need of resolving its internal turmoil over election of its office-bearers so that the party could move forward and focus on helping the ruling coalition, Barisan Nasional (BN), prepare for the next general election.
"Essentially, the power is given by RoS to the 2009 CWC to run the process (fresh elections) and we will take it on. We will be moving forward and will set up a committee to implement the recommendations set by RoS," said Dr Subramaniam.
On Palanivel's plans to sue RoS, Subramaniam said that he was not in favour of that.
"That will just delay and prolong this agony. We have to resolve this fast."
He added there were easily 20 to 30 seats in the country where Indian voters would decide the winners. He said from that point of view, the turmoil (in the party) should be resolved sooner.
"If this issue can be resolved in the next three months, let us do it. This has dragged on for more than 1½ years.
"I don't think going to court (will resolve anything) but maybe for some individuals... (it) will benefit them but as far as the party is concern, it's going to delay the process, it is going to weaken us and create more instability.
"It is going to be bad for everybody, MIC in particular and, indirectly, it will also affect Barisan Nasional," he said.
On the possibility that an emergency general meeting be called to resolve the matter, Dr Subramaniam said it was one of the options.
"I cannot do it. That is the decision of division leaders and the CWC. So it's up to them."
MIC has been plagued with problems in the past year over the election of office-bearers in 2013.
The dispute among factions over the results saw the RoS initially issue an order for fresh elections to avoid deregistration.
BN chairman Datuk Seri Najib Razak yesterday had a meeting with Dr Subramaniam, Tan Sri Muhyiddin Yassin and BN secretary-general Datuk Seri Tengku Adnan Mansor to discuss the MIC issue.
Palanivel, who was not present, later said he could not attend the meeting as his wife had a medical emergency, adding that he sent secretary-general Datuk S. Sothinathan as a representative but he was not allowed in.
At the meeting, it was decided that a special secretariat be set up to help MIC to clean up its divisions and branches and hold fresh party elections.
Palanivel, however, opposed the move, saying: "I, as the president of MIC, am not willing to let third parties (BN) run our beloved party".