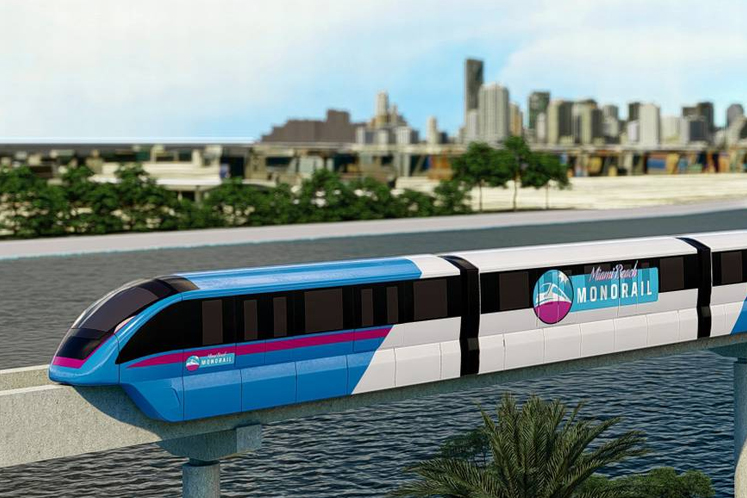 KUALA LUMPUR (May 21): Miami-Dade commissioners have warned that they wanted a final plan for a cheaper price tag than the current US$59 million yearly tab for the Miami-South Beach monorail system, according to the Miami Herald.
Despite them agreeing on Tuesday (May 19) to build the monorail system costing over US$770 million (RM3.35 billion) which links the Miami mainland with Miami Beach, they said the current US$59 million yearly tab would sap money from other commuting routes awaiting transit projects.
According to a report Wednesday, during the online meeting of the board, Commissioner Joe Martinez said they do not have a lot of money.
"Of course, it takes away from other corridors. Any corridor that comes first takes money away from the other ones," Martinez was quoted as saying.
theedgemarkets.com reported on May 15 that Genting Group wanted Miami-Dade to fund the US$770 million that would require about US$60 million a year in payments from the public.
Genting Malaysia Bhd via its wholly-owned subsidiary Resorts World Miami LLC undertakes the group's operations in Miami within the US state of Florida.
According to the Miami Herald report, the proposed rail link would be four miles long and takes riders from mainland Miami to South Beach in mere minutes over the MacArthur Causeway at US$5 a ticket.
"Genting's proposal is the only official bid for the monorail so far. Commissioners voted to further evaluate the submitted plan. If approved, the system would be the first new train line under the county's 2016 effort known as the SMART Plan," said the report.
It said Genting and associates would advance the US$770 million needed to carry out the system, then be paid back and earn a profit over 30 years through government payments.
"For now, those payments are listed at US$59.4 million a year, according to the proposal submitted by Genting and lead partner Meridiam, the investor behind the for-profit PortMiami tunnel," said the report.
However, officials are hoping the hefty price tag for the monorail will decrease before the project is underway.
Recently, the county has approved a rapid-transit bus system for South Dade and an Aventura station for the existing Brightline rail network. 
"Miami-Dade is preparing to invite proposals for rail projects along Northwest 27th Avenue, the SMART Plan's North Corridor," said Miami Herald. 
Read also: Genting Malaysia subsidiary wants Miami-Dade to fund US$770m Miami-South Beach monorail link — report