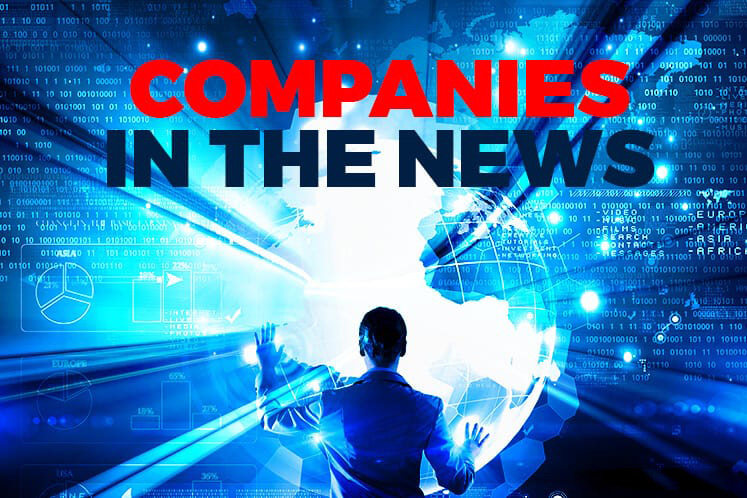 KUALA LUMPUR (Mar 26): Based on corporate announcements and news flow today, stocks in focus on Wednesday (Apr 18) may include: Malaysia Marine and Heavy Engineering Holdings Bhd, Inta Bina Group Bhd, Zelan Bhd, BSL Corp Bhd, SHH Resources Holdings Bhd, Bumi Armada Bhd and Globaltec Formation Bhd.  
Malaysia Marine and Heavy Engineering Holdings Bhd (MHB) will spend about RM150 million on capital expenditure (capex) this year to build a dry dock facility.
"Total capex for the dry dock is about RM500 million (until 2020). We will also be spending a bit more for investment," MHB managing director and chief executive officer Wan Mashitah Wan Abdullah Sani said. The dry dock is currently 15% complete and is slated for completion by the second quarter of 2020.
MHB chairman Datuk Nasarudin Md Idris said while there has been some recovery in the shipbuilding and heavy engineering industry, especially on the onshore side, outlook for the current financial year ending Dec 31, 2018 (FY18) remains challenging.
Inta Bina Group Bhd has bagged a RM97.8 million contract to build two apartment blocks and a basement carpark in Damansara Damai, Selangor. The contract is for a period of 23 months.
Zelan Bhd said its wholly-owned subsidiary is facing a 15.22 million dirham (RM16.12 million) arbitration claim by Hitachi Ltd over a deal in the United Arab Emirates. The action was initiated over disputes relating to a sub-contract, signed in 2012 for the supply and installation of a water cooled chiller package for the Meena Plaza mixed-use development project in Abu Dhabi.
BSL Corp Bhd's wholly-owned subsidiary Crestronics (M) Sdn Bhd has failed again in its second appeal to the Ministry of Finance for the remission of two bills of demand from the Royal Malaysian Customs Selangor (RMCS) amounting to RM11.13 million.
"Based on preliminary discussions with Crestronics' tax solicitors, BSL is of the view that there are reasonable grounds to review the MoF's decision by way of judicial review proceedings," it said.
"At this juncture, BSL is unable to determine precisely the financial impact to the group for the financial year ending Aug 31, 2018," it added.
SHH Resources Holdings Bhd is buying a piece of freehold residential land in Kajang, Selangor, measuring 2.02 ha or five acres for RM10.24 million, marking its foray into property development.
Bumi Armada Bhd's unit has received a notice from Erin Petroleum Nigeria Ltd (EPNL) about an alleged "force majeure event" and a request for an orderly shutdown of the operations of Armada Perdana, a floating production storage and offloading (FPSO) unit belonging to the group.
Bumi Armada said it is of the view that the force majeure declaration by EPNL is wrongful under the operational and maintenance services contract and the group is reviewing its legal options, including commencement of legal proceedings, against EPNL.
It added that the estimated financial impact of credit risk recovery for the group to the results for the financial year ending December 31, 2018 is about RM30 million.
Globaltec Formation Bhd's Australia-listed subsidiary NuEnergy Gas Ltd has secured a four-year extension — up till Dec 2, 2020 — for its Muralim production sharing contract in Indonesia, where it is undertaking coal steam gas exploration.