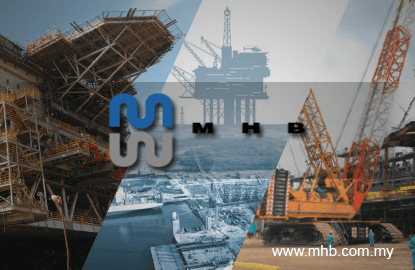 This article first appeared in The Edge Malaysia Weekly, on September 21 - 25, 2015.
WITH oil and gas markets still in the doldrums, resulting in oil companies scaling back exploration and production globally, the successful superlifting of the Malikai tension-leg platform (TLP) last July by Malaysia Marine and Heavy Engineering Holdings Bhd (MHB) was considered an important event.
With the topside and hull mostly completed, the platform is on track to be floated out by early next year.
This level of "almost completion" of the Malikai TLP is another feather in MHB's cap. The platform is the second deepwater project for the company after the construction of the Gumusut-Kakap semi-submersible floating production system (FPS) in July 2013.
"MHB is the yard in Malaysia that has done practically all of the deepwater structures for our nation's waters," says Abu Fitri Abdul Jalil, CEO and managing director of MHB, during a media visit to the group's fabrication yard in Pasir Gudang, Johor, to see the progress of the Malikai TLP.
"With our partner Technip (SA), the world leader in oil and gas project management and engineering, and a global footprint of talents, (we) constantly offer the most innovative technologies and solutions to our clients to optimise their investments to meet the world's energy challenges," adds Fitri.
However, despite having built the expertise to undertake technically complex offshore structures through its partnership with Technip, MHB's order book continues to dwindle. The group's order book now stands at just above RM1 billion, the lowest level since the company was listed in 2011.
According to TA Research, MHB's order book of RM1.05 billion could be under threat as well, as two of its major projects are due for completion this year — the Malikai TLP and SK316 central processing platform (CPP) and well head platform (WHP).
Observers say that while MHB's efforts to build up expertise in deepwater offshore construction are commendable, the group has to urgently replenish its order book.
MHB, meanwhile, says it is working very hard on doing so and that its existing orders should keep it busy until end-2017.
An MHB spokesman says, "MHB's mission is to be the deepwater fabrication hub in the region. The current yard optimisation and facilities being developed in the yard cater for deepwater offshore facilities fabrication."
As such, the group has invested in its Pasir Gudang yard, acquiring assets such as a 40,000-tonne skid track, 40,000 cu m and 20,000-tonne capacity cutting and assembly workshop, the superlift and Goliath cranes.
MHB (fundamental: 1.25; valuation: 1.10) currently has a tender book of RM7 billion, of which RM4.5 billion is for overseas projects and the rest local. The bulk of the domestic tenders comprise the Kasawari CPP project, potentially worth RM1.5 billion, as well as onshore subcontract works for RAPID.
Currently, there are only three deepwater fields — those with depths of between 300m and 1,500m by some estimates — that are in production or at the development phase in Malaysia. The first field was Kikeh off Labuan, followed by Gumusut-Kakap and Malikai.
However, as Malaysia's oil and gas fields in shallow waters dry out, exploration and production will move towards deeper waters. Deepwater oil is considerably more expensive to produce. Frost & Sullivan estimated in 2011 that the cost to produce oil from deepwater fields in Malaysia was US$80 per barrel — double the cost compared to shallow water. With crude oil prices languishing at about US$50 per barrel, the development of deepwater fields may grind to a halt.
Besides the Gumusut-Kakap and Malikai oilfields, Shell Malaysia operates the Ubah Crest and Pisangan deepwater fields off Sabah. Murphy Oil is developing the Jangas field and Kebabangan Petroleum Operating Company the Kebabangan cluster.
Malikai TLP shows Malaysia's expertise in deepwater structures
The Malikai TLP project was awarded to Technip-MMHE JV Company in February 2013. Besides the technical partnership, Technip is also a substantial shareholder in MHB, holding an 8.5% stake through Technip Geoproduction (M) Sdn Bhd.
Interestingly, the platform is the first TLP to be built outside of the Gulf of Mexico, and the first TLP coupled with a tender assisted drilling rig. It also applies a mud recovery technique without riser technology on a dynamically positioned vessel.
Oil and gas produced from the Malikai field will be transported 50km to the Kebabangan Oil Hub for processing before evacuation onshore to Sabah Oil & Gas Terminal.
The Malikai TLP will have an annual peak production of 60,000 barrels per day.
With the completion of both Gumusut-Kakap FPS and Malikai TLP, it is clear that Malaysia has the expertise in deepwater offshore construction. The expertise gained in the construction of the structures, and the advantage of having the largest yard space in Southeast Asia, bode well for MHB.
"Malikai TLP is the first TLP in this country, and it is also the first TLP that is being drilled by a tender-assisted drilling platform. It is actually very special. Can you imagine two floating bodies dancing in the sea? You don't need a lot of waves to make these bodies crash into each other. This shows that Malaysia has the capability to undertake difficult projects," Simon Ong, managing director of the Projects and Technology division of Shell Global Solutions Malaysia, says during the media briefing at MHB's Pasir Gudang yard.
While the Malikai TLP required components and parts sourced from all over the globe, the technology involved in executing the construction was done totally in-house, including the hull, says KK Lim, Technip Asia-Pacific president during the media briefing. "Outside of Europe and much of the US, there is not a job done at this level of technical complexity. So, to bring this scale and to get the jobs being done by mostly local expertise, and the skills retained here, I think deserves a mention,"  says Lim