This article first appeared in The Edge Financial Daily, on April 19, 2019.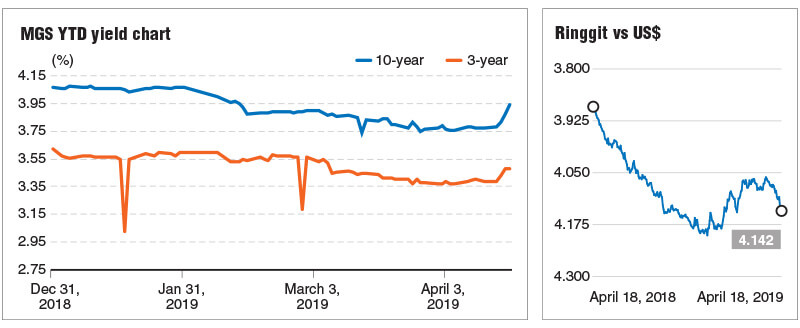 KUALA LUMPUR: The Malaysian Government Securities (MGS) 10-year benchmark yield climbed further yesterday, by seven basis points, while the ringgit extended its weakness.
Bank Negara Malaysia data showed that 10-year MGS yield closed at nine-week high of 3.94% — the highest level since Feb 13, while three-year MGS was flat at 3.48%. The 10-year MGS yield was 3.96% on Feb 3.
Meanwhile, the ringgit continued to weaken against the US dollar to 4.142 yesterday, the lowest since Jan 25, when it traded at 4.1457 against the greenback.
The selling was sparked by news that FTSE Russell may downgrade Malaysian bonds from the World Government Bond Index (WGBI).
When contacted, CIMB Group treasury and markets group head Chu Kok Wei told The Edge Financial Daily that despite this week's decline, bond prices are still high after the February rally when the market was bullish on emerging markets.
"Of course, the market price of bonds declined in reaction to the news, but let's put things into perspective. MGS had a massive rally in February as investors were bullish on emerging markets, and in fact, even after the knee-jerk reactive sell-off, prices are still higher than at the beginning of the year. In short, there's no solid reason to be alarmed by the current situation," he said.
"An index provider always reviews all their constituents; the review timeline is six months, and unless there is more short-term information given, which is unlikely, the initial reaction is probably over and done with.
"During the six-month review, I am sure the index provider will engage with various stakeholders to make sure they get everyone's perspective, so we expect the ministry of finance, Bank Negara Malaysia (BNM) and all major market participants to provide their feedback," he added.
Chu also noted that Malaysia's foreign exchange market trajectory is positive with its market infrastructure improving in the past 12 months with progressive liberalisation and operational ease.
"While there have been some comments on access to the foreign exchange market, there have been positive developments. For example, BNM and all Malaysian local and foreign banks have done tremendous work on the Appointed Overseas Office and dynamic hedging framework to facilitate genuine hedging trades with ease," he said.
Financial Markets Association Malaysia president Datuk Lee Kok Kwan also pointed out that the Malaysian bond market is deep enough to accommodate reduction of foreign holdings in the government debt papers.
"No, the situation is not concerning as the Malaysian bond market is deep and well developed with more than RM1.5 trillion in outstanding issuances, where the market was just giving up some of the gains after the significant rally in February earlier this year," he told The Edge Financial Daily.
Lee sees the oversubscription of the new issuance indicating demand for government debt papers remains strong.
"Non-resident holdings have been stable at around 23% as at end March and while non-resident holdings might increase or decline periodically, the domestic take-up is very strong, which has been amply demonstrated over and over again through many periodic market episodes and economic cycles.
"It is the foreign exchange that is more volatile but the fundamentals of the economy [are] relatively solid as the current account is in surplus, where the government has very little foreign currency debt, GDP (gross domestic product) growth is decent at above 4.5% and the fiscal deficit is manageable and it is fully funded in ringgit with no dependency on foreign currency funding," he added.