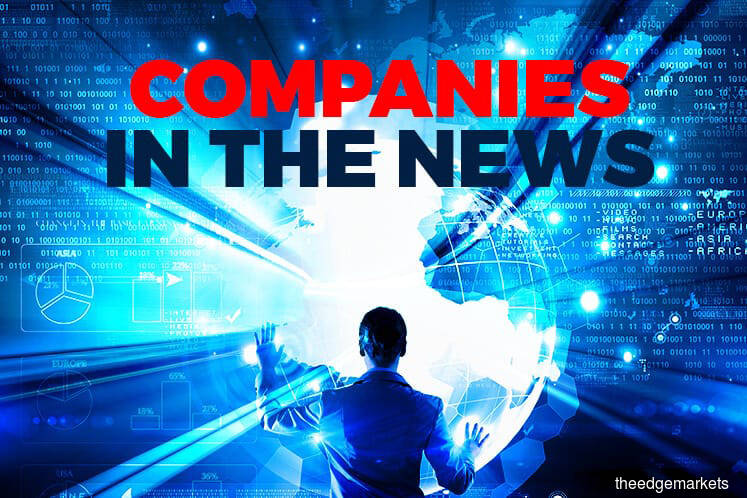 KUALA LUMPUR (Aug 5): Based on corporate announcements and news flow today, stocks in focus on Tuesday (Aug 6) may include: MGB Bhd, Seal Incorporated Bhd, Ni Hsin Resources Bhd, Sunway Real Estate Investment Trust (Sunway REIT), FGV Holdings Bhd, Xingquan International Sports Holdings Ltd, China Stationery Ltd, My EG Services Bhd (MyEG) and Asia Media Group Bhd.
MGB Bhd has entered into a joint venture agreement (JVA) to develop 1.88 acres of leasehold land at Cameron Highlands, Pahang, into a block of serviced apartment with a gross development value of RM107 million.
MGB said its wholly-owned subsidiary Sinaran Kencana Sdn Bhd has entered into the JVA with Aset AZG Sdn Bhd, which is the owner of the tract.
Seal Incorporated Bhd is buying 20 units of commercial shop lots located in Kuala Lumpur from Dwitasik Sdn Bhd for a combined purchase price of RM21.76 million, for investment purposes.
The builder-cum-property developer said its wholly-owned subsidiary Seal City Sdn Bhd (SCITY) has entered into a sale and purchase agreement (SPA) with Dwitasik for the purchase of the properties. Dwitasik is a company principally involved in the property business.
The purchase price will be funded by way of internal funding, it added.
Ni Hsin Resources Bhd has inked an exclusive distributorship agreement (EDA) with Japanese kitchen cookware manufacturer Wonder chef Co Ltd to market the latter's products in the Asean market.
Ni Hsin said its unit Ni Hsin Corp Sdn Bhd (NHC) had entered the EDA to particularly market woks and pressure cookers.
It said Wonder chef's products are sold in numerous Japanese departmental stores and general merchandising stores, as well as via television shopping to reach out to a wider consumer group.
Sunway Real Estate Investment Trust (Sunway REIT) said today that the market value of its Malaysian properties rose to RM7.982 billion as at June 30, 2019, from RM7.809 billion previously, for a RM173 million surplus, following revaluation of its assets.
Sunway REIT — which assets include shopping malls and hotels — said the net revaluation surplus stood at RM108 million, after taking into account capital expenditure of RM65 million, based on the its unaudited results for the financial year ended June 30, 2019 (FY19).
FGV Holdings Bhd (FGV) said the complaints panel of the Roundtable for Sustainable Palm Oil (RSPO) has lifted the suspension on FGV Serting Complex and reinstated its RSPO certification, effective today.
FGV said the complaints panel (CP) made the decision based on the actions implemented by FGV since the suspension of the Serting Complex in November 2018.
The panel, it said, expressed satisfaction that FGV has fulfilled the major conditions that were laid out for rectification and is confident that the plantation giant will continue to meet the milestones in its action plan.
Meanwhile, FGV announced that the memorandum of understanding (MoU) it had signed with Sinograin Oil Corp, to collaborate for the supply, storage, processing and distribution of palm oil-based products in China, has lapsed upon its expiry on May 14, 2018.
This is the third MoU with Chinese company that has lapsed upon its expiry.
FGV said both parties were unable to come to an agreement on the specific terms of trade, hence it decided not to renew the MoU.
Xingquan International Sports Holdings Ltd, which just marked its 10th year on Bursa Malaysia last month, is going to be delisted in less than two weeks, together with China Stationery Ltd.
The two China-based companies is facing regulatory action after continuously failing to issue their annual reports and audited financial statements, months after the stipulated time frame specified under the listing requirements.
Both companies are now going to be delisted on Aug 16, unless they submit an appeal to Bursa Securities by Aug 13.
My EG Services Bhd (MyEG) today denied that neither Umno nor its proxies have a substantial stake in the company, saying such claims are "erroneous, speculative and baseless".
The group said it does not have, either at any time in the past or in the present, any substantial shareholdings held by Umno or any political parties in Malaysia, whether directly or indirectly through proxies.
Asia Media Group Bhd's ousted non-executive director Paul Jong Jun Hian claims his signature was forged on a directors' circular resolutions (DCR).
Asia Media said it received a copy of police report lodged by Jong, who has also been removed in July, alleging his signature was forged on a DCR to approve the release of the first announcement with regards to the group being categorised as a Practice Note 17 (PN17) company.
In view of the police report, Asia Media's current board clarifies that the first announcement was made, after the majority four out of seven directors signed on the DCR to approve the release of the said first announcement. Subsequently, all four directors who had signed on the DCR, were voted out by shareholders in the EGM held on July 25.
Meanwhile, Asia Media's board of directors and management are applying for a court order to compel access to its office premises, as well as to gain access to all relevant company documents.
Asia Media, whose business pertains to transit TV network and advertising, said its management is now in the process of securing a new rental office premises, within the vicinity of Klang Valley.