This article first appeared in The Edge Malaysia Weekly, on April 29, 2019 - May 05, 2019.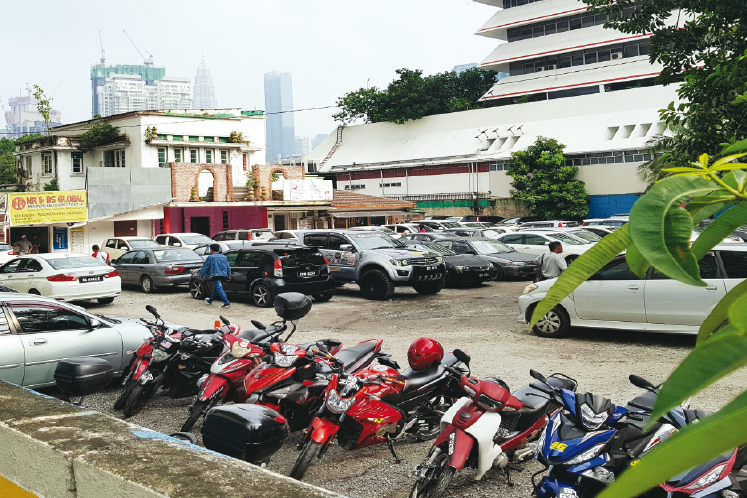 The one-acre land was originally earmarked to house MFM's headquarters. Photo by Suhaimi Yusuf/the edge
FLOUR miller and poultry farmer Malayan Flour Mills Bhd (MFM) is seeking bids for its prized parcel on Jalan Tun Razak, Kuala Lumpur, which industry experts estimate may fetch about RM108 million.
MFM purchased the one-acre plot, where the Passage Thru India restaurant car park is located, for RM21.73 million or RM500 per sq ft (psf), some 23 years ago.
"MFM has been holding this land since 1996 and the intent back then was to build a corporate headquarters. However, over the years, the priority has changed and now we have decided to dispose of the land to unlock the investment value," MFM group chief financial officer Cheang Kiat Cheong told The Edge when contacted to confirm the sale.
"We have appointed Savills (Malaysia) to manage the sale," Cheang says. However, he is unable to comment on the price for the commercial plot.
It is learnt that no reserve price has been set for the plot that sits between the Indonesian Embassy and the Kenanga Tower building and is located just 1km from the Tun Razak Exchange (TRX). MFM's 2000 annual report says the land also houses a residential building that was built 80 years ago.
"The MFM land is a super prime one-acre development prominently located along Jalan Tun Razak, which is directly opposite the Royal Selangor Golf Club. It is one of the last few remaining prime lots in the city," Savills Malaysia managing director Datuk Paul Khong tells The Edge.
"From a development angle, with a 1:6 plot ratio, it will have a total GFA (gross floor area) of 261,000 sq ft and given its excellent location, it will have pristine views of the golf course on its eastern side, panoramic skyline views of KLCC Twin Towers on its northwestern side, and of TRX with Exchange 106 on the southwest," he adds. Moreover, the TRX MRT Station — near Zouk at less than a kilometre away — is fully operational now.
Khong believes these are strong selling points and inherent characteristics of this particular site. They are valuable pointers for developers to consider as they will translate into brisk units sales in the future. "In addition, it a good lot size for development and even for land banking purposes over the current period," he adds.
According to Khong, the plot does not have any height restrictions even though the Indonesian Embassy is located next door. The closing date for the tender is June 28, 2019.
Three industry experts — a real estate agent and two valuers — say the freehold land measuring 43,445 sq ft may be worth anything between RM2,000 psf and RM2,500 psf, which translates into RM86.89 million and RM108.61 million respectively.
Industry experts also estimate that should the land be developed into serviced apartments, the gross development value (GDV) would be higher at RM300 million to RM350 million; if used to construct an office building, it would be between RM250 million and RM280 million.
Earlier this year, MFM said it plans to grow its downstream segment of the food industry by investing RM1.1 billion over the next two to three years to build an integrated food complex in Lumut, Perak, where poultry farms, aquafarms and poultry-processing plants already exist.
Asked if the sale would help fund its planned expansion, he says, "We are always on the lookout for investment expansion opportunities both locally and abroad."
According to MFM's annual report, it also has vacant land in Perak, Selangor, Johor and Kedah. However, Cheang says the company has no plans to dispose of any more land.
Earlier this year, it completed a cash call exercise to help expand its poultry-processing plant, which has reached peak capacity, forcing it to turn customers away. MFM also wants to construct a new aqua feed milling plant to extend an existing jetty and to pare down its revolving credit facilities.
The cash call involved a 5% redeemable convertible unsecured loan stocks (RCULS) and rights issue of ordinary shares. The RCULS entailed the issuance of up to 165.1 million shares in nominal value of five-year RCULS at 100% of its nominal value of RM1. MFM's shareholders were entitled to the RCULS on a basis of three loan stocks for every 10 existing shares. With every two RCULS subscribed, shareholders will be given one bonus share and one free warrant.
The rights issue, meanwhile, involved 220.11 million shares at a subscription price of 50 sen per ordinary shares on a basis of two rights shares for every five existing shares, sweetened by one bonus share and one free warrant for every four rights shares.
In the financial year ended Dec 31, 2018, MFM's revenue increased marginally by 0.9% to RM2.42 billion from RM2.40 billion in FY17. However, net profit plunged 74.1% to RM17.78 million from RM68.57 million a year ago due to a combination of fluctuation in live bird prices and the depreciation of the rupiah against the US dollar.