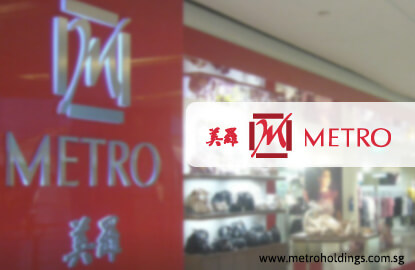 SINGAPORE (Oct 11): Metro Holdings said it is conserving its cash for its capital intensive property division, in response to an open letter from its shareholder Quarz Capital Management.
In a filing to the Singapore Exchange, Metro said it maintains a long-term focus towards property development and investment which have long development cycles and that its key business strategy lies in expanding its property portfolio and geographical presence.
Insufficient cash will therefore hinder its potential capital deployment into property development and investment opportunities that may arise and impact its future income streams, the group added.
The group also said its net cash position is constantly fluctuating and explained that in December 2013, its cash position fell to S$35.6 million (RM108.1 million) from S$429.8 million in June 2012 after the capital was deployed into a number of projects.
Following the divestment of EC Mall, the net cash position rose back to S$479 million in June.
Meanwhile, over the last 12 months, Metro said it has deployed capital into Sheffield Digital Campus in Sheffield, UK, and the InfraRed NF China Real Estate Fund II (A).
Both these investments, as well as an earlier investment in Middlewood Locks in Manchester, UK, require further capital which the group is set to provide, said Metro.
Nevertheless, Metro said it has a "good track record of constantly paying dividends to shareholders", paying out 29 cents per share over the past five financial years. In FY2016, it declared total dividends of seven cents, representing a dividend yield of 7.4%.
The group said it welcomes Quarz to attend its annual general meetings where many of the issues raised in the open letter have been raised and considered in the past.
Shares of Metro closed 1% higher at S$1.01.