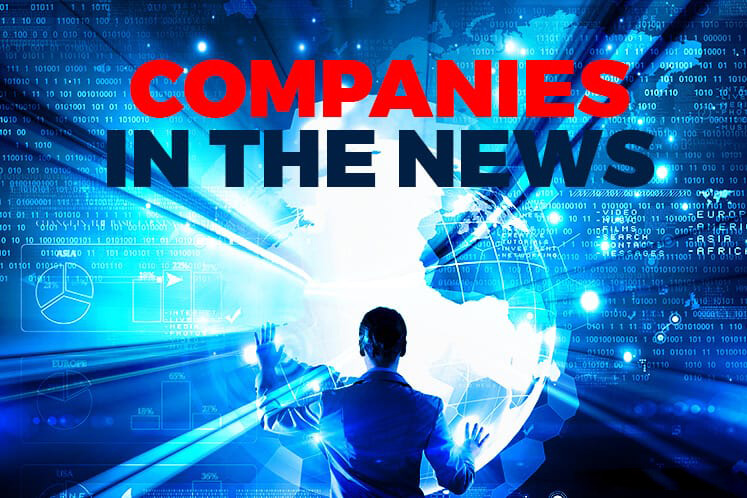 KUALA LUMPUR (Sept 11): Based on corporate announcements and news flow today, stocks in focus on Monday (Sept 14) may include: Mesiniaga Bhd, MSM Malaysia Holdings Bhd, Rubberex Corp (M) Bhd, Axiata Group Bhd, QES Group Bhd, Dialog Group Bhd, Dagang NeXchange Bhd, RHB Bank Bhd, Genting Malaysia Bhd, MMAG Holdings Bhd, Malaysia Airports Holdings Bhd and Luster Industries Bhd.
Mesiniaga Bhd has bagged a contract worth RM24.18 million from Tenaga Nasional Bhd (TNB), for the supply, installation, configuration, testing, commissioning and migration of existing services of the TNB Industrial Control System IP/MPLS Network (Phase 2).
MSM Malaysia Holdings Bhd, which has placed its group chief executive officer (CEO) on leave of absence as he was required to explain certain irregularities relating to inventories, clarified today that these irregularities pertain to an adjustment to write-off inventories amounting to RM36.6 million in MSM Sugar Refinery (Johor) Sdn Bhd. According to the group, the adjustment to write-off inventories was reported in its financial statements for the financial year ended Dec 31, 2019.
Rubberex Corp (M) Bhd has become the latest rubber glove maker to buy back its shares after a selldown. The group today spent RM8.05 million, which is equivalent to 10.6% of its cash pile of RM76.07 million as at June 30, to buy back 1.54 million shares at between RM4.82 and RM5.22.
Axiata Group Bhd said its dividend of 2 sen per share for the second quarter ended June 30, 2020 will be paid on Oct 13. The counter will go ex on Sept 28, while the entitlement date is on Sept 29. The dividend payout was first announced with the group's latest quarterly results last month.
QES Group Bhd has proposed to undertake a private placement of up to 75.83 million shares to raise up to RM20.47 million, which will mainly be used for factory expansion, financing its research and development (R&D) and future working capital. The placement size represents 10% of its total issued shares of 758.31 million, while the issue price will be determined later.
Dialog Group Bhd plans to raise up to RM3 billion via sukuk to fund its investments, acquisitions, debt refinancing as well as working capital requirements. The group said it may also use proceeds raised from the sukuk programme for capital expenditure, repayment of inter-company borrowings and general corporate purposes of the group or its subsidiaries, associates and joint venture companies.
Dagang NeXchange Bhd (DNeX)'s unit has inked a preliminary agreement with PT Infrastruktur Telekomunikasi Indonesia (TelkomInfra) to look into establishing a partnership to undertake the business of submarine cable deployment, maintenance and repair within and outside Indonesia. DNeX said its indirectly held PT DNeX Telco Indonesia inked the Memorandum of Understanding with TelkomInfra today that expressed their intention to carry out an assessment of the potential partnership that will make use of DNeX's cable ship, CS DNeX Pacific Link, as the main vessel for the business.
RHB Bank Bhd plans to issue up to RM10 billion in senior sukuk murabahah, which will be in multi currencies including the ringgit. The group said the proceeds raised from the sukuk will be used within RHB Bank's group of companies for its working capital and general banking purposes of Islamic business activity.
Genting Malaysia Bhd said it is injecting another US$150 million (RM625 million) cash into loss-making Empire Resorts Inc. This comes barely six months after the hilltop casino operator announced in March that it would be injecting US$40 million (RM174.8 million then) into Empire Resorts, via a subscription agreement for Empire Resorts' Series G Preferred Stocks.
MMAG Holdings Bhd is buying a newly incorporated firm that is going to be involved in digital health solutions for RM100,000. It is buying the firm, Maasdots Sdn Bhd, from BrilliantID Sdn Bhd. Maasdots has plans to work together with eMedAsia Sdn Bhd — an associate company of MSCM Holdings Bhd — in the implementation of certain services to ensure maximum coverage and network penetration for users.
Malaysia Airports Holdings Bhd's (MAHB) network of airports recorded 3.3 million passengers for August, a decline of 74.4% compared with the same month last year.
MAHB described the figure as "encouraging", after taking into account the movement curbs and border controls imposed by the Government since March. In the 12-month period ended August, MAHB's total passengers dropped 41.7% to 80.4 million compared with the previous corresponding period.
Luster Industries Bhd plans to undertake a private placement exercise that could raise between RM30.35 million and RM47.19 million for general working capital including purchase of raw materials and overhead expenses. The private placement entails an issuance of up to 20% of the plastic products manufacturer's total number of issued shares to a third party investor to be identified later, at an issue price also to be announced later.