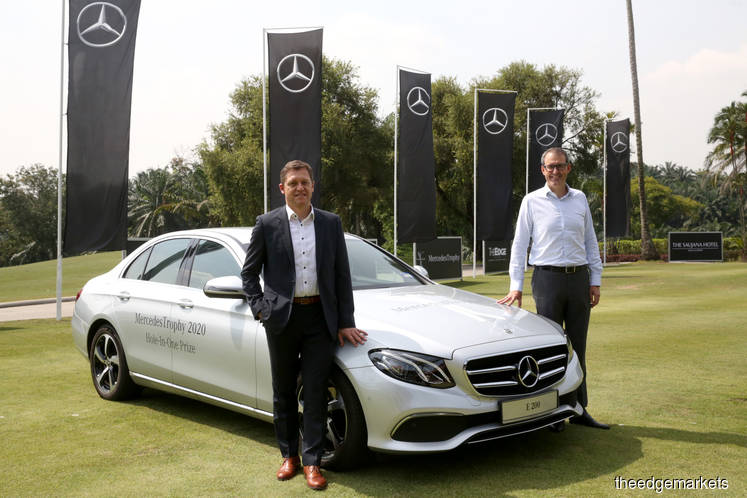 MBM president and chief executive officer Dr Claus Weidner (left) with the Hole-In-One prize, the Mercedes-Benz E 200 SPORTSTYLE Avantgarde. (Photo by Sam Fong/The Edge)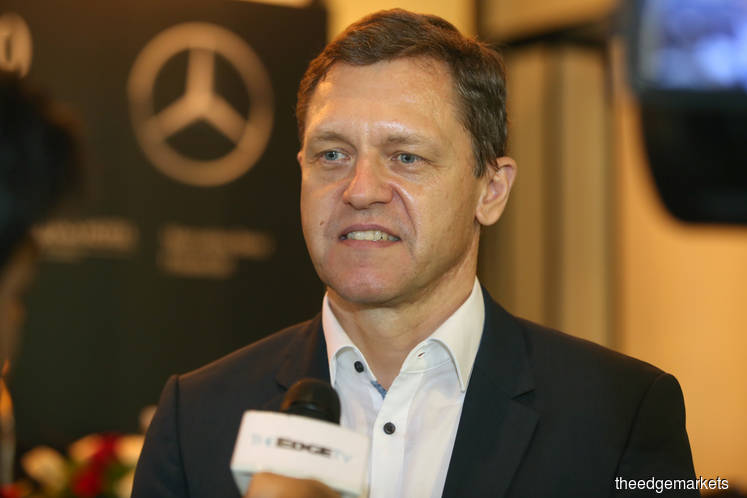 Weidner: This strong connection between the game and our brand has led to the active involvement for Mercedes-Benz in this sport since 1989. Today, the MercedesTrophy has evolved into an extremely successful tournament series for amateurs, staged over 60 countries, and we're very proud to host it for the 30th year in Malaysia. (Photo by Sam Fong/The Edge)
SHAH ALAM (Feb 4): German automaker Mercedes-Benz Malaysia (MBM)'s golf tournament, the MercedesTrophy, will be celebrating its 30th anniversary this year.
At the tournament's launch here today, MBM president and chief executive officer Dr Claus Weidner said the tournament, which is exclusively for Mercedes owners who have bought their cars from registered dealerships, will see its first qualifying round at the Penang Golf Club on March 13, 2020.
"This strong connection between the game and our brand has led to the active involvement for Mercedes-Benz in this sport since 1989. Today, the MercedesTrophy has evolved into an extremely successful tournament series for amateurs, staged over 60 countries, and we're very proud to host it for the 30th year in Malaysia," he said.
The MercedesTrophy was first introduced in 1991, and to date, over a million Mercedes-Benz customers have participated in the golf tournament.
The tournament will be spread over six rounds, five of which will be qualifying rounds.
The second qualifying round will be held at the Forest City Resort, Johor, on March 19. The third and fourth rounds will be held at The Mines Resort & Golf Club, Selangor, on April 14 and April 15 respectively.
Meanwhile, the fifth qualifying round will be held on April 22, 2020 at the Sutera Harbour Golf and Country Club, Sabah.
The top five winners of each qualifying round will then compete to win the tournament at the National Final, which will be held at Saujana Golf and Country Club on June 23.
In total, there are four categories for the tournament. For men, Category A is for those who have a golf handicap of 0 to 12. Category B is for men with a handicap of 13 to 20, while Category C is for male participants with a handicap of 21 to 24.
For women — who will only qualify at the fourth round — there is only one category with a golf handicap of 0 to 36.
According to Weidner, the car marque is expecting some 100 Mercedes owners to participate in each round.
In addition, the first player to achieve a Hole-In-One on any of the two designated par-3 holes at each venue will win the Mercedes-Benz E 200 SPORTSTYLE Avantgarde, which retails for RM329,888.
The top two winners in each of the three handicap categories and one from the women's category will then qualify for the MercedesTrophy Regional Final Asia in August 2020, and will be sent to the regional final via an all-expenses-paid trip.
One Malaysian will then be selected to be part of the Asian team in the MercedesTrophy World Finals in Stuttgart, Germany, in October 2020.