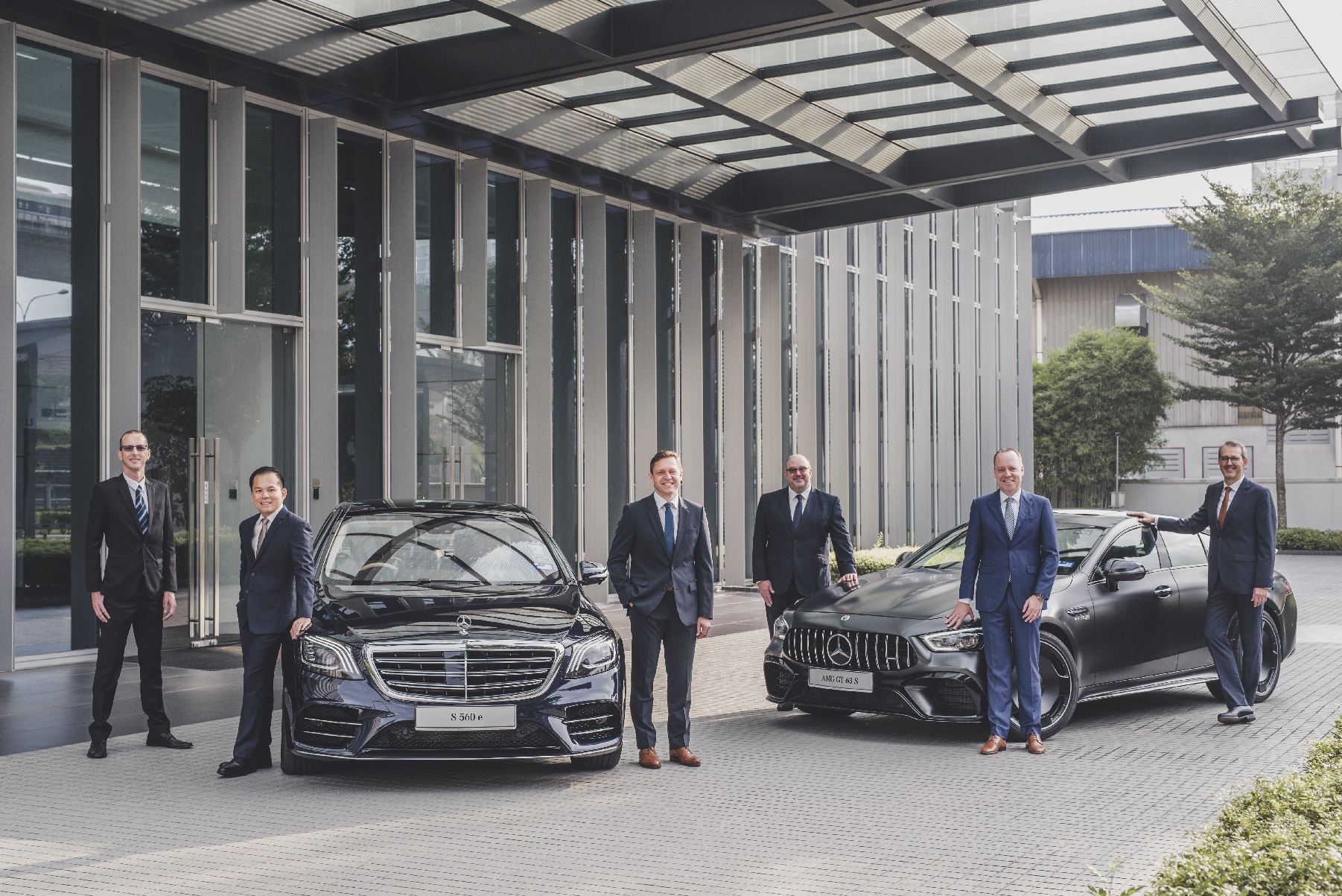 (From left to right): Patrick Baur, Vice President - Production Plant; JC Yap, General Manager - Network Development; Dr Claus Weidner, President & CEO; Jeffrey Simon, Vice President - Customer Services, Hans-Joerg Mehl, Head of Finance & Controlling, Vice President & CFO; and Michael Jopp, Vice President - Sales & Marketing Passenger Cars. (Photo by: Mercedes Benz Malaysia Sdn Bhd)
KUALA LUMPUR (Jan 22): Mercedes-Benz Malaysia (MBM) says it has retained its pole position in the premium luxury car segment in Malaysia in 2019 with a 1.8% market share and 10,020 cars delivered.
"Despite facing headwinds, we ended the year on a strong note to cement our position in the premium automotive segment.
"We are fully confident that 2019 has set up a great tone as we power up a great momentum for the new decade," said MBM vice president of sales and marketing, Michael Jopp, in a statement today.
MBM was also the top luxury car brand in 2018, when it sold a record high 13,079 units.
As for last year, the company's performance was supported by several new models introduced, including the E 350 AMG Line, E 200 SPORTSTYLE Avantgarde, E 300 Exclusive Line, A200, A250, GLC and GLE SUV models, as well as the Mercedes-AMG A35, GT R and GT C.
MBM also celebrated the 15th anniversary of its manufacturing plant in Pekan, Pahang last year by rolling out its 100,000th vehicle. MBM's locally-assembled line-up currently stands at 13 variants from five model lines, namely C-Class, E-Class and S-Class sedans, GLC and GLC Coupe SUVs, as well as two Mercedes-AMG models, the C 43 and the GLC 43.
2019 was also the year MBM made its first export out of Malaysia, when it shipped the Mercedes-Benz C180 left-hand drive to the Philippines, which kicked off similar initiatives within Southeast Asia.
Meanwhile, the group's auto financing arm Mercedes-Benz Services Malaysia (MBSM) financed five out of every 10 Mercedes-Benz vehicles sold throughout 2019, bringing its servicing portfolio value to RM2.6 billion.
Its efforts in demonstrating impeccable after-sales service also led to a record-breaking throughput of 165,299 vehicles, up 11% from the 148,800 units it recorded in 2018, according to MBM.
"We wrap up the decade on a great note as we continue to grow our customer base and set our footing in the country. 2019 was a year where we placed great emphasis on expanding our product offensive with innovative technology and emotional design, catering to the needs of our customers," said MBM president and chief executive officer Dr Claus Weidner.
"Through a solid leadership and vision, we reaffirmed our commitment to the Malaysian market and our customers in delivering the Best Product and Best Customer Experiences," Weidner said.
He added that 2020 will be "a memorable and exciting year" for MBM, with refreshing innovations and new products to elevate the customer experience.