This article first appeared in The Edge Financial Daily, on January 10, 2019.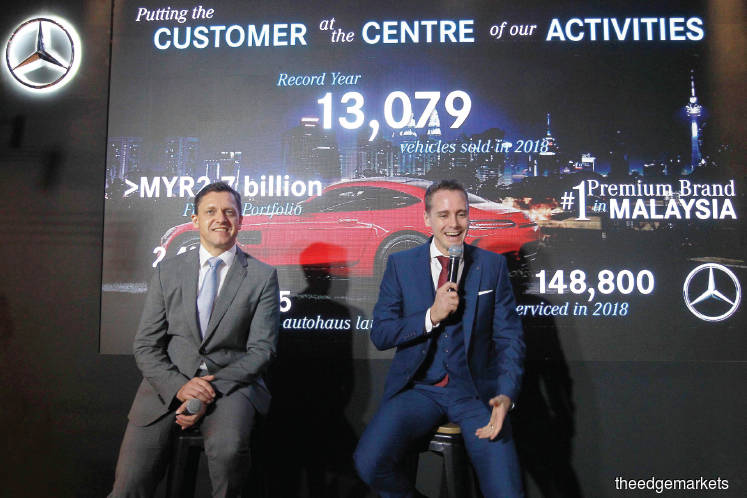 Weidner (left) and Raine at a media briefing to announce Mercedes-Benz Malaysia's 2018 results in Kuala Lumpur yesterday. Photo by Shahrin Yahya
KUALA LUMPUR: Mercedes-Benz Malaysia Sdn Bhd (MBM) president and chief executive officer Claus Weidner yesterday declined to comment on Cycle & Carriage Bintang Bhd's proposed disposal of its Mercedes-Benz retail business.
"We cannot comment on other companies; we, MBM, are in the wholesale business in Malaysia, that's all I can say.
"We are the wholesale company here. We do the import and the brand management here in the country — that is our business scope," Weidner told a media briefing to announce Mercedes-Benz Malaysia's 2018 results yesterday.
The Edge Malaysia weekly's Jan 7-13 issue reported that Cycle & Carriage Bintang could exit the retail business of Mercedes-Benz cars in Malaysia and sell the business to Mercedes-Benz Malaysia, as part of the group's effort to downsize and to only sell spare parts and to service Mercedes-Benz vehicles.
At the briefing, Mercedes-Benz Malaysia vice-president of sales and marketing Mark Raine said the company achieved an all-time high sales of 13,079 vehicles last year, 9% more than in 2017.
Raine said the company had a 2.4% market share, and had serviced 148,800 vehicles in 2018.
For every five new vehicles the company sells, it sells one certified pre-owned vehicle.
Raine revealed that Mercedes-Benz Malaysia sold 7,910 units of its locally produced limousines in 2018, 12% more than 2017.
Its sales of 2,613 units of locally produced sports utility vehicles were only marginally or 0.5% more than those in the previous year.
Its dream car segment accomplished the biggest sales increase, the 662 units sold in 2018 representing a 77% increase.
However, its progressive compact car segment suffered a 7.7% decrease to 1,875 vehicles sold.
The group attributed the dip to 2018 being a transition point for the segment as customers were waiting for the next generation of compact cars. It expects the segment to be a growth contributor this year given the launch of its new A-Class vehicle two months ago.
Raine said Mercedes-Benz Malaysia plans to launch some 20 new models this year, similar to last year. He confirmed the three-month tax holiday owing to the abolishment of the goods and services tax had helped the group achieve its 2018 sales.
He was pleased that the company's customer-centric strategy was proven successful, especially during difficult times.
On the government's proposal for a third national car, Weidner said, "I think it is still a long way to go to see how and what, and who is going to be involved. We are very happy to help to develop the Malaysian automotive industry. At the moment, we are focusing on developing our Mercedes-Benz portfolio, localising as much as possible."