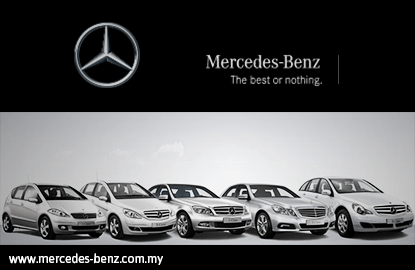 KUALA LUMPUR (Jan 8): Mercedes-Benz Malaysia Sdn Bhd sold 10,845 units of passenger vehicles in 2015, up 56% from the previous year, on higher sales of C-Class, E-Class, S-Class and CLA models.
Mercedes-Benz Malaysia's vice president of sales and marketing Mark Raine said total sales volume in 2015 rose from 6,932 vehicles in 2014.
Speaking at a media briefing today on the company's sales performance, Raine said Mercedes-Benz Malaysia would "maintain the momentum in 2016".
Mercedes-Benz Malaysia is a joint venture between Daimler AG and Cycle & Carriage Bintang Bhd.
According to Raine, Mercedes-Benz Malaysia sold 3,383 units of the locally-produced diesel hybrid E-class in 2015, compared to 2,214 units in 2014.
C-class sales increased 56% to 2,697 units, while the S400L hybrid recorded sales of 1,909 units, up 201%.
The group's compact model under the CLA banner posted a sales figure of 959 units, up 74% from the previous year.
Asked if Mercedes-Benz Malaysia will revise vehicle prices this year, Raine said the group had a long-term pricing strategy.
He said the company looked at the overall value of its product.
"Pricing is only one factor in the entire value chain. For now, we will maintain the current prices and hope to continue with the sales momentum in the new year," Raine said.
At Bursa Malaysia, Cycle & Carriage Bintang shares rose three sen or 0.9% to settle at RM3.50 at 12:30pm. At RM3.50, the company had a market value of RM352.6 million.