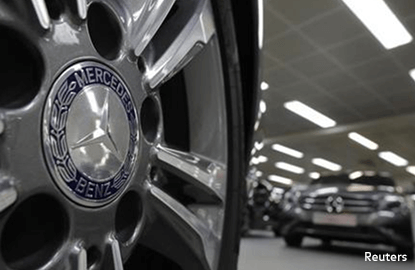 KUALA LUMPUR (Jan 24): Mercedes-Benz Malaysia Commercial Vehicles (MBM CV) has effectively increased its market share in the Malaysian logistics and transportation sector, climbing up the ranks to be second in the premium commercial vehicle segment.
In a statement today, MBM CV said despite a 13% dip in total industry volume (TIV) for 2016, the company has delivered a resilient performance, recording a total of 2,612 vehicles sold in 2016. The vehicles comprised FUSO light duty and heavy duty trucks, as well as Mercedes-Benz trucks and vans.
"As part of the Daimler truck division, MBM CV represents first-class product quality and service excellence. With 120 years of experience, we have a deep understanding of our customers' needs for safety, reliability and economic efficiency. Thanks to our dealer partners and the trust customers have in us, 2016 was a successful year for commercial vehicles. As a new year begins, we renew our commitment to deliver vehicles of the highest quality — Trucks you can trust," said MBM CV vice president Albert Yee.
The Mercedes-Benz Actros proved to be a top choice among hauliers, as it recorded a total of 216 units sold in 2016, representing a double digit growth of 24%.  Meanwhile, the FUSO trucks recorded 2,374 units sold.
According to the company, throughout 2016, MBM CV and its network dealers continued to raise the bar with best-in-class commercial vehicles and service quality for the haulage industry. It said as a result of its successful service campaign, MBM CV recorded a notable increase in throughput at its service centres nationwide, compared with the previous year, with an impressive total of 24,956 vehicles serviced, comprising 3,920 Mercedes-Benz Commercial Vehicles and 21,036 FUSO trucks.
To enhance customer experience, MBM CV has started to upgrade its service centres in 2016, the first being the Hap Seng Commercial Vehicle 3S Centre (Kuantan) in the east coast region, to cater both Mercedes-Benz and FUSO Commercial Vehicles.
Similarly, MBM CV and its dealer partners are expected to upgrade additional service centres to facilitate sales and service, maintenance and repairs for both brands in 2017.
There are currently a total of 72 service centres, catering to both Mercedes-Benz and FUSO Commercial Vehicles.
MBM CV said it has invested a total of RM28 million in the Mercedes-Benz Commercial Vehicle production line at its Pekan plant since 2004. To-date, the production plant has produced over 25,000 Mercedes-Benz and FUSO Trucks to match growing local demand.
Reviewing the year's performance, Yee said, "We enjoyed a very positive year in 2016, securing fleet deals for both our FUSO trucks and Mercedes-Benz prime movers. Additionally, our ability to deliver top class service quality is attributed to our focus to consistently refresh our technicians' skills and knowledge, regardless of years of technical experience, through initiatives like the Mercedes-Benz Malaysia Skills Competition Commercial Vehicles.