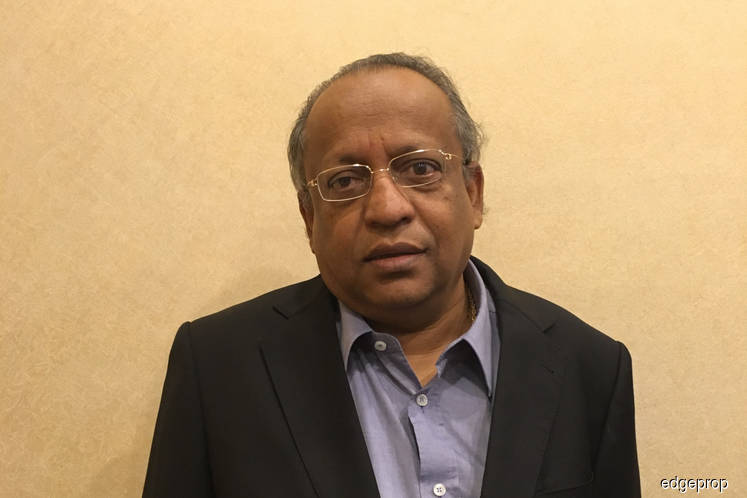 PETALING JAYA (Sept 3): The former management committee of Menara UOA Bangsar was instructed by Dewan Bandaraya Kuala Lumpur's Commissioner of Buildings (COB) to resume their duty as interim caretakers of the building for two months, according to Henry Butcher Malaysia (Mont Kiara) Sdn Bhd executive director Low Hon Keong.
Low, who is also the property manager for Menara UOA Bangsar, told EdgeProp.my that the previous nine-member management committee from Menara UOA Bangsar Management Corporation (MC), comprising some of the minority owners in the development and representatives of UOA Real Estate Investment Trust, had attended a meeting held by the COB on last Thursday to discuss an interim solution for the building management.
"COB has given instruction to the nine members to resume their tasks as interim caretakers for the building to perform routine tasks and an extraordinary general meeting (EGM) must be held within two months to form a management committee," explained Low.
He added that an official letter of the discussion will be issued to all the stakeholders by this week.
During the meeting, the commissioner also offered alternative solutions and advice to both parties, such as the number of committee members and finding solutions through EGM.
"The interim caretakers will act as office bearers to make sure the functionality of the building, such as routine tasks like paying utilities and administration work. However, they are not allowed to sign off major contracts such as appointing service providers in these two months' time," said Low.
To recap, Menara UOA Bangsar comprises 440 parcels of offices and retail lots, with UOA Reit owning an aggregate 53% of the share units of Menara UOA Bangsar and the balance of 47% of the share units being owned by individual owners.
Menara UOA comprises a 31-storey block called Tower A (owned by individual owners), a 15-storey block called Tower B (owned by UOA Reit), four-storey retail units, six levels of elevated car park and four levels of basement carpark.
The previous management committee comprised seven members of minority share unit owners in Tower A and two representatives from the majority share unit owner — UOA Real Estate Investment Trust (UOA Reit) in Tower B.
Both parties were in a dispute over the decision made by UOA Reit through a poll vote — to reduce the number of MC committee members from nine person to three persons, with no satisfactory reasons given by the representatives from UOA Reit.
The seven committee members in the MC who represented the individual owners withdrew their nominations during the AGM which was held on Aug 16.
As a result, the new management committee could not be formed as Strata Management Act 2013 (SMA 2013) requires at least three persons or a maximum of 14 persons to form a management committee.
This is also the first case in Malaysia where the functionality of a building could be left paralysed with no management committee on board, which means nobody could sign off the payments for monthly expenses.
How did it start?
The decision made by COB has no doubt offered a temporary solution to over 400 unit owners in the the 10-year old Menara UOA — which is located at Jalan Bangsar Utama, Kuala Lumpur, next to Bangsar LRT station – who are worried about the upkeep of the building.
The Menara UOA Bangsar MC President Datuk Satharuban Sivasubramaniam said a lack of openness and transparency was the key issue that triggered the dissatisfaction of the minority share unit owners against UOA Reit.
Before Henry Butcher was appointed as property manager in December 2017, Menara UOA Bangsar is managed by Dats Management Sdn Bhd (Dats), a wholly-owned subsidiary of UOA Reit.
"We (committee members representing individual owners) have discovered something inappropriate in terms of accounting and administration under Dats. We have raised our concerns and request for documents to provide more clarity but the requests were turned down or delayed by Dats," he told EdgeProp.my.
Unusually high cash surplus
Their concerns included the cash surplus of RM16 million in the sinking fund and maintenance charges account, the bookkeeping process of splitting the expenses to three accounts, the calculation of expenses in common areas and fee collections in motorcycle parking bays.
He stressed that the lack of transparency in financial report presentation has caused dissatisfaction among individual owners.
For instance, the individual owners have requested to reduce the fees as the administration account has accumulated a cash surplus of RM16 million, which is unusually high, until the surplus has been reduced to certain levels as a huge cash surplus means over-collection.
However, the majority owner — UOA Reit — refused to reduce the collection rate without offering any reason or explaining the usage of funds being given by Dats or UOA Reit.
According to Satharuban, individual owners in Menara UOA Bangsar are now paying RM8 psf (excluding air-conditioning usage and maintenance charges) monthly, while UOA Reit is paying RM8.20 psf which includes air-conditioning and maintenance charges for Tower B's centralised air-conditioning system and common areas.
The final straw
In terms of bookkeeping, Dats has split the financial account to three – Tower A (owned individual owners), Tower B (owned by UOA Reit) and common areas, but for the expenses and revenue collected from common areas (motorcycle parking bay) as well as the high cash surplus are not clearly reflected in separate financial accounts.
Besides this, the individual owners also unhappy with UOA Reit, who owned and managed the leasing of the retail units in Menara UOA Bangsar, to allow the tenants to place advertisements in common areas which has breached the house rules set by Dats.
Satharuban said the decision made by UOA Reit, to reduce the number of management committee members from nine to three, was the tipping point.
He noted that it is already not easy for a nine-member MC to manage the building, and with only three persons on the board, the administration workload will be harder and as a result, it may even be impossible to perform checks and balance between the major owner, minority owners and property manager.
"This is the main reason we withdrew our nomination and request COB to step in to resolve the problem," he added.
Meanwhile, UOA Reit and COB did not immediately respond to media queries as at press time.
Click on this link to go to the original story on EdgeProp.my