This article first appeared in The Edge Malaysia Weekly, on March 4, 2019 - March 10, 2019.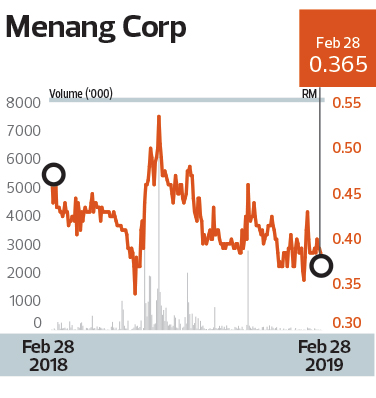 LITTLE known Datuk Lee Chin Hwa surfaced as a substantial shareholder in Menang Corp (M) Bhd in early November last year, controlling a 5.01% stake or 24.07 million shares in the property developer.
Now, certain quarters say he has already accumulated 7%, while shareholding changes filed with Bursa Malaysia show that he controls 26.35 million shares or 5.47% equity interest.
Insiders say Lee had bought into Menang in 2016 but is only now actively increasing his stake.
Menang's annual report for the financial year ended June 30, 2018 (FY2018), shows that as at end-September last year, Lee had a 4.46% stake in the company. In the FY2016 annual report, it is stated that as at October 2016, Lee had 4.23% equity interest.
When contacted, Lee, who is in his late eighties and converses in Mandarin, says he has no comment.
Who is Lee?
Just who is Lee, and which faction is he aligned with at Menang? Is he likely to accumulate more shares, and does he have the financial clout required to undertake such an acquisition spree?
In July 2013, FGV Holdings Bhd made an offer to take over Pontian United Plantations Bhd for RM140 cash per share or RM1.21 billion in total.
Lee, who had 472,552 shares or a 5.46% stake in Pontian United Plantations, walked away with RM66.16 million while his children — Min Huat, Sep Lian and Min Keong — and Chin Leong Thye Sdn Bhd, which collectively owned 188,420 shares, sold out to FGV for RM26.38 million.
Apart from Chin Leong Thye, Lee and his family are known to be linked to Lee Chin Hwa Holdings Sdn Bhd, Coldec Corp Sdn Bhd and Kiwira Sdn Bhd.
A companies search reveals that Chin Leong Thye, which is wholly owned by members of the Lee family, registered an after tax profit of RM62,240 on revenue of RM53.28 million for the financial year ended December 2017. It had total assets of RM74.44 million and total liabilities of RM17.3 million.
Chin Leong Thye is involved in the trading of salt and poultry feed as well as the provision of transport services.
The family also has a 33% stake in Tanjung Arang Realty and Abadi Amanjaya Sdn Bhd, which is an oil palm plantation company.
Abadi Amanjaya had total assets of RM130.23 million and total liabilities of RM61.63 million as at end-December 2016. For the financial year ended December 2016, it reported an after tax profit of RM1.72 million on sales of RM834 million.
It is not known what other assets Lee has.
What is in Menang?
At its close of 38.5 sen last Wednesday, Menang had a market capitalisation of RM185.1 million.
There are two factions at loggerheads at the shareholder level in the company.
One is controlled by former managing director Datuk Eddie Shun Leong Kwong and his family and friends. Data in the FY2017 annual report indicates that the Shun family holds a 21.3% stake directly and via Titian Hartanah (M) Sdn Bhd, with an additional 5% or so held by friendly parties.
A source says they could collectively have as much as 32% equity interest.
The other faction is led by former deputy managing director Toh May Fook, who has a 12.5% stake in Menang. It is not clear if he has any allies in the company. Collectively, Lee and Toh could have between 18% and 20% equity interest.
For the first six months ended Dec 31, 2018 (1HFY2019), Menang registered a net profit of RM458,000 on revenue of RM21.12 million. In the previous corresponding period, the company saw a net profit of RM2.63 million on revenue of RM21.41 million.
As at end-December last year, Menang had cash and cash equivalents of RM39.51 million and net tangible assets per share of 66 sen, or 1.7 times its share price.
Last July, the company announced the proposed disposal of its entire 51% stake in Rumpun Positif Sdn Bhd and Protokol Elegan Sdn Bhd for a total cash consideration of RM43.5 million.
Rumpun Positif and Protokol Elegan are part of Menang's private finance initiative projects where the company successfully completed and delivered Universiti Teknologi Mara campuses to the government in return for a 20-year concession to run the campuses.
Rumpun Positif is the concession company for Universiti Teknologi Mara Puncak Alam while Protokol Elegan holds the concession for the campus in Nilai. The concessions started in April 2012 and July 2012 respectively.
The sale is expected to be concluded by April this year.
According to its FY2018 annual report, Menang has 441 acres in Seremban 3, Negeri Sembilan (net book value: RM167.27 million); 59.32 acres in Bukit Raja, Selangor (NBV: RM17.94 million; last valued in 1998); 39.7 acres in Klang, Selangor (NBV: RM5.8 million; last valued in 1998); 46.5 acres in Ulu Bernam, Selangor (NBV: RM8.72 million; last valued in 1998); and several other smaller parcels in Ulu Bernam as well as Port Dickson and Rasah in Negeri Sembilan.
The fight in Menang
Last July, Shun was charged in court for alleged questionable land dealings involving two companies — related company The Continuum Sanctuary Commercial Sdn Bhd and Menang's wholly-owned subsidiary, Menang Development (M) Sdn Bhd — and was charged under Section 420 of the Penal Code.
Shun was alleged to have sold some of Menang's properties, and even acquired some plots for himself, and had not disclosed the transactions in the company's books.
However, in November 2017, the Sessions Court granted Shun a discharge not amounting to an acquittal, or DNAA.
Meanwhile, Toh was appointed as executive director of the company in April 2016 and re-designated as deputy managing director four days later.
He was removed from his post of deputy managing director and deputy CEO on July 19, 2016, and re-designated as non-independent non-executive director. He retired in late November 2017.
In August 2017, Menang set up an investigation committee to review Toh's conduct as a director as he had appointed a financial consultant to look at land transactions going back as far as 2005, without the company's knowledge and the requisite approvals.
In January this year, Menang lost a lawsuit in the Industrial Court in relation to Toh's dismissal from the company.
Save by subscribing to us for your print and/or digital copy.
P/S: The Edge is also available on Apple's AppStore and Androids' Google Play.