This article first appeared in The Edge Malaysia Weekly, on June 10, 2019 - June 16, 2019.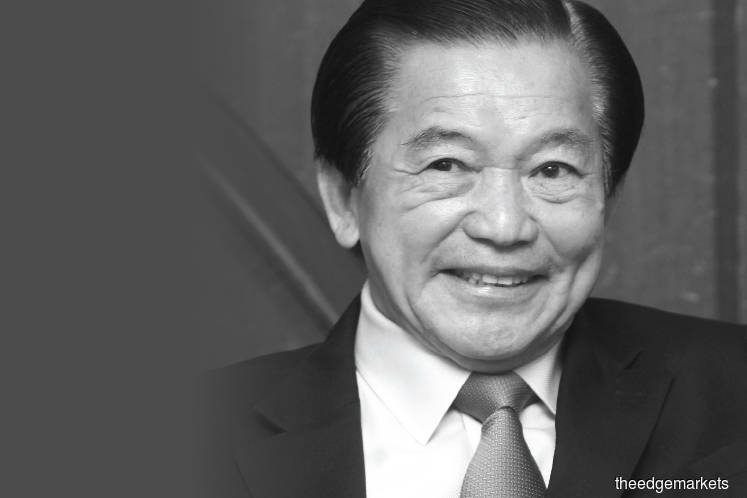 Photo by Chu Juck Seng/The Edge
THE Chinese characters that make up the late Tan Sri Dr Lee Shin Cheng's name can be loosely translated as "deep and calm" in English — aptly describing the plantation and property tycoon's personality. He had remained cool-headed however hostile the situation.
Lee was humble and polite — a true gentleman — but when the circumstances warranted it, he was an aggressive fighter.
Whether it was to safeguard an ice cream tub, which was probably more than half of his weight, from falling off his bicycle that was stuck in the muddy ruts in heavy rain at just 11 years old, or to defend a hostile takeover of his company in the corporate world, Lee never backed away.
Lee died on June 1, after a period of illness. He left behind an interesting rags-to-riches story. Those who have been with him or are familiar with the Malaysian corporate scene would say there was never a dull moment in his corporate life.
He was once embroiled in a hostile takeover bid for an associate company. He also undertook two privatisation exercises — IOI Oleochemical Industries Bhd (formerly known as Palmco Holdings Bhd) and IOI Properties Bhd. He also relisted the group's property operation.
In July 12, 2001, Lee received a courtesy phone call from Sime Darby Bhd group chief executive Tan Sri Nik Mohamed Nik Yaacob, informing him of the group's intention to take over Palmco — an oleochemical company in which Lee's IOI Corp Bhd held a 32.1% stake — at RM4.35 per share.
It was perceived as a hostile bid then. At the time, Tan Sri Ahmad Sarji Abdul Hamid was the chairman of Sime Darby.
Just when many thought that it was too tough a battle for Lee to fight with Sime Darby, a diversified conglomerate with strong financial muscle and the backing of its parent, Permodalan Nasional Bhd — which is known to have deep pockets — in a few hours, IOI Corp announced that it did not intend to accept Sime Darby's offer.
Within days, IOI Corp launched a mandatory general offer for Palmco by matching Sime Darby's offer after it had converted its warrants to bump up its shareholding to 36%. Consequently, this forced Sime Darby to raise its offer price to RM4.60 per share, and that marked the start of the takeover tussle.
It was a battle that Lee had to fight.
Speculation was rife that the hostile bid for Palmco could be only a ploy to distract and exhaust IOI Corp's financial resources to make the plantation group vulnerable as a takeover target. Was there any truth to it? It is not relevant at all now.
Nonetheless, the little-known Palmco was indeed a prized asset that Lee spotted and grabbed a 32.96% stake from Mega First Bhd at RM4.35 per share, or RM249.2 million in total, in 1997. Being the largest oleochemical producer in Malaysia, and possibly Asean then, Palmco acted as a natural hedge for IOI Corp's profits when crude palm oil prices were in a downcycle.
It is not hard to fathom why Sime Darby also cast its eye on Palmco — it would be a great platform to expand its downstream activities.
The takeover saga lasted for about three months, during which both parties spent big money mopping up as many shares as possible to gain control of Palmco. In October that year, IOI Corp managed to accumulate more than 50% equity interest and, consequently, Palmco remained within the group.
Palmco, which was renamed IOI Oleochemical later, was taken private by IOI Corp in 2005. Minority shareholders were given the choice of cash option of RM11.08 per share or cash plus IOI Corp share option. The privatisation exercise cost RM872 million.
Never wasted opportunities that came along
The founder and grand patriarch of IOI group understood well that a good opportunity never knocks at one's door twice. Lee had never wasted any that presented themselves along his life journey.
When a majority stake in Palmco was made available, Lee took it. It has proved to be a wise investment.
One year after the Palmco takeover tussle, Lee hogged the limelight again — this time, announcing the acquisition of Loders Croklaan, a Dutch speciality fats manufacturer, for €217 million (RM814 million) from Unilever.
It was a considerably big deal, which was also seen as a testament to IOI group's presence in the palm oil-based downstream industry, a segment that not many Malaysian companies are actively involved in till today.
Like it or not, some industry players had had their doubts on the cross-border acquisition. The takeover instantly offered IOI Corp a presence in Europe and North America. However, the question then was whether IOI Corp had bitten more than it could chew.
This was answered last year. IOI Corp made a killing when it disposed of its 70% stake in Loders Croklaan for RM3.94 billion cash to global agribusiness and food company Bunge Ltd. The divestment was one of the sizeable divestments in recent years.
It was a prized business that IOI Corp had grown since it was acquired in 2001.
The opportunity that led him to the career path of building his business empire came in the 1990s. Then, Lee, whose name was not even among the top 10 richest men, bought 27,880ha of Dunlop Estates' plantations from the beleaguered Multi-Purpose Holdings Bhd.
In fact, Dunlop was one of the plantation companies that he had gone for a job interview but was rejected because of his poor command of the English language at the time. The officer who had rejected him would not have imagined that the young man who could not speak English well would later become the boss.
Lee was never shy to admit that the acquisition of Dunlop was one of the most significant achievements in his life. The deal enabled him to own 13 estates, two mills, two factories and a research station.
That acquisition laid the foundation for his business empire. From there, he hit it big by going into property development in Puchong and Putrajaya.
IOI group has successfully turned Puchong, a former tin mining area and rubber plantation, into a property hot spot in the Klang Valley over the years.
An estate boy
Lee grew up in a rubber estate in Jeram, Kuala Selangor, where his father ran a Chinese food shop. At the age of 11, he left school to sell ice cream on a bicycle to help raise his younger siblings, before returning to school four years later.
Then, he worked at oil palm plantation firms. He also tried his hand at running a pig farm with a friend, apart from having worked at a petrol station.
He made his fortune from oil palm plantations. That explained his passion for the palm trees. There are a few oil palm trees at his residence at Diamond Hill.
The tycoon was known to love talking and singing to his oil palm trees. He once said every tree was different and unique in many ways. So, he would talk to them, get to know them better, saying that it would help them grow better and be more productive.
Hardworking, persistent, determined and intelligent. These are but some of the words that have been used to describe Lee.
With a fortune of US$4.7 billion (RM19.7 billion), Lee was ranked by Forbes as Malaysia's fifth richest man and the world's 325th richest man this year. The executive chairman of IOI Corp and IOI Properties Group Bhd was due to retire on his 80th birthday on June 3.
It is through Lee's vision, hard work and enterprising spirit that both companies have become leading corporations in their respective sectors.
Today, IOI Corp, with a market capitalisation of RM26.32 billion, is an integrated palm oil company that has operations in eight countries across Asia, Africa, Europe and North America. It is among the 30 largest companies listed on the Main Market of Bursa Malaysia, forming one of the component companies of the FTSE Bursa Malaysia KLCI, the stock exchange's benchmark index.
As for IOI Properties, valued at RM7.48 billion, it is a property development and investment company with substantial presence in Singapore and China.
That Lee was a great value creator is something that few will disagree with. In the past two decades, IOI Corp has been paying regular dividends plus dividends in-specie.
If an investor had bought 100,000 IOI Corp shares 20 years ago, valued at RM255,000, and participated in the cash call, his investment would be worth about RM2.197 million today, based on a back-of-the-envelope calculation.