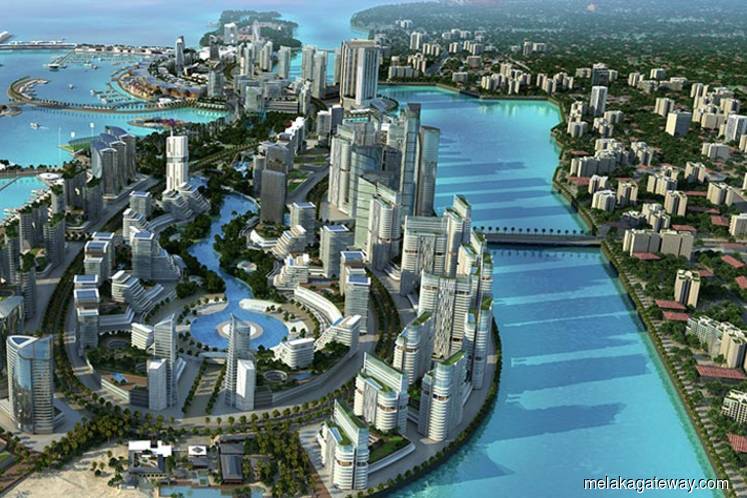 KUALA LUMPUR (June 29): KAJ Development Sdn Bhd, the master developer for the RM30 billion Melaka Gateway project, says the project has already attracted billions of ringgit in foreign direct investment (FDI) so far.
Speaking to reporters after briefing the Council of Eminent Persons (CEP) at Menara Ilham here, KAJ's founder and chief executive officer Datuk Michelle Ong expressed confidence over the progress of the project so far.
The Melaka government is currently in talks with KAJ on changing the land status of one of three man-made islands the project will have from freehold to leasehold.
Since taking over the federal government, the Pakatan Harapan administration has not been keen on large scale projects that cost billions, and has been trying to renegotiate contract terms, like it is doing with the RM55 billion East Coast Rail Link. It is also deliberating the Kuala Lumpur-Singapore High Speed Rail.
Ong said she has briefed the new state government on the project, which she stressed is privately-held, demand-driven and sustainable. "We hope we get the blessing to [continue] the project," she said.
"We will see how things go. We have invested a big sum. It is a private project that is privately funded, so we are looking to bring in FDIs. The investments (so far) are quite massive, [in] billions (of ringgit).
"I have signed non-disclosure agreements, so I cannot disclose how much [has been brought in]. The investors are from Miami (US), Holland, Germany, Middle-East, and China. (On return of investment) we have based it on a very minimum 18% over 10 years," Ong added.
She said the project is going smoothly with China state-owned Powerchina International Group Ltd as its engineering, procurement, construction and commissioning contractor, and is not moved to re-scale the project size.
"Powerchina is not our partner. We have partners from around the world who are investing billions. For instance, the cruise jetty — investors are bringing in FDI, the same with the deepsea port, everything is in progress," she said, adding the project is industry-led.
KAJ signed a memorandum of agreement with Powerchina on Sept 1, 2016 to privately develop the 1,366-acre mixed development on the Straits of Malacca, comprising three man-made islands and one natural island.
Melaka Gateway is expected to be completed in 2025 and attract some 2.5 million visitors annually, with some 40,000 to 45,000 job opportunities created.
The islands would feature among others, an international cruise passenger terminal, a commercial city, liquid bulk terminal, and maritime industrial park.
"We have no idea (about reducing the scale of the project) because it is a whole ecosystem and each (island) complements the other to make everything successful so we do want everything to be successful for our next generation," she said.
Asked if there was any worry the project is cancelled, Ong said: "I'm not because I always believe that good thing will maintain so it's God's will we have worked hard.
"We have do our best because we are private sector so what we actually want to do is do good for the state do good for the country and the next generation."