This article first appeared in Digital Edge, The Edge Malaysia Weekly, on February 28, 2022 - March 06, 2022.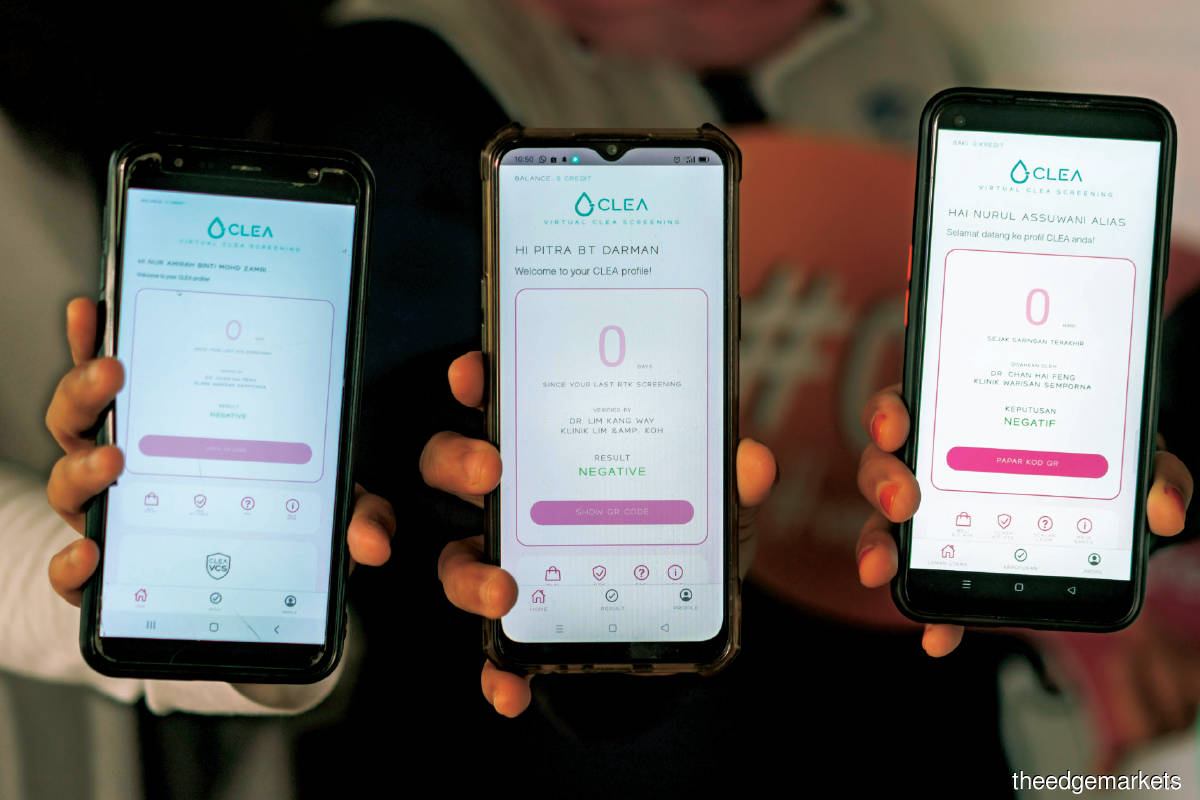 CLEA, a healthcare app developed by a medical doctor and his team, may only be screening for Covid-19 currently, but the longer-term plan for it is bigger than that. This is because Dr Chan Hai Feng, the 32-year-old CEO and founder of the company behind CLEA, is as ambitious as he is entrepreneurial. 
Co-founder and chief operating officer John Ng aptly describes Chan's enterprising character: "I have known this guy for years. When he first started medical school at the age of 19, he already said he wanted to build a hospital."
While CLEA was launched only in October last year, Chan has known for years that he would venture into business someday and that telemedicine was the way to go given his medical background and the vast potential of the industry.
As Malaysia's government continues to encourage the public to be responsible in living with the coronavirus, CLEA is contributing to this effort by spurring a wider adoption of frequent testing for Covid-19 by allowing consumers to use affordable rapid test kits at home with enhanced accuracy.
The app automates and streamlines Covid-19 screening while allowing the results to be verified and endorsed by a team of panel doctors through a virtual platform.
"We introduced CLEA to allow more people to conduct self-testing with the assurance that they are doing it correctly. A lot of people mistakenly think that self-testing is less accurate, but actually the test kits endorsed by the regulators here have an accuracy rate of more than 90%," Chan tells Digital Edge.
"The problem is that while a doctor knows how to collect the sample correctly, the method may be new and unfamiliar to laymen and mistakes can happen. So, we need to guide them closely because not everyone in the community will have the same level of education and the ability to ensure that the steps are followed properly."
To use CLEA, consumers will first need to download the app and then log on to an existing account or sign up for a new one by providing their personal details. Items to prepare before starting a test include one set of any test kit approved by the Medical Device Authority, a mobile phone, pen and identity card or passport. Users will need to have sufficient credits in their account, with each test verification costing RM15.
During the document verification stage, users will need to take a photo of the same proof of identification (ID) as registered on the app earlier, as well as a selfie of them holding the ID. A unique temporary authorisation code will then be generated and users are required to write this down on the test kit cassette.
After a brief set of instructions, they can start the test while recording the process on their mobile phone. There is a 10-minute wait after the test is completed, and then they can proceed to the next step of taking a photo of the test kit cassette to show the result.
Once the entire process is completed, signed and submitted, CLEA's panel doctor would verify the result within 24 hours. Separately, the panel doctor would also update the test result on MySejahtera. However, it will take about two to three days for MySejahtera to reflect this.
Currently, CLEA has over 30 corporate clients, including Jaya Grocer and HealthLand Wellness Centre. The app has also garnered 26,000 downloads and 17,800 active users.
On security, Chan says all data transmitted through the app is encrypted to protect users' information. CLEA only keeps the required data, he assures.
"Due diligence is exercised by the company to ensure that all modules and codes used are safe and without security vulnerabilities.
"We have a security team that keeps an eye on the app and the back office from all aspects and angles and we have performed multiple penetration testing to ensure that our servers are safe from hacking," says Chan.
Born in Penang and a graduate of Universiti Sains Malaysia in Kelantan, Chan shares that he had wanted to venture into business during the early years when he was practising medicine in Sabah.
"I realised then that when I am in the medical practice alone, I can only help a limited number of people. I wish to do more and help more people but to make this happen, I would need to have more resources, which I didn't have at that time.
"That was when I started thinking about becoming an entrepreneur, organising a business and moving away from conventional medical practice," says Chan. 
In 2017, with financial support from his family, Chan opened a small pharmacy together with a partner. They started with an initial capital of RM200,000 in Semporna, a coastal town where he had been serving as a doctor since 2015.
Despite the fact that Semporna — which is frequented by tourists for its world-class diving sites — is remote and isolated, business was brisk. It was from there that Chan made enough money to finance his subsequent business ventures, including the start-up capital for CLEA.
Chan spent six years in Semporna, expanding the business to having three pharmacies and one clinic in Tawau. Then, the growth hit a bottleneck.
"In Semporna, we have already reached the maximum capacity. So, we decided to move back to explore other opportunities in Peninsular Malaysia since both of us are from here, leaving the business there to run on its own," he says.
In that time, Chan and his partner visited trade exhibitions in Germany, South Korea, China and Dubai to learn about emerging technologies and major trends dominating the medical and pharmaceutical industry.
"We were looking at telemedicine, but we also knew that technology could never replace the insight and intuitions of a doctor. It can only play a complementary role." 
While brainstorming for the next business idea, the onset of the Covid-19 pandemic in early 2020 forced them into survival mode. 
The health crisis has ironically hit the healthcare industry hard, with many clinics permanently shuttered. This is because regular patients have mostly avoided visiting medical facilities during this time unless absolutely necessary. 
Chan says that in the six months between March and September 2020, about 70% of his business revenue evaporated and they were forced to shut down one of the pharmacies.
"We had to look at how to survive the pandemic. We began actively scouting for corporate clients to do Covid-19 screening and vaccinations. By June 2021, we realised that we needed to use technology in screening and that's how CLEA was born."
Chan, along with two other co-founders and several partners, started assembling the team to develop CLEA in July last year, shortly after saliva rapid test kits were introduced in Malaysia. 
"We started this app when we were heavily involved in Covid-19 screening for corporate clients at our clinic, as we found that the physical testing was exposing us to a lot of risks. It also took up a lot of our work hours just to do screening alone and to advise patients on how to handle Covid-19 should they be infected," says Chan.
"It was a very repetitive procedure and consumed too much of our time, ultimately resulting in us being unable to treat our regular patients."
A key turning point that led to the development of CLEA was when one of his teams, comprising eight people led by a doctor, became infected with the coronavirus after returning from a corporate screening at the client's work site, he relates.
Moving forward, Chan envisages that CLEA will grow to incorporate other medical lifestyle-related functions beyond the coronavirus, although he is not ready to share what those plans might be.
"CLEA is poised to reinvent the telehealth industry to a scale where it would be augmented, personal and private. We often imagine, can we put a personal doctor into everyone's pocket where a person can be intuitively guarded, instantly rectified, intelligently deduced, connected and humanised? We aim to do this with CLEA. 
"Connectivity with a medical doctor should be arbitrary and intuitive, where we know what you need instead of the other way round. The subsequent versions of CLEA will be fully-fledged and equipped for all futuristic and practical point-of-care diagnostic tests, intelligence and data. Our goal is to democratise and sensitise medical knowledge all together.
"We hope to soon introduce users to a new CLEA that is ever-growing, more intelligent, more intuitive and intimate. We want to make it easily available to users globally," says Chan.
"What we have created with CLEA now is a solution to help mass screening become more efficient and affordable. Doctors like it and patients like it. We want to introduce this to more people and launch it in neighbouring countries like Singapore, Thailand and Vietnam."
Features of CLEA
•     Curated steps designed by doctors: Perform a virtual CLEA screening by just following the in-app steps designed by medical professionals.
•     Virtual test communication: CLEA utilises simple photo and video functions to draw the maximum amount of information for its panel of doctors to perform verification.
•     Authentic clinic test report: The app automatically generates authentic clinic test reports to suit consumer's everyday use.
•     The CLEA certificate: The system incorporates a counting timer on a user's CLEA certificate from his/her last successful RTK screening, accompanied by the test results.
•     Test integrity is a priority: With a real-time TAC generation mechanism, the system seeks to minimise the possibilities of test frauds.
•     Test log ready: A unified test log to track current and previous test results, together with crucial credentials.