This article first appeared in The Edge Malaysia Weekly, on July 29, 2019 - August 04, 2019.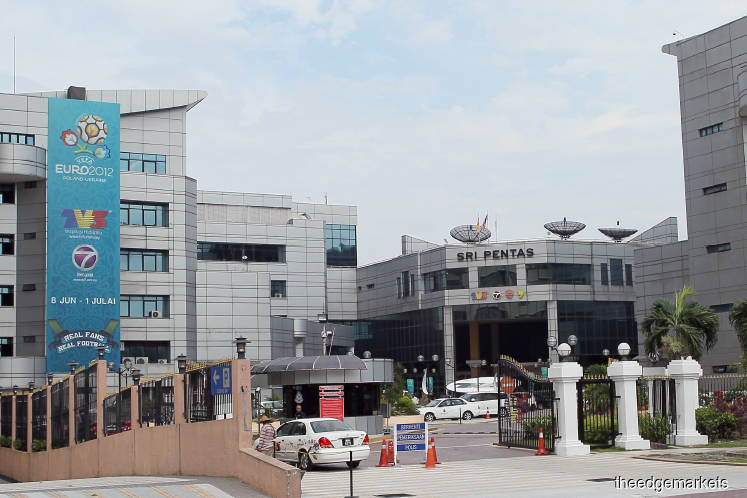 MEDIA Prima Bhd is moving its operations out of Sri Pentas in Bandar Utama, according to sources. The media group has been leasing Sri Pentas since the 1990s. The sources say the production units will likely move out of Bandar Utama early next year. One of the premises the group is considering moving to — at Saujana Resort, Section U2, Shah Alam — belongs to Pelaburan Hartanah Bhd.  
In an email reply to The Edge, Media Prima says, "Media Prima has been a proud tenant of Sri Pentas in Bandar Utama from the early days of TV3 in 1995, and has significantly expanded its operations there.
"The group is continuously reviewing its operational costs, which include, among others, tenancy for our various offices and operation centres. As Media Prima continues to adapt to the current business requirements, it is exploring all available options to ensure it gets the best value to house its operations. They include maintaining operations in Sri Pentas or relocating to alternative locations. The group has not made any decision at this time."
Sri Pentas houses its production facilities for television, digital content and broadcasting while its corporate office is at Balai Berita in Bangsar, Kuala Lumpur.
Media Prima has undertaken a series of cost rationalisation exercises over the last few years as it struggles to maintain profitability in a challenging landscape.
Last year, it sold four properties to PNB Development Sdn Bhd for a total cash consideration of RM280 million. The properties include two parcels of freehold land in Bangsar, where Balai Berita is located, a piece of freehold industrial land in Shah Alam, where its printing plant is sitting on, and another parcel of freehold industrial land in Shah Alam.
The sale included leaseback arrangements whereby Media Prima will rent the properties in Bangsar and Shah Alam from PNB Development for three years, with an automatic renewal for another three years following the expiry of the initial term.
Early this year, there were reports that Media Prima was also negotiating a mutual separation scheme with the employee unions for its subsidiary, Sistem Televisyen Malaysia Bhd (TV3).
For the financial year ended Dec 31, 2018 (FY2018), the group recorded a net profit of RM58.62 million after two consecutive years of losses. However, the turnaround was mainly the result of the gains on property sales, being the land and properties sold to PNB Development.
Taking into account the reversal of impairment on its investment in Malaysia Newsprint Industries, Media Prima's FY2018 core net loss totalled RM106.4 million.
"This was 31% lower year on year, thanks to an 11% y-o-y reduction in direct costs and overheads. Meanwhile, higher yields in digital out-of-home advertising sites brought more after-tax profit, which helped reduce the group's y-o-y core net loss," says CGS CIMB Research in its Feb 28 report on the company's FY2018 performance.
The most recent financial performance announcement for 1QFY2019 ended March 31, saw Media Prima register a heavier net loss of RM40.41 million, from a net loss of RM21.83 million a year ago. This came as revenue declined 15% to RM239.1 million as a result of lower revenue from advertising and circulation, according to the group.
In a May 31 report, Maybank Investment Bank Research says the lower revenue y-o-y was due to the radio and print segments, which had benefited in the previous year for two reasons. "We gather that 1Q2018 benefited from pre-14th general election ad spend and a longer window to advertise pre-Chinese New Year."
CGS CIMB Research says in a May 31 report that it was surprised by the 41% y-o-y decline in revenue at Media Prima's print subsidiary, The New Straits Times Press (M) Bhd (NSTP).
It expects to see a wider net loss in FY2019 on the back of lower advertising expenditure and circulation. The research house is also forecasting that FY2020 will be another loss-making year for Media Prima as operating expenditure remains high and the outlook is challenging.
"While 1Q tends to be Media Prima's weakest quarter, we doubt that subsequent quarters can be strong enough to plug the losses in 1Q2019. NSTP has to improve its content to become the preferred brand among advertisers and readers," CGS CIMB says.
Public Investment Bank believes that cost savings will continue to be a priority for the media group given its earlier efforts to reduce costs, which included manpower rationalisation. It expects the exercise to materialise in the upcoming quarters.
Media Prima has been in the news recently as Aurora Mulia Sdn Bhd, a company linked to tycoon Tan Sri Syed Mokhtar Albukhary, surfaced as a major shareholder in the company. After acquiring an initial 11.1% stake in the group from Umno-linked Gabungan Kesturi Sdn Bhd on July 2, Aurora Mulia made another purchase of 4.96% equity interest in Media Prima on July 11.
The July 11 acquisition made Aurora Mulia the single largest shareholder in Media Prima with 16.05% equity interest. Media Prima's second largest shareholder is Mitsubishi UFJ Financial Group Inc with a 12.8% stake, which some believe can also be linked to the tycoon. Another significant shareholder is the Employees Provident Fund with 11.6% equity interest.
Media Prima closed last Thursday at 48 sen per share, for a market capitalisation of RM532.4 million.