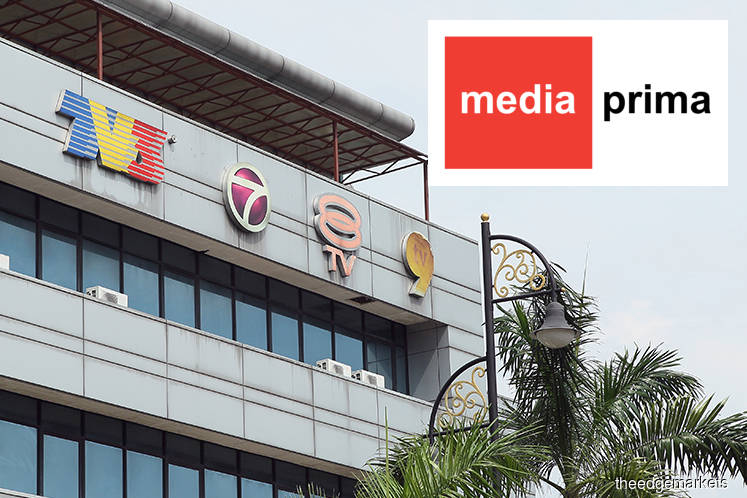 KUALA LUMPUR (Aug 30): Media Prima Bhd has returned to the black with a net profit of RM31.95 million or 2.88 sen per share in its second quarter of financial year ended June 30, 2018 (2QFY18), as compared with a net loss of RM132.9 million or 11.98 sen per share in the corresponding quarter a year ago, mainly due to higher revenue and disposal gain of its associate, according to a filing with Bursa Malaysia.
The group's revenue for the quarter gained by 4.14% to RM342.4 million from RM328.8 million recorded in 2QFY17, as core advertising revenue and commerce revenue started to gain momentum in the quarter, in line with the festive season.
For the first half of its financial year ended June 30, 2018 (1HFY18), Media Prima has also returned to profitability with a net profit of RM10.1 million or 0.91 sen per share. In contrast, the group was in the red during the prior year's corresponding period, at a net loss of RM171.4 million or 15.45 sen per share.
The revenue for the period under review was also up by 3.67% to RM623.0 million, as compared with RM601.0 million recorded in 1HFY17, due to higher revenue for digital advertising, content and commerce revenue.
The note filed with Bursa said the television network saw lower advertising expenditure (adex) take up in Free-to-Air (FTA), thus a decline of 6% in revenue for the 1HFY18, compared with a year ago.
The News Strait Times Press (M) Bhd also saw a lower revenue by 13% year-on-year, mainly attributed to lower advertising and newspaper sales by 15% and 30% respectively, which was partially offset by higher 1HFY18's digital revenue.
Revenue for radio networks was also down by 3%, against the previous year's corresponding period.
The out-of-home segment on the other hand, saw 6% growth as compared with the same period a year ago, contributed by higher yield from digital sites.
The digital media also saw significant increase in revenue, mainly from the digital advertising revenue of Rev Asian that was acquired in August 2017. Content creation saw a decline in revenue during 1HFY18 by 8%, which was mitigated by lower content production costs.
The home shopping is also another segment that has contributed to topline growth in 1HFY18, as evidenced by a 61% growth.  
On the group's prospect, the note filed with Bursa said Media Prima will continue its transformation journey and increase efforts to accelerate revenue-generating initiatives by maximizing available assets and leveraging on extensive reach via it strong brands on digital and non-digital platforms.
As of closing today, Media Prima's share price was down by 1.20% or 1 sen to 41 sen, with about about 982,100 shares traded, giving it a market capitalisation of RM454.8 million.