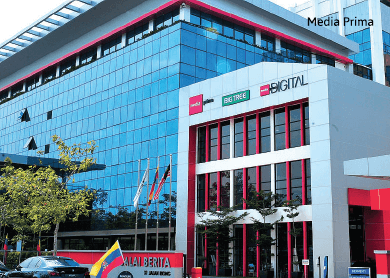 This article first appeared in
The Edge Malaysia Weekly
, on November 21-27, 2016.
MEDIA Prima Bhd is looking at unlocking the value of its land parcels in Ajil, Terengganu and Senai, Johor, and one option it is considering is selling the tracts, industry sources say.
In an email response to The Edge, Media Prima says it "is evaluating all available options and will decide what is best for the group in due course" for the land in Ajil and Senai.
"Media Prima had undertaken a key restructuring exercise to optimise its print manufacturing operations. The restructuring involves closure of its manufacturing plants in Ajil and Senai. This strategic action allows Media Prima to unlock potential cost-savings while the group continues to invest in digital expansion activities and new business initiatives in line with the current shift in consumers' preference for digital content," the media group notes.
"While changing consumer preference has impacted the sales of physical newspapers, the growing demand for online content has resulted in a significant increase in readership of NSTP's electronic versions of the New Straits Times, Berita Harian and Harian ­Metro. Therefore, the restructuring exercise will enable the group to fully utilise the capacity of its manufacturing facilities based on current newspaper circulation demands," it adds.
The land in Ajil and Senai are worth quite a handsome sum.
According to Media Prima's FY2015 annual report, it has two pieces of leasehold land measuring 174,240 and 183,709 sq ft in Senai with a net book value of RM3.89 million and RM17.57 million respectively. A 610,404 sq ft piece of leasehold land in Ajil, Terengganu, has a net book value of RM24.075 million.
The pieces of land in Ajil and Senai are the top three and four most valuable properties, according to Media Prima's annual report.
The two parcels that have the highest values are a 655,000 sq ft freehold tract in Bukit Jelutong industrial park, Selangor, that houses its regional printing plant, with a net book value of RM96.18 million, and the 70,586 sq ft freehold parcel in Jalan Liku, Kuala Lumpur, that houses Media Prima's head office, with a net book value of RM49.1 million.
Media Prima also has land parcels nationwide including Penang, Sabah and Kelantan. It also owns a residential house and an apartment in London, UK.
It is unclear when Media Prima last revalued the land parcels and properties it owns.
The Edge wrote in June 2015 that a number of media players are sitting on an unexpected source of income in their balance sheets — lucrative parcels of land that if unlocked, would result in capital gain and recurring income. These players include Media Prima which has seen the net book value of its leasehold land, freehold land and buildings grow 18.56% to RM281.973 million as at Dec 31, 2015, compared with RM237.83 million a year ago.
The landscape for media players has become grimmer over the years. As consumption for news shifts to the digital realm, the demand for printed newspapers has declined and the challenge of monetising news online remains huge.
As such, media groups are actively diversifying in search of new sources of income.
According to the Audit Bureau of Circulations in Malaysia, the total printed copies of paid newspapers have been going downward. From July to December 2015, the total circulation for paid newspapers dropped to 2.82 million from 3.197 million a year earlier. Media Prima's publications — New Straits Times, Berita Harian and Harian Metro — were all affected by this downtrend.
The three publications have a rich history. The roots of its English newspaper — News Straits Times — can be traced back to the Straits Times that started business in Singapore in 1845. It is the oldest newspaper in town.
Berita Harian hit the streets in 1957, the same year the country achieved its independence, while Harian Metro came into the scene in the 1980s.
Media Prima has been diversifying or growing its non-print income base.
For example, its non-print segments such as its out-of-home advertising business — Big Tree Sdn Bhd — and its radio businesses are the only two segments that saw  y-o-y  profit growth for the six months ended June 30.
The radio business saw its gross revenue grow 14% year on year to RM39.4 million and its net profit expand 57% to RM11.3 million for the first half ended June 30. The business contributes 27% to Media Prima's earnings. For FY2010, it contributed 9%.
Meanwhile, profit generated from the out-of-home advertising business expanded 7% y-o-y to RM14.4 million as at June 30, contributing 35% to the group's earnings, compared with barely 13% in FY2010.
For FY2015, Media Prima received RM30 million of net dividends, including dividend receivables, from Big Tree — 50% higher than the RM20 million in FY2014. The company started expanding its out-of- home advertising business in 2010 when it acquired Kurnia Outdoor Sdn Bhd.
In September, Mass Rapid Transit Corporation Bhd awarded Big Tree, which had entered into a consortium with Seni Jaya Group, an advertising package for the MRT Sungai Buloh-Kajang Line. The package is for 10 years. The contract in which Big Tree has a 60% stake is estimated to generate up to RM300 million in revenue throughout the period.
AmResearch in a Sept 30 report notes that it does not expect the consortium to have material impact on Media Prima's group earnings, as it estimates it will merely contribute RM18 million in FY2017F revenue (1% of FY2017F group revenue) and RM4 million in FY2017F net profit (3% of FY2017F group net profit) based on its three-year historical average net margin of 23%.
"Nevertheless, we are positive as we view this as being part of Media Prima's continuing initiative to diversify earnings into higher margin businesses amid headwinds in its print and TV segments," it adds.
Maybank Research investment bank in a Nov 16 report says while the outlook for the print advertisement expenditure remains hazy, it will not be surprised if Media Prima takes steps to improve profitability.
"For instance, when FY14 print Ebitda fell below RM100 million, it resorted to a mutual separation scheme that cost RM79.8 million but cut RM38 million per annum in staff expenses. The bulk of the savings appeared to be from print and this returned FY2015 print Ebitda above RM100 million," it notes.
For FY2015, Media Prima's net profit rose 81% y-o-y to RM138.7 million, bolstered by cost rationalisation measures it undertook that year. It managed to stem the drop in its earnings that it saw in FY2014, when net profit fell 65% y-o-y to RM76.6 million.
At its close of RM1.23 last Friday, the stock was trading at an indicative 12-month yield of 8.54%.