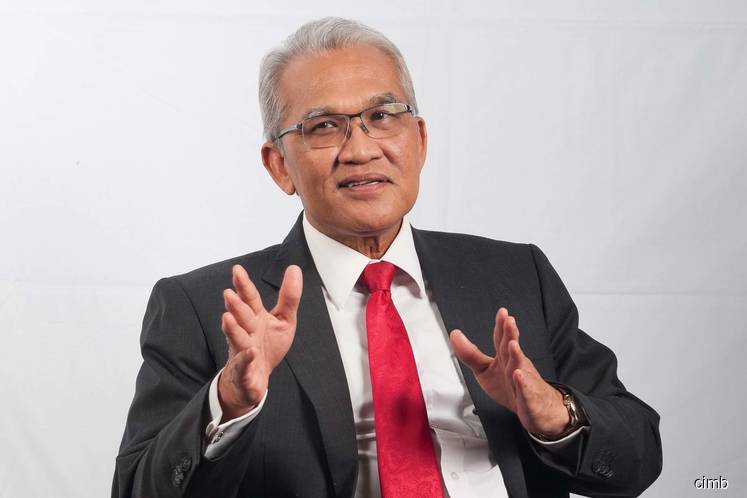 KUALA LUMPUR (Oct 19): CIMB Group announced today that it has received Bank Negara Malaysia's greenlight for the appointment of Datuk Mohd Nasir Ahmad as the group's new chairman, which will take effect on Oct 20.
Mohd Nasir (pictured), who has been a member of the group's board of directors since 2015, and its senior independent director since April 2016, will be taking over from Datuk Seri Nazir Razak, who will be stepping down on Oct 19.
Nazir announced his intention to retire from his position as group chairman and all other position within CIMB's group of companies on Sept 24.
"He (Mohd Nasir) is familiar with the group's business and is well known to both CIMB's internal and external stakeholders. As part of this appointment, Datuk Mohd Nasir will relinquish his positions as senior independent director and chairman of the audit committee. He will remain as a member of the group board of director's audit committee, risk committee and group nomination and remuneration committee," CIMB said in a statement today.
A chartered accountant by training and a fellow of the Association of Chartered Certified Accountants, UK, Mohd Nasir, 64, is also a council member of the ACCA Global Council.
He has 39 years of corporate experience through companies such as Tenaga Nasional Bhd, including in CEO positions at Syarikat Permodalan Kebangsaan Bhd and Perbadanan Usahawan Nasional Bhd. He is the group chairman of Media Prima Bhd, as well as an independent director of CIMB Bank Bhd, SIRIM Bhd and Sistem Televisyen Malaysia Bhd, said CIMB.
"Congratulations to Datuk Mohd Nasir whom I have known since the early 1990's and greatly respect. I am delighted that following the Sept 24 announcement of my intention to retire, the Board has been able to appoint my successor quickly from within the Group Board, and someone capable of taking over immediately.
"I am, therefore, relinquishing all my positions in the CIMB Group with effect from today. Naturally, I will make myself available to assist the new chairman in any way to ensure a smooth transition," Nazir said in welcoming his successor.
CIMB Group is listed on Bursa Malaysia via CIMB Group Holdings Bhd. The stock slipped 1 sen or 0.17% to settle at RM6.02, giving the group a market capitalisation of RM56.38 billion.