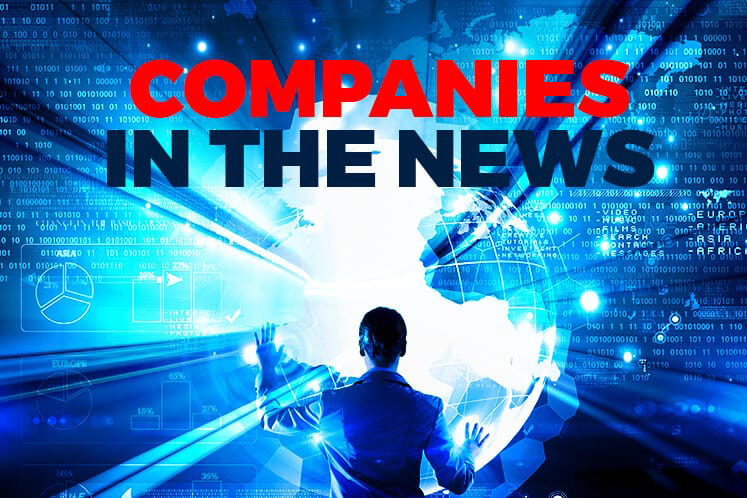 KUALA LUMPUR (May 24): Based on corporate announcements and news flow today, stocks in focus on Friday (May 25) may include the following: Media Prima Bhd, Axiata Group Bhd, UOA Development Bhd, Ta Ann Holdings Bhd, Lii Hen Industries Bhd, AirAsia Bhd, Ajinomoto (Malaysia) Bhd, Sunsuria Bhd, WCE Holdings Bhd, Sime Darby Property Bhd, Genting Bhd and MBM Resources Bhd.
Media Prima Bhd said it is on the lookout for acquisitions, joint ventures and/or strategic partnerships, with an aim to enhance long-term shareholder value.
The media group posted its fifth straight quarterly loss in the first quarter ended March 31, 2018 (1QFY18), though its net loss narrowed to RM21.83 million from RM38.47 million a year ago, as revenue rose 3% to RM280.67 million from RM272.2 million on higher revenue from digital advertising, content and commerce revenue.
edotco Myanmar, part of Axiata Group Bhd's subsidiary edotco Group Sdn Bhd, is taking over the energy assets and management of Ooredoo Myanmar Ltd on 1,250 telecommunications tower sites in Myanmar.
edotco currently owns and operates more than 1,500 tower sites across Myanmar, with Ooredoo Myanmar as its anchor tenant. edotco Myanmar has signed an agreement with Ooredoo Myanmar that will enable edotco to provide and manage energy for all tenants on these sites.
Property developer UOA Development Bhd's net profit for the first financial quarter ended March 31, 2018 (1QFY18) fell 34% year-on-year to RM32.27 million from RM48.98 million, on lower profit margins during the quarter.
This is despite an 11% y-o-y rise in 1QFY18 revenue to RM171.99 million from RM154.6 million. Earnings per share fell to 1.86 sen from 3 sen in the year-ago quarter.
Ta Ann Holdings Bhd suffered an 88% y-o-y drop in net profit to RM4.23 million in the first quarter ended March 31, 2018 (1QFY18) from RM36.42 million, mainly on lower sales volume of timber and palm oil products and lower palm oil price.
Ta Ann said the sales volume of plywood products and export logs fell by 33% and 71% respectively during the quarter. The volume for oil palm fresh fruits bunches (FFB) and crude palm oil (CPO) FFB and CPO volume, meanwhile, both dropped by 11%.
In addition, the average selling price for CPO and FFB fell 19% and 26% respectively, the group said. As a result, quarterly revenue fell 30% to RM214.86 million from RM305.57 million previously.
Higher costs and unfavourable foreign exchange rates dragged furniture maker Lii Hen Industries Bhd's net profit for the first quarter ended March 31, 2018 (1QFY18) down 63% y-o-y to RM8.13 million from RM22.12 million, despite a 12% y-o-y rise in revenue to RM193.76 million from RM173.02 million on stronger sales. Lii Hen declared a first single-tier dividend of 2.5 sen per share, payable on June 29.
AirAsia Bhd's net profit surged 87% y-o-y to RM1.09 billion in the first quarter ended March 31, 2018 (1QFY18) from RM584.25 million a year ago, on the back of a 16% rise in passengers carried and a RM350.3 million gain from the disposal of subsidiary Ground Team Red Holdings Sdn Bhd.
Quarterly revenue rose 15% y-o-y to RM2.56 billion from RM2.23 billion. The airline also declared an interim dividend of 12 sen for FY18, payable on July 13.
Ajinomoto (Malaysia) Bhd's net profit for the fourth quarter ended March 31, 2018 (4QFY18) fell 90% y-o-y to RM14.69 million from RM148.96 million, as the previous year had recognised a one-off disposal gain and compensation from the government's compulsory acquisition of its land.
Revenue-wise, the group registered a marginal 0.1% year-on-year (y-o-y) uptick to RM115.05 million from RM114.93 million, on higher sales volume and selling prices for its AJI-NO-MOTO products.
Sunsuria Bhd announced a 69% y-o-y surge in net profit to RM30.39 million in its second quarter ended March 31, 2018 (2QFY18) from RM18.01 million a year ago, as the property developer's revenue grew 34% y-o-y to RM139.07 million from RM103.68 million, on continued contribution from ongoing projects.
The better quarterly earnings pushed Sunsuria's net profit in the first six months of the year (1HFY18) to RM51.23 million, up 79% y-o-y from RM28.64 million; cumulative revenue was up 49% to RM249.9 million from RM167.48 million.
Highway construction company WCE Holdings Bhd recorded a net loss of RM12.23 million in its fourth quarter ended March 31, 2018 (4QFY18), compared to a net profit of RM12.13 million a year ago, mainly due to a RM20.39 million one-off impairment on "long outstanding amounts" owed by a former associate.
Its revenue rose 18% y-o-y to RM337.52 million from RM285.45 million a year ago, mainly due to higher IC interpretation 12 (IC12) construction revenue, which pertains to ongoing construction of its West-Coast Expressway project.
For the full 2018 financial year (FY18), the group's net profit was down 61% to RM13.68 million from RM35.16 million a year ago (FY17), while revenue rose 1% to RM880.59 million.
Sime Darby Property Bhd (SD Property) saw an 18-fold year-on-year (y-o-y) rise in net profit for the third quarter ended March 31, 2018 (3QFY18) to RM33.67 million from RM1.86 million, on lower provisions, as well as a gain on disposal on investment properties.
Among the lower provisions recognised during the quarter was for unsold stock; the group recognised a higher provision for inventories of RM78.6 million in 3QFY17 compared with RM756,000 in 3QFY18. The group had also recognised a gain on disposal of investment properties in the quarter amounting to RM9.94 million, which included a gain on disposal of an investment property in the United Kingdom of RM8.7 million.
Revenue for 3QFY18 fell 6% to RM550.67 million from RM585.75 million in 3QFY17.
Genting Bhd's net profit fell 10% y-o-y to RM602.7 million in the first quarter ended March 31, 2018 (1QFY18) from RM668.42 million, as 1QFY17 had included a gain of RM302.2 million recognised from the completion of the disposal of Genting Singapore PLC's (GENS) 50% stake in its associate Landing Jeju Development Co Ltd, as well as a gain of RM85.8 million on disposal of available-for-sale financial assets.
Quarterly revenue, however, rose 10% y-o-y to RM5.25 billion in 1QFY18 from RM4.77 billion, due to contribution from Resorts World Sentosa, Resorts World Genting (RWG) and the plantation and oil and gas divisions.
Automotive parts maker MBM Resources Bhd (MBMR), a takeover target of UMW Holdings Bhd, expects 2018 to be a better year after it reported strong first-quarter 2018 results, following the impairments it made last year.
Its chairman Datuk Abdul Rahim Abdul Halim said the group sees sales volume and components purchase from its brand partners picking up this year.
New and face-lift vehicle models to be introduced within the group's marques such as Perusahaan Otomobil Kedua Sdn Bhd (Perodua), Volkswagen and Volvo will also help to support volumes in the coming quarters, he told reporters.