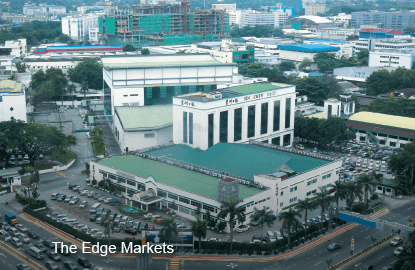 AMID a challenging operating landscape, a number of media companies sitting on prime land are exploring the possibility of diversifying into property development to unlock the value of their parcels.
As news consumption shifts towards online, the demand for newspapers is spiralling downwards. At the same time, monetising online news remains a challenge. This has caused media groups to scramble to innovate and search for new sources of income.
Interestingly, an unexpected source of income lies in their balance sheets. A number of media groups are sitting on valuable parcels of land which, if developed, would bring about capital gains and recurring income.
Star Media Group Bhd (fundamental: 2.50; valuation: 1.40) is among those that took such a path not too long ago. In 2011, it sold a six-acre parcel that was previously the group's office in Section 13, Petaling Jaya, to JAKS Island Circle Sdn Bhd for RM135 million. In addition, Star will get a 13-storey office building with a built-up of 270,000 sq ft known as Star Tower.
This, media analysts say, will provide Star with a recurring income stream. The trend for traditional media firms to unlock the value of their property assets in the face of the media industry's tough outlook is becoming apparent.
Just last week, The Edge reported that at least two media groups — Media Chinese International Ltd (MCIL) (fundamental: 2.40; valuation: 1.80) and Redberry Media Group — were looking to diversify into property development. Redberry is owned by Ancom Bhd.
When asked, MCIL's management, in a written reply, said it had long been the group's strategy to seek diversification opportunities in view of the fast-changing media landscape, both locally and overseas.
"In order to grow its non-traditional revenue stream further while consolidating its market share in print media, MCIL will spare no effort to improve profitability and operational efficiency through diversification, including [venturing into] property development, if possible," it added.
According to management, the net book value of MCIL's land and buildings stood at US$64.5 million (RM241.6 million) as at March 31, 2015, down from US$74.5 million a year earlier, mainly due to currency conversion difference and annual depreciation charges. "These properties will continue to be used by MCIL in its newspaper publishing and printing operations worldwide."
Meanwhile, sources say Ancom is also considering developing a 1.31ha tract in Section 13, Petaling Jaya, where its media business is located.
The leasehold land, which is owned by Ancom (fundamental: 0.55; valuation: 1.20), had a net book value of RM28.8 million as at May 31, 2014. As it houses low-rise office and factory buildings, its yield is low.
Coming up just behind the tract is the centreSTAGE project — an integrated development comprising shoplexes, designer and serviced suites and a hotel.
In end-2009, it was reported that the then listed The New Straits Times Press (M) Bhd (NSTP) had told its senior staff that it was open to any recommendation or proposal to generate higher revenue from its properties, including the land in Jalan Riong, Bangsar, Kuala Lumpur.
The publishing group was also said to be looking to sell its non-revenue-generating assets, including land in Bukit Jelutong, Selangor, and re-evaluating the commercial viability of its other properties, to raise funds for future expansion.
In 2010, NSTP's major shareholder, Media Prima Bhd, took the company private, and the land and buildings now sit in the books of the listed media group. The net book value of Media Prima's leasehold and freehold land and buildings stood at RM237.83 million as at Dec 31, 2014.
Meanwhile, Star's freehold land and buildings, long leasehold land and leasehold buildings were valued at RM160.78 million. Its assets included 611,096 sq ft of freehold land in Bukit Jelutong and a 17-storey office block — Menara Star — that is sitting on 165,000 sq ft of freehold land in Section 16, Petaling Jaya.
Loss-making Utusan Melayu (M) Bhd also has a number of property assets, which include its eight-storey headquarters, sitting on 94,874 sq ft of leasehold land in the heart of Kuala Lumpur. Interestingly, according to its FY2014 annual report, Utusan has a 51,972 sq ft tract in Kuala Lumpur that is being developed for commercial purposes.
Diversify, diversify, diversify
Diversification is the key to survival in a challenging media landscape. All the players are acting swiftly, be it other businesses or the way they produce and distribute content, as well as venturing into a new platform — the digital arena.
"Recognising the changing dynamics in the operating landscape of the media industry, coupled with the inevitable shift in the consumption habit of readers, MCIL will continue to diversify its media assets and seek to strengthen its positioning further as a multimedia player globally," says MCIL's management.
It adds that the group has adopted a two-pronged digital strategy — Mobile First and E-commerce — in Malaysia.
"In expanding our digital footprint, MCIL has provided e-versions of all its newspapers and major magazines, which are accessible via mobile devices. The group has introduced 'Pocketimes', an online mobile video portal providing news, current affairs, lifestyle and entertainment broadcasting daily," it says.
"To facilitate Chinese SMEs/SMIs to grow their businesses online, MCIL launched its e-commerce portal 'Logon' in the beginning of this year. The growth potential for online shopping in Malaysia is tremendous and is ready to be tapped. By offering cross-platform marketing solutions to sophisticated advertisers through its revamped portals and expanding into e-papers, e-magazines, mobile videos and business in the e-commerce marketplace, it has brought about additional revenue sources and monetising opportunities for MCIL."
MCIL's management also notes that its operations in Hong Kong has already expanded into the education sector via the publication of printed and electronic textbooks for junior and secondary schools there.
"This will continue to be developed and expanded, including [through] acquisitions, whenever opportunities arise," it says.
"As part of MCIL's business diversification initiatives, it will continue to seek opportunities in synergistic sectors worldwide, including the education sector. If new investment materialises, MCIL will make the necessary announcement in due course.
"Rest assured, being a Chinese-language media conglomerate, MCIL will continue to consolidate its position, rationalise its operations and improve its business for the benefits of its readers, viewers, advertisers, employees, investors and all stakeholders involved."
MCIL, which publishes the top four Chinese newspapers in the country, saw its revenue and net profit drop 8.4% and 36.9% year on year to US$429.1 million and US$31.1 million respectively in the financial year ended March 31, 2015. The decrease in earnings was attributed to the recognition of an impairment loss of goodwill and an allowance for impairment loss of interest in an associate, totalling US$7.56 million.
Analysts say the decline was cushioned by lower newsprint costs and savings from the group's ongoing stringent cost management. The group's profit before the impairment losses was US$13.35 million, 2.8% higher compared with the same quarter last year.
The group has declared a second interim dividend of 1.9 sen per share, bringing the total FY2015 dividend to 3.4 sen. At its close of 62 sen last Monday, the group had a dividend yield of 5.48%. It is trading at a price-to-earnings ratio of 7.47 times.
Apart from Malaysia, MCIL has printing and publishing businesses in Hong Kong, China and North America.
Analysts point out that reflecting the changing industry landscape, the Malaysian advertising market registered an increase of only 3.7% in total rate card spending to RM14.1 billion in 2014 from a year ago. Nielsen Media Research data shows that this is in stark contrast to the total advertising expenditure between 2012 and 2013, which jumped 19%.
"Moving forward, the landscape is tough for everybody. Yes, diversifying their business is important but that also depends on how well they do it. Everybody wants to climb on the digital bandwagon, but how to monetise that segment well is another challenge," says an analyst with a local bank.
"The earnings of some media players improved in the March quarter partly because newsprint prices have fallen to a low of US$500 per tonne. Also, some of them, such as Star and Media Prima, undertook voluntary separation schemes last year and as a result, saw cost savings from that being translated into earnings this year."
Star's revenue in 1QFY2015 rose 3% year on year to RM217.43 million, mainly due to higher revenue contribution from its event, exhibition, interior and thematic segment. Net profit jumped 62.6% year on year to RM26.5 million, partly due to the voluntary separation exercise it undertook last year.
AmResearch, in a May 20 note, says it expects Star to focus on building its digital media presence and expand into Asean markets to reduce its reliance on the print segment.
"Among its latest initiatives, Star is launching the Audience Interest Marketing service this month to connect advertisers directly with their target market groups. Star has also rolled out a new Star Mobile app, which readers can use to watch news video clips," it says.
"While we are positive on its diversification initiatives, these may be unlikely to provide any meaningful contributions to Star's bottom line anytime soon. We estimate that print and digital will continue to be its cash cow, contributing more than 90% of earnings in the near term."
More and more media groups have been introducing digital copies of their newspapers in recent years. Star's main publication — The Star — saw the circulation of its print edition drop to 286,436 copies in 2H2014 from 289,611 in the previous corresponding period. However, its digital replica, which was launched in 2012, rose 73% year on year to 85,806 copies.
Last March, in an effort to venture into the bilingual market digitally, Star collaborated with MCIL's Sin Chew to launch the Sin Chew-Star E-paper Package.
Indeed, media players are well aware that they have no choice but to evolve with the changing times or risk being left behind.
---
Note: The Edge Research's fundamental score reflects a company's profitability and balance sheet strength, calculated based on historical numbers. The valuation score determines if a stock is attractively valued or not, also based on historical numbers. A score of 3 suggests strong fundamentals and attractive valuations. Visit www.theedgemarkets.com for more details on a company's financial dashboard.
This article first appeared in The Edge Malaysia Weekly, on June 22 - 28, 2015.