This article first appeared in The Edge Financial Daily, on August 25, 2017.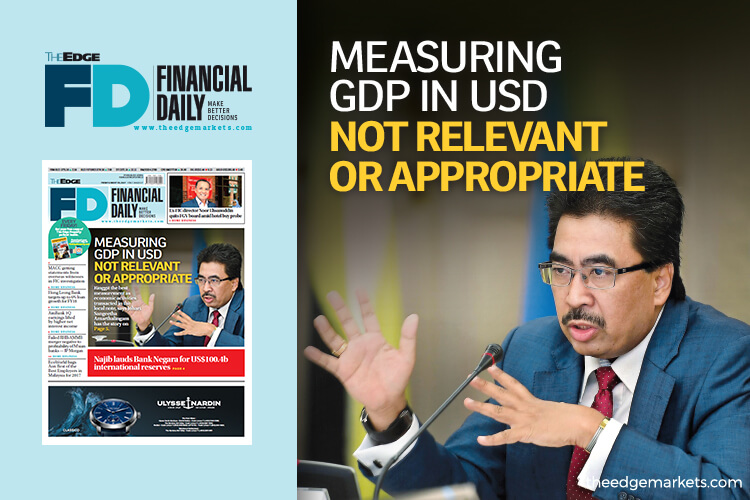 KUALA LUMPUR: Measuring the gross domestic product (GDP) in US dollars is not relevant or appropriate for a matured and sophisticated economy like Malaysia, said Second Finance Minister Datuk Seri Johari Abdul Ghani.
"Economic activity in Malaysia is measured primarily through activities transacted by households, businesses and governments in ringgit. Hence, measurement in ringgit terms is more reflective of our economy," he said in a statement.
Responding to Federation of Malaysian Manufacturers president Tan Sri Dr Lim Wee Chai's comment that Malaysia's GDP did not grow if calculated in US dollars, Johari said the GDP is reported in constant prices that have already taken into account the effects of price changes and exchange rate movements.
"In other words, the GDP reflects only the changes in the quantity of goods and services produced in the country. This compilation of GDP is consistent with international standards as stipulated by the World Bank and International Monetary Fund.
"The department of statistics' surveys and compilations are wide-ranging and inclusive of all sectors of the economy," Johari said.
"In view of this internationally-accepted standard, I wish to point out that [the] GDP measured in US dollars is not relevant for a matured and sophisticated economy like Malaysia, nor is the GDP measured in USD appropriate for an economy that is not dollarised in any sense.
"In any economy that is 'dollarised', there would be a loss of policy independence and flexibility, hence undermining a nation's sovereignty," he added.
Yesterday, Lim said as Malaysia was heavily involved in international trade, its GDP should also be measured in US dollar terms for a better reflection of its economic growth.
If measured in US dollar terms, the GDP would have shown a contraction in the second quarter of 2017, he said, due to the weaker ringgit.
"The GDP grew 5.8% in 2QFY17… but it grew in ringgit. If we calculated in [the] US dollar, it would be about -3.3% because the ringgit has devalued by 9%," he said.
To this, Johari said: "Such [a] statement could cause confusion and is not only misleading, but reflects poor understanding of how the economy works."
"Malaysia has indeed recorded a good growth of 5.8% in 2QFY17 and 5.6% in 1QFY17, compared with the same period in 2016. As a Malaysian, I call upon my fellow Malaysians to welcome this progress. Let's continue our hard work to achieve further growth for the rest of the year," Johari added.