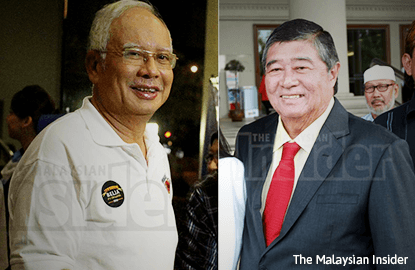 This article first appeared in The Edge Financial Daily, on January 14, 2016.
KUALA LUMPUR: Datuk Seri Najib Razak has dismissed Tun Dr Ling Liong Sik's claim of being made a "scapegoat" after the prime minister decided to sue the former minister instead of The Wall Street Journal (WSJ), which first reported the RM2.6 billion donation.
Najib said it was his prerogative who he wanted to sue first.
He said he was not obliged to file a suit against the WSJ and others before going after Ling, who was the transport minister in the Cabinet of long-serving former prime minister, Tun Dr Mahathir Mohamad.
"The defendant claims to be an elder statesman but he should be mature enough and responsible in dealing with the repercussion of his own actions," Najib said in his defence, responding to Ling's counter-claim.
He denied Ling's claim that his defamation suit was to make the former MCA president "a scapegoat or collateral damage" to justify his action.
Najib said the onus was on Ling to prove he was made a scapegoat, especially after the latter claimed to be an experienced and influential public figure.
"The defendant (Ling) cannot escape from the liability in defamation, only because the plaintiff (Najib) has yet to take any action against others."
Najib said Ling had acted recklessly and with bad intention to tarnish his image and reputation.
"As a citizen, prime minister, finance minister, an MP and community leader, I have the right to defend my dignity and reputation by instituting an action against the slanderer. This includes the right to sue the defendant (Ling).
Najib's defence was filed on Tuesday. — The Malaysian Insider