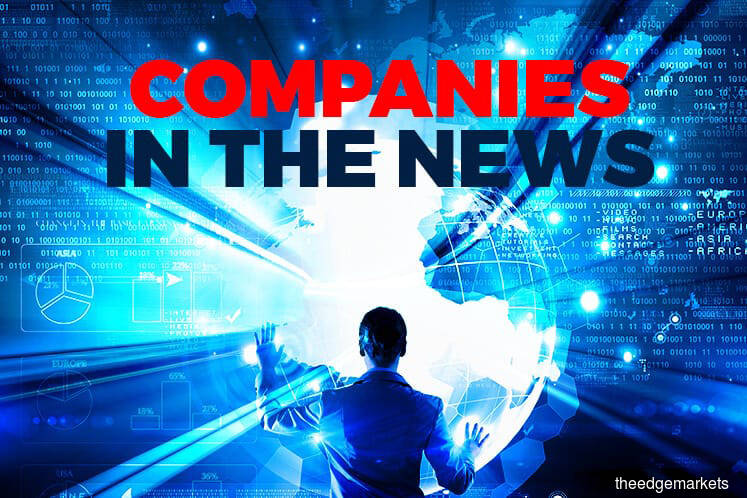 KUALA LUMPUR (Jan 5): Based on corporate announcements and news flow today, companies in focus on Monday (Jan 8) may include: MCT, Scomi Group, Scomi Engineering, Scomi Energy, MGB, MyEG, AMMB, Eduspec, Konsortium Transnasional, Tan Chong and MAHB.
MCT Bhd has received notice of an unconditional takeover offer at 88 sen per share from Philippine-listed Ayala Land Inc, after the latter raised its stake in MCT to 50.19%.
This came after the share purchase agreement (SPA) for the stake buy became unconditional today following the receipt of a waiver from Bursa Malaysia, MCT said in a stock exchange filing.
As such, Ayala, which is undertaking the takeover via its wholly-owned unit Regent Wise Investments Ltd (RWIL), is obliged to extend the takeover offer.
On Tuesday, MCT said it had received a letter of notification from RWIL that it had entered into a conditional SPA with MCT's non-executive director Tan Sri Goh Ming Choon to acquire a 17.24% stake in MCT for RM202.5 million in cash, or 88 sen per share, raising RWIL's stake to 50.19% from 32.95%.
The agreement was conditional upon a waiver being obtained from Bursa to allow for 51% of the cash consideration to be settled in tranches to Goh.
Scomi Group Bhd's three-way-turned-two merger will now proceed with its engineering unit, after shareholders of Scomi Engineering Bhd agreed to the proposal during a court convened meeting (CCM) today.
Those who voted for the proposed merger represent 93.52% of the total value of votes held by non-interested Scomi Engineering shareholders, against 6.48% that voted against.
On Aug 21 last year, Scomi Group proposed to consolidate its businesses by merging with its engineering and energy units, Scomi Engineering and Scomi Energy Services Bhd respectively, via a members' scheme of arrangement involving a share swap and an issuance of warrants.
The proposed merger, to reduce cost and strengthen its balance sheet, would have resulted in the privatisation of the two units after all shareholders in the respective units swap their shares for Scomi Group shares.
With the shareholders' green light today, Scomi Engineering is set to undergo a delisting process — estimated to take place by end-February — to be wholly owned by Scomi Group. Scomi Energy, on the other hand, will remain a listed entity following the rejection of non-interested shareholders to the proposed merger at a similar CCM yesterday.
MGB Bhd is acquiring property development firm Multi Court Developers Sdn Bhd for RM2.8 million.
Multi Court owns a 9.35-hectare land in Batu Pahat, Johor, on which a Unit Perumahan Penjawat Awam 1Malaysia (PPA1M) project will be developed with an estimated gross development value of RM93.5 million. Multi Court will receive a facilitation fund of RM14.6 million from PPA1M for the project.
The project is expected to commence from the second quarter of 2018 and is scheduled to be completed in 2020.
The government has extended My EG Services Bhd's (MyEG) contract to undertake the voluntary repatriation of illegal foreign workers, to June 30.
The contract, which took effect on Oct 10 last year, had expired on Dec 31. MyEG said the extension from Jan 1 to June 30 was granted by the Ministry of Home Affairs.
Meanwhile, AMMB Holdings Bhd is terminating its joint venture with Singapore-based ARA Asset Management (Malaysia) Ltd, and is instead signing a new agreement with Amcorp Properties Bhd to manage its real estate investment trust — AmFIRST REIT.
AMMB said its wholly-owned subsidiary AmInvestment Group Bhd (AIGB) signed the termination agreement as ARA Asset plans to dispose of its entire 30% shareholding in Am ARA REIT Holdings Sdn Bhd.
AIGB and ARA Asset set up Am ARA REIT Holdings on a 70:30 basis in 2006 to manage AmFirst REIT.
This confirms a report in the Dec 18-24 edition of The Edge Malaysia weekly that ARA Asset may have to divest the 30% stake as it will be setting up its own REIT and there may be a conflict of interest.
Education solutions provider Eduspec Holdings Bhd is teaming up with PKU-HKUST Shenzhen-Hong Kong Institution (PKU) to promote Science, Technology, Engineering, and Mathematics (STEM) education in schools in China.
Eduspec said the three-year collaboration is for the promotion of STEM with Computer Science and also STEM with Robotics Programs in Chinese schools.
Under the collaboration, Eduspec — being a certified STEM programmes distributor in Asia for the Carnegie Mellon University Robotics Academy (CMRA) — will provide PKU with the relevant authorisation documents and confirm that PKU is the teacher training and student examination and certification center for CMRA-Certified STEM Programs in China, including Hong Kong and Macau.
A lawsuit filed in August last year by Konsortium Transnasional Bhd and six companies linked to the group against Tan Chong Motor Holdings Bhd has been dismissed.
Tan Chong said the High Court has allowed its subsidiary Tan Chong Industrial Equipment Sdn Bhd's (TCIE) application to strike out the claim made by the seven companies.
The court also dismissed an injunction application by the companies, namely Konsortium Transnasional, Transnasional Express Sdn Bhd, Plusliner Sdn Bhd, Syarikat Kenderaan Melayu Kelantan Bhd, Syarikat Rembau Tampin Sdn Bhd, Kenderaan Langkasuka Sdn Bhd and MHSB Properties Sdn Bhd.
The companies had filed the injunction to stop TCIE from repossessing vehicles leased to them, and from making any deals in relation to a plot of land that was initially promised to the unit in a debt settlement deal.
They had also sued to recover an unspecified compensation sum for TCIE's part acquisition of the land, and for the repayment of RM22.68 million.
Malaysia Airports Holdings Bhd (MAHB) expects its loss-making Istanbul Sabiha Gocken International Airport (ISGA) in Turkey to turn around in the financial year ending Dec 31, 2018 (FY18) — two years later than predicted.
In July 2016, its managing director Datuk Badlisham Ghazali had told The Edge Financial Daily in an interview that ISGA was expected to turn around its operations that year. However, ISGA continued to suffer losses on weak passenger traffic and higher effective tax charges due to write-off of expiring tax losses brought forward.
Badlisham said the improvement in financial performance for FY18 will be driven by the upcoming second runway and infrastructure around ISGA.
"The growth will be organic. Other than the upcoming second runway, passenger volume would be driven by infrastructure around the airport. One of it is the MRT system connecting ISGA, which increase the convenience and people may use more of the airport," he told a press conference on the group's business update and 2018 outlook today.