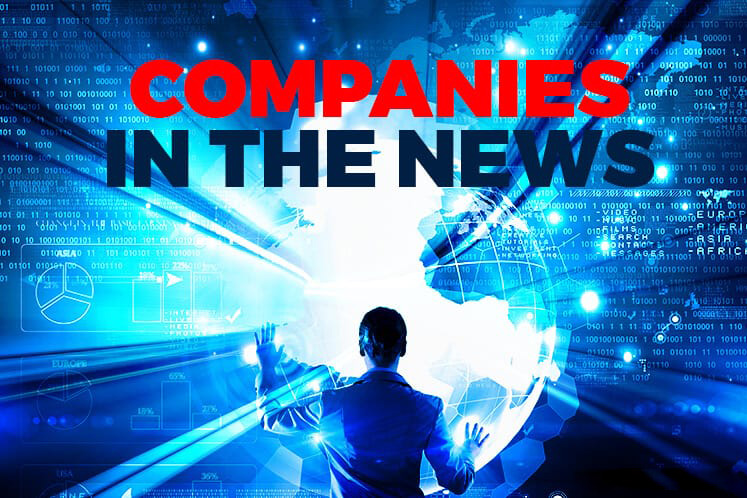 KUALA LUMPUR (Feb 20): Based on corporate announcements and news flow today, companies in focus on Wednesday (Feb 21) may include: MCT Bhd, Petronas Chemicals Group Bhd, Bina Darulaman Bhd, Nestle (M) Bhd, Halex Holdings Bhd and UEM Edgenta Bhd.
Ayala Land Inc, the biggest property group in the Philippines, increased its indirect stake in MCT Bhd to 72.31% at the close of the mandatory general offer for shares in the Malaysian firm.
MCT said Regent Wise Investment Ltd, a unit of Ayala, has acquired an additional 22.12% stake, representing 295.28 million shares between Jan 27 and Feb 19, adding to the 50.19% stake in MCT held by Regent Wise as at Jan 26.
MCT's other substantial shareholder includes Lembaga Tabung Haji with a 10% stake.
Petronas Chemicals Group Bhd's net profit climbed 1.82% year-on-year to RM1.01 billion for its fourth financial quarter, from RM987 million, on higher earnings before interest, tax, depreciation and amortisation (EBITDA).
EBITDA for the period ended Dec 31, 2017 rose RM243 million or 16% to RM1.7 billion.
Quarterly revenue climbed 20.09% to RM4.74 billion from RM3.95 billion a year ago, because of strengthening prices, supported by higher sales volume, partially offset by a weakening US dollar.
Petchem declared a second interim single tier dividend of 15 sen to be paid on March 21. The ex-date is March 5 and entitlement date is March 7.
For FY17, net profit expanded by 42% to RM4.18 billion or 52 sen per share versus RM2.93 billion or 37 sen per share in FY16, on the back of RM17.41 billion revenue, which grew 25.59% from RM13.86 billion last year.
A slash in revenue caused Bina Darulaman Bhd to report a loss of RM10.42 million in the fourth quarter ended Dec 31, 2017, subsequently bringing its full-year results into the red for the first time since 1998.
The developer's quarterly revenue dropped 64.48% to RM54.68 million, from RM153.92 million a year ago.
The losses incurred in the latest quarter caused Bina Darulaman's FY17 results — already suffering from low profits over the earlier nine months — to plummet to RM7.81 million in losses, from RM34 million in net profit a year ago. Full-year revenue declined 29.41% to RM251.71 million from RM356.59 million previously.
The group blamed the much weaker performance in FY17 on fewer billings and delayed launches.
Nestle (M) Bhd posted a record high fourth quarter net profit of RM133.54 million, double the RM66.94 million reported last year, thanks to continued sustainable cost management.
Nestle said the different phasing of marketing investments in 2017 also drove the quarterly net profit as investments were well spread over four quarters, compared with exceptionally high spending in the fourth quarter of 2016.
Quarterly revenue inched up 2.54% to RM1.28 billion from RM1.25 billion previously, supported by domestic sales that grew 4.5% due to continuous innovation and renovation initiatives, and successful marketing and trade promotions.
Nestle also registered its highest full year net profit for FY17 at RM645.80 million, up 1.36% from RM637.13 million in FY16. Revenue climbed 3.89% to RM5.26 billion from RM5.06 billion in FY16.
The group proposed a final dividend of RM1.35, bringing total payout for FY17 to RM2.75. The dividend is payable on May 31, with May 11 fixed as the ex-date.
Halex Holdings Bhd's net loss narrowed by 70.63% to RM6.21 million in the fourth quarter ended Dec 31, 2017, from RM21.16 million a year ago.
This came as revenue grew 56.19% to RM18.36 million from RM11.75 million, on higher revenue contribution from the agriculture supplies and trading segment.
The agricultural chemical manufacturer attributed the reduction in losses to the RM7.53 million gain on disposal of its associate company Kensington Development Sdn Bhd, held by wholly-owned subsidiary Halex Realty Sdn Bhd.
For the full financial year, Halex's net loss went down by 43.49% to RM12.4 million from RM21.95 million in FY16, while revenue was flat at RM69.04 million compared with RM68.65 million previously.
UEM Edgenta Bhd announced a special dividend of 18 sen per share — together with a second interim dividend of 5 sen per share  — after its fourth quarter net profit jumped about 20 times following the disposal of its entire stake in Opus International Consultants Ltd (OIC) last year.
Net profit for the fourth quarter ended Dec 31, 2017 surged to RM324.81 million from RM16.49 million a year earlier, after booking in a gain of RM274.91 million from the disposal of its 61.2% stake in OIC, held via indirect wholly-owned unit, Opus International (NZ) Ltd. The disposal was completed in December.
The special dividend is payable on April 18, while the second interim dividend is payable on May 17. The total 23 sen payout, in respect of its FY17, brings the group's full year payout to 31 sen, versus 7 sen in FY16.
Quarterly revenue grew 31.08% to RM672.31 million against RM512.9 million.
For the full FY17, UEM Edgenta's net profit spiked 422% year-on-year to RM418.19 million from RM80.06 million, while revenue grew 34% y-o-y to RM2.12 billion from RM1.58 billion.