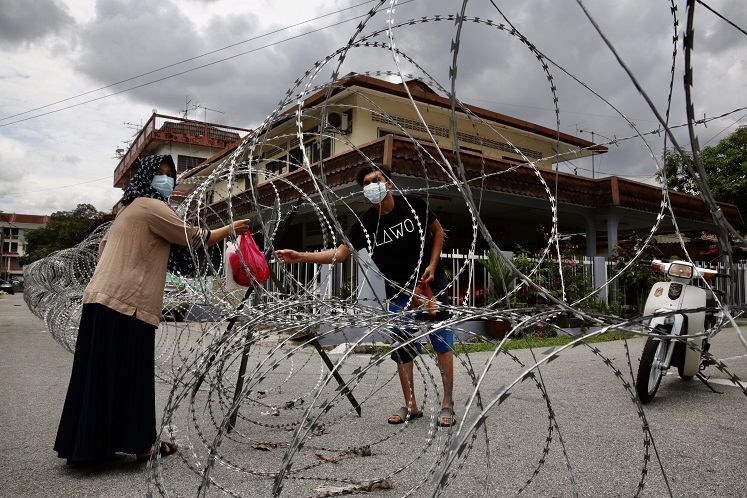 KUALA LUMPUR (May 1): The Ministry of Health has the option to conduct enhanced movement control order (EMCO) as a stop-gap measure against new outbreaks, amid the full resumption of economic activities next Monday. 
Health director-general Datuk Dr Noor Hisham Abdullah said this today when asked to comment on the Prime Minister's announcement that shops and offices can re-open under the Conditional MCO (CMCO) from the coming Monday (May 4) onwards.
"The main objective of the MCO is to flatten the curve. As at April 14, we have done just that. Now the response is to strike the right balance between lives and livelihood," Noor Hisham told reporters at the daily Covid-19 press conference.
"What is for sure, is that we must follow the SOP (standard of procedures) set up by the authorities. 
"If there are outbreaks in any locality, we will undertake EMCO and close the area, undertake screening, treat the positives, and quarantine the close contacts," he added.
Noor Hisham pointed out that the CMCO still adheres to the six-step guidelines by the World Health Organisation. 
Malaysia, he said, is maintaining strict border control including mandatory quarantine during the CMCO, unlike in some other countries which opened their borders when lockdown is lifted.
Further, Malaysia's health facilities are deemed adequate at this point in time, thanks to the slowing trend of new Covid-19 cases.
He reiterated that less than 30% of hospital beds are used for Covid-19 patients, and pointed to the 1,054 available ventilators as opposed to the 14 patients using the device currently. 
"Our daily lab capacity is 16,635 samples daily. Yesterday we processed 14,544 samples, meaning the lab was operating at 87% capacity," he added.
"We also continue to take action with other ministries to protect the at-risk groups like the elderly and the children.
"We also emphasise community strengthening to undertake steps to follow our SOP. We will give this shared responsibility to the people in charge, such as the manager in factories.
"From time to time, we will check on the enforcement by all agencies and ministries in charge," he added. 
From May 4, most businesses except for those on the National Security Council's no-permission list are allowed to operate, with SOP to be followed. 
Meanwhile, members of the public can also conduct activities like jogging or exercise — as long as there is no close contact, no big groups, and not in places with high risk of transmission.
Read also: 
Health DG: MoH role is to eradicate Covid-19, even among undocumented immigrants
Covid-19: Infection number among M'sians returning from abroad rises to 263
Covid-19: Malaysia reports 69 new infections, including 12 imported cases
Stay at home. We will deliver the news to you at theedgemarkets.com.