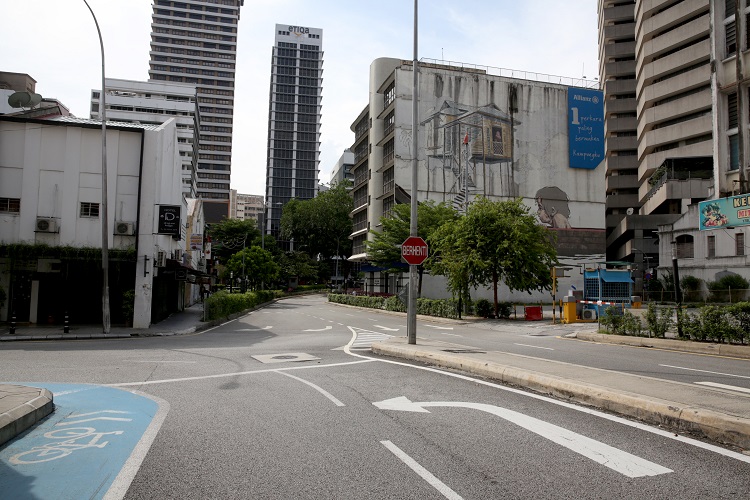 KUALA LUMPUR (April 24): Hong Leong Investment Bank (HLIB) is forecasting an even greater contraction in Malaysia's gross domestic product (GDP) of 6%, from a 4% contraction previously forecast, following the government's announcement that the Movement Control Order (MCO) will be continued for another two weeks.
In a note today, the research house said that this higher contraction in GDP is premised on the assumption that the economy is operating at a capacity of 50% of GDP — with only 45% of the economy vis-à-vis GDP operating in the second phase of the MCO.
"As the economy is now under MCO for a total of eight weeks (slightly below two months), concerns are rife on the impact to the economy and employment. While the latest Ministry of Finance [MoF] report on the utilisation of the wage subsidy bill (RM13.8 billion) showed that RM1.2 billion of funds have already been approved for almost 1 million workers, this is subjected to conditions and is only for three months," said the research house.
 
HLIB Research noted that it continues to see further downside risks to its GDP forecast from the possibility of the MCO being extended further, and the likelihood of a sluggish recovery post-MCO due to social distancing measures and a weak global economic environment.
At the same time, it is also expecting Bank Negara Malaysia (BNM) to conduct a 50 basis point (50bps) cut in the overnight policy rate (OPR), a move that could come as early as the upcoming May 5 Monetary Policy Committee (MPC) meeting.
As far as the FBM KLCI is concerned, the reprieve over the past one month will be short-lived, as past bear markets have all seen a "dead cat bounce" ranging from 10% to 13%.
The research house continues to forecast a W-shaped recovery trajectory for the market and its bottom estimates for the KLCI ranges from 1,029 points to 1,236 points — adding that it would only turn buyers closer to those levels.
"Possible triggers to those levels include (i) another MCO extension beyond Phase 4, (ii) May reporting season with weaker-than-expected corporate results and 1Q20 GDP (versus BNM's 2020 range of -2.0% to +0.5%), (iii) continued decline in oil prices, and (iv) a perhaps overlooked risk of the US-China trade war re-escalation, noting the barrage of less-than-cordial statements by President [Donald] Trump on China," it noted.
 It is still maintaining its FBM KLCI forecast of 1,350 points for 2020.
Earnings of KLCI component stocks are expected to contract by 3.9% this year but are to rebound by 7.7% in 2021.
HLIB Research said its forecasts mostly imputed a six-week MCO impact, and yesterday's extension certainly presents a further downside to its estimates.
 
Most sectors will be facing negative headwinds, for example, the aviation industry faces travel bans and the consumer sector will see weak demand for discretionary spending.
That said, HLIB Research viewed the MCO's extension as necessary to combat the disease.
"Collectively, the four MCO phases would total 55 days or slightly below two months. We maintain our view that Malaysia's Covid-19 situation will possibly subside to containable levels sometime in May (1st -2nd week), which coincides with the end of MCO Phase 4," it viewed.