This article first appeared in The Edge Financial Daily, on March 26, 2020.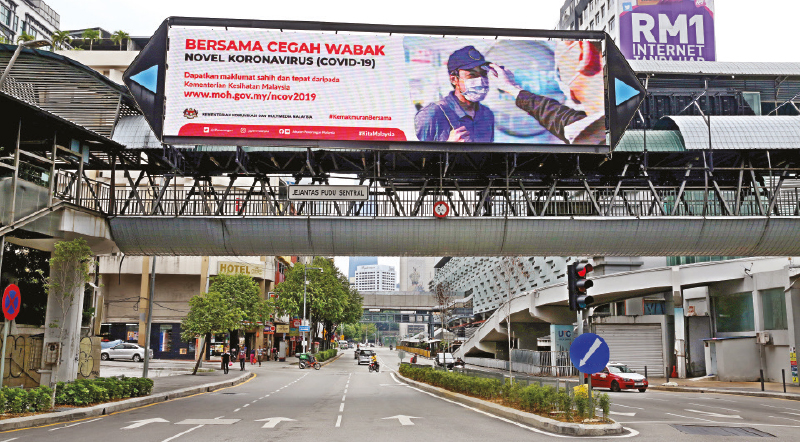 A digital signage flashes a Covid-19 message over a deserted street in Kuala Lumpur. (Photo by Sam Fong)
KUALA LUMPUR: Given the escalating number of confirmed Covid-19 infection cases, the government has decided to extend the movement control order (MCO) by an additional 14 days to April 14 from March 31 originally, the prime minister announced yesterday.
Tan Sri Muhyiddin Yassin pointed to the rising daily new cases in the country, saying that the government believes the rise in the number of new cases may continue for a while before the curve starts flattening.
Meanwhile, he did not rule out the possibility of a further extension after April 14, if the situation warrants to do so. Muhyiddin cautioned the public to be "mentally and physically prepared to stay at home for a reasonably longer period of time".
He told the public in a special address broadcast live on television yesterday that the government will continue to review the MCO period from time to time.
"I was briefed by the health ministry and National Security Council  that the trend shows that new cases of Covid-19 positive continue to emerge. This trend is expected to remain for a while before new cases start to decline.
"This has prompted the government to extend the MCO for a longer period," Muhyiddin, who took over the office less than a month since March 2.
He is urging the public to "stay calm and don't panic", assuring them that food supply will remain sufficient during the partial lockdown period.
"Even though we have extended the MCO, you don't have to unnecessarily stock up on food because the supply is sufficient. I assure you that food is enough for everybody. I know you feel burdened but I don't have a choice. I have to extend the MCO for your own safety," he stressed.
For a two-week extension on the MCO, Malaysia's real gross domestic product (GDP) is estimated to shrink by about 2.9% for 2020 compared to 2019, and will result in some 2.4 million people losing their jobs, according to the Malaysian Institute of Economic Research (MIER).
MIER also estimated that any additional two-week extension of the MCO may amplify the contraction of real GDP by between 3% and 4%, relative to the 2020 baseline. These estimates are part of MIER's analysis of the economic impact of the Covid-19 pandemic in Malaysia.
Besides the economic contraction, MIER projected household incomes may fall by 12% relative to the baseline, which amounts to RM95 billion.
"Such a fall is manifested in a sharp decline in consumer spending by 11%, despite the drop in general consumer price level by 4.4%," said the institute on Tuesday.