This article first appeared in The Edge Malaysia Weekly, on January 25, 2021 - January 31, 2021.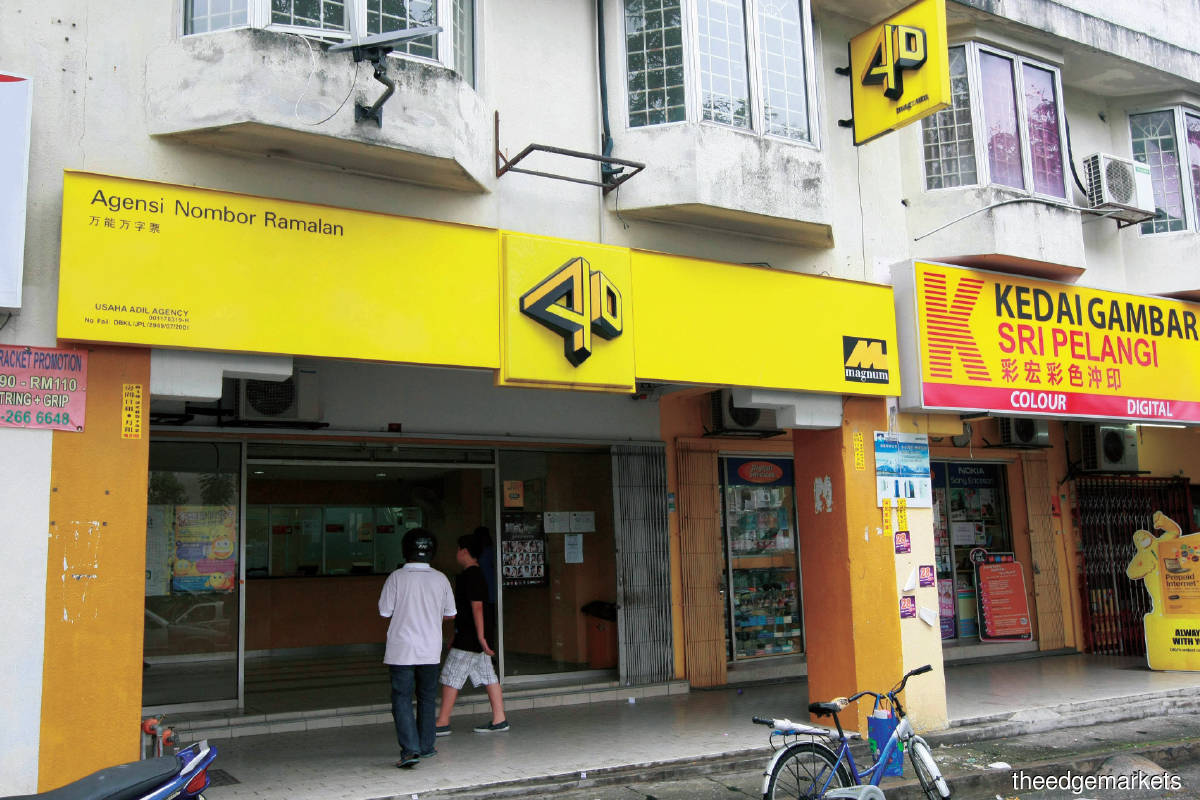 NUMBER forecast operators (NFOs) started the year on a positive note given their resilience during economic downturns. Furthermore, the Covid-19 vaccine rollout, expected to start soon with the arrival of the first batch of Pfizer vaccine at the end of next month, puts the laggard sector in a good position this year.
But now, with NFOs left unable to operate again during the second round of the Movement Control Order (MCO 2.0) — in place since Jan 13 and extended to the whole country, except for Sarawak on Jan 22 — it could spell trouble for the sector, which had just made close to a full recovery after MCO 1.0 last year.
Analysts say NFOs' sales had recovered to 85% to 90% of pre-Covid-19 levels recently. This comes after they had to close for 13 weeks under MCO 1.0 implemented on March 18, 2020. They were only allowed to reopen for business on June 17 last year when the country was in the middle of the Recovery MCO (RMCO) stage.  
With MCO 2.0 extended until Feb 4 just before the Lunar New Year, which falls on Feb 12, NFOs' businesses will be hit as festivities will be muted. With positive cases still in the four-digit range, it remains to be seen when the MCO 2.0 period will end.
"If they are unable to reopen during the Chinese New Year period, yes, it would be a [further] negative for them. But nothing has been confirmed at this juncture," says UOB Malaysia head of research Vincent Khoo.     
Maybank Investment Bank Research opines in a Jan 13 report that the MCO in affected states or territories may last a similar 13 weeks at least.
"Assuming NFO outlets in the affected states or territories are shut for 13 weeks, they will forego 46 draws (39 normal draws and seven special draws) in 2021," it adds.
Note that the Maybank IB Research report was released when MCO 2.0 was only imposed on Penang, Selangor, Kuala Lumpur, Putrajaya, Labuan, Melaka, Johor and Sabah.
The research house has "buy" calls on both listed NFO stocks, with a target price of RM2.50 for Magnum Bhd and RM2.39 for Berjaya Sports Toto Bhd (BST).
Despite the halt to operations, market experts are still positive about the outlook for the NFOs as they see this as a temporary setback for the sector.
"Business is obviously affected as outlets in MCO states are not allowed to open. This unfortunately is something that can't be helped but should be temporary, as we believe the rollout of vaccines should, to a certain extent, control the severity of Covid-19. If you look beyond the MCO, the sector outlook should improve," says TA Securities chief investment officer Choo Swee Kee.
However, analysts note that the recovery could be quicker for the NFOs this round once they reopen because punters are now familiar with the standard operating procedures (SOPs) they have to observe at outlets, compared with the reopening after MCO 1.0.
Nevertheless, one of the issues the sector faces while NFOs are closed is illegal online gaming. During MCO 1.0 last year, online gambling syndicates offering 4D draws reportedly made more than RM250 million.  
"The illegal operators will be having a field day with the NFOs closed. They will take the lion's share of the market now, but when the legal operators open, they should be able to claw back substantial market share," notes an analyst.
Kenanga Research notes in a Jan 5 report that enforcement against illegal operators remains the key to ticket sales growth. The research house had said that ticket sales are expected to revert back to pre-MCO level in 1H2021.
However, with MCO 2.0, UOB's Khoo says the expectation is for broad recovery to take place in 2H2021.
There had also been news at the end of last year that the special draws for NFOs in 2021 will increase to 22 days from the current eight days per year. RHB Research Institute says the increase in special draws is mainly to aid the government in gaining extra tax revenue.
RHB Research's target prices for Magnum and BST are RM2.73 and RM2.49 respectively, with "buy" calls for both.
However, Kenanga Research says special draws have limited earnings impact as they come with additional tax, which crimps profit margins.
Of the two listed NFO players, Magnum has a higher trailing 12-month price-earnings ratio (PER) of 25 times compared with BST's 20 times.  
For the third quarter ended Sept 30, 2020, Magnum's net profit stood at RM30.25 million, down 36% from the previous year while revenue fell 34% to RM485.71 million from a year ago.
Meanwhile, BST saw revenue declining 6.3% for the first quarter ended Sept 30, 2020, compared with a year ago, on account of lower revenue by Sports Toto Malaysia Sdn Bhd. Net profit was slightly higher at RM67.85 million from RM66.96 million a year ago.  
Its NFO segment of the business saw an 18.2% drop in revenue for the quarter while pre-tax profit increased 1.4%, attributable to a lower prize payout and lower operating expenses incurred. Notably, the company has two main businesses — number forecast and motor retailing.
 Dividend-wise, Magnum's yield is slightly lower, at 3.48%, while BST's yield is 3.99%.  
Should investors jump into NFOs now with share prices below their peak in the last one year?  
Choo believes the NFO business is a pretty stable one in a "normal year". "The NFO business in a normal year is generally quite predictable and stable. As share prices have fallen together with the fall in revenue during the pandemic and MCO period, it is reasonable to expect share prices to recover in line with the recovery in business revenue when the situation normalises," he says.
Areca Capital CEO Danny Wong believes this is not the right time to invest in NFOs. "I don't think it is time yet, as there are other better risk-reward profiles. Like many retail or consumer stocks, there is still a lot of uncertainty. So I would go for stocks that are neutral or tend to benefit from the pandemic," he says.
At last Thursday's close, Magnum's share price stood at RM2.14, giving it a market capitalisation of RM3.08 billion. Meanwhile, BST closed at RM2.01, valuing the company at RM2.72 billion.