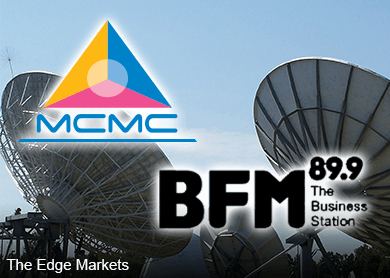 KUALA LUMPUR (Dec 17): The Malaysian Communications and Multimedia Commission (MCMC) should strike off the RM10,000 fine on business radio station BFM over its interview with an Islamic scholar and review the licence conditions imposed on broadcasters, said a media watchdog today.
The Centre for Independent Journalism (CIJ) said the regulator should remove any conditions that require pre-approval of content before any live or delayed telecast as such provision produces a "chilling effect" on broadcasters, and may cause them to be overcautious and practise self-censorship.
"This is an infringement on the freedom of expression and damaging to media freedom, in particular," CIJ said in a statement.
BFM was fined by MCMC for airing an interview on the "Allah" controversy with Iranian-American Muslim scholar Reza Aslan on October 21 last year.
The Malaysian Insider reported yesterday that MCMC fined BFM under the Communications and Multimedia Act 1998 for violating the special licence conditions of Individual Content Applications Service Provider (CASP-I) which stipulated the regulator's approval must be obtained before any live or delayed telecast.
BFM is appealing against the fine and Malaysians have rallied round the popular radio station, pledging to contribute RM10 each to help settle the fine.
CIJ said today MCMC should ensure that any licence conditions imposed on broadcasters are in line with the Federal Constitution, in particular Article 10 which guarantees freedom of expression.
It said any restrictions on freedom of expression can only be imposed by Parliament in the interests of national security, public order, and public morality.
"The prohibition on upsetting the sensibilities and sentiments of any race or religion is an extremely broad condition and an overly onerous one to place on broadcasters. Fulfilling this condition will require the regulator to artificially construct what a particular race or religion's sensibilities and sentiments are.
"Given the breadth of views encompassed by any one race, this is an impossible task," it said.
CIJ further said views and discussions on ethnicity or religion should not be unnecessarily and disproportionately curbed, simply on the notion that the feelings of a particular religion's adherents may be hurt.
It said this was not only a breach of human rights standards on freedom of expression, it was also harmful to proper discourse and debate in a multi-ethnic, multi-religious country like Malaysia.
It added that the government should acknowledged that there are strong opposing views to Putrajaya's move to ban non-Muslims from using the word Allah, and said the issue could be discussed calmly.
"If the government and the MCMC disagreed with Reza Aslan's views, they could have made their own arguments against them, rather than attempting to shut down healthy debate," it further added.
In the BFM interview last year, Reza criticised Malaysia's ban on the use of "Allah" by non-Muslims and described the Court of Appeal's ruling on October 14, 2013, as a "political decision".
The appellate court banned the Catholic Church from using the Arabic word for God in the Bahasa Malaysia section of its weekly newspaper, Herald.
Reza told BFM that Christians in the Middle East and other parts of the world have used "Allah" as it meant God, and it was not a threat to Islam.
A vocal critic of the ban, he tweeted last year, "How stupid has Malaysia become? ", linking his tweet to a news report about the Court of Appeal decision.
He also described the decision as a "tragedy" in an email interview with The Malaysian Insider last year.