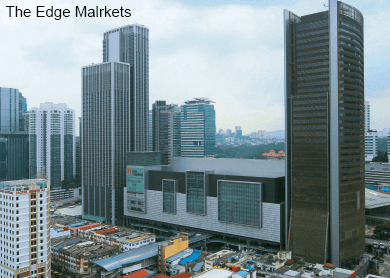 SOUTH KOREA-based Hana Daol Fund Management is believed to be finalising the sale of Nu Tower 1 in KL Sentral to the Malaysian Communications and Multimedia Commission (MCMC) for over RM200 million.
Sources say the purchase, should it be completed, would make it the second office building purchased within a year by the communications and multimedia industry regulator.
Details and the price at which the deal will be executed remain sketchy. An email query to MCMC by The Edge to confirm if it had bought the building or was in the process of acquiring the asset went unanswered.
MCMC is an agency under the Ministry of Communication and Multimedia Malaysia that regulates telecommunication, broadcasting and postal services in the country.
Malaysian Resources Corp Bhd (MRCB), the master developer of KL Sentral, in its 2014 annual report had stated that Nu Tower 1 offers a total of 259,632 sq ft in net lettable area (NLA) and is almost 100% leased.
Industry experts say a fair sale price to gauge the value of the office buildings within KL Sentral is RM1,100 per sq ft. This would mean that the MSC-status Nu Tower 1 may be able to fetch as much as RM285.59 million.
It is learnt that MCMC had last year acquired an office building located opposite its headquarters in Cyberjaya. MCMC's headquarters is off Persiaran Multimedia while the office building that it acquired in Shaftsbury Square is located in Persiaran Multimedia. The 22-storey building with a built-up of 220,000 sq ft was purchased by MCMC from iKHASAS Sdn Bhd. Although MCMC did not provide any information on this acquisition, valuers place the price psf in this area of Cyberjaya at around RM750. This would mean MCMC may have spent RM165 million on this asset.
While the building in Cyberjaya is believed to have been bought to accommodate its expansion, it is unclear what MCMC's plans are for Nu Tower 1 as MRCB's annual report indicates that the building is almost fully leased out.
MCMC did not address queries on how much space it will occupy in the new building. Should it only occupy minimal space, MCMC could now have a new source of revenue from recurring income. The main tenant in the tower is Allianz Life & General Insurance Group.
Meanwhile, a 2010 report stated that the two office towers located next to Nu Sentral shopping centre and adjacent to the Aloft hotel were acquired en bloc by Hana Daol Fund Management, the real estate arm of one of South Korea's largest financial services firms, Hana Financial Group. Another report puts the value of acquiring the two towers at RM700 million.
The Edge understands that Hana Daol executed the deal for the purchase of Nu Tower 1 via Pavilion Puncak Sdn Bhd. A search with the Companies Commission of Malaysia reveals that Pavilion Puncak has an issued and paid-up capital of RM20,590.89 and is wholly owned by Seoul-based NongHyup Bank. NongHyup Bank's ultimate parent is the National Agriculture Cooperative Federation.
NongHyup Bank is believed to function as a trustee for the asset being held by Hana Daol.
The directors of Pavilion Puncak are Korean nationals Kim Yong Hoon and Baek Sung Ryul. The company also has a local director, Muhali Abd Rahim.
Records show that Pavilion Puncak did not post any revenue in the financial years ended June 30, 2013, and June 30, 2014. Its net loss, however, widened to RM8.79 million in FY2014 from RM1.38 million in FY2013.
As at June 30, 2014, Pavilion Puncak had accumulated losses of RM67.21 million and total liabilities of RM86.31 million, of which RM24.44 million was current liabilities. The company also has a RM182.8 million charge with CIMB Bank Bhd.
Meanwhile, MRCB says that Nu Tower 2 — the higher of the two towers, offering 498,309 sq ft in NLA — is 50% leased and expected to be fully tenanted in 2015. Tenants include Tenaga Nasional Bhd, Servcorp and Asian Banking School.
The Nu Tower 1 and Nu Tower 2 office towers were part of the Lot G offices and hotel development jointly developed by Aseana Investment Ltd, an associate of Ireka Corp and MRCB.
In the past year, there have been several transactions involving assets in KL Sentral. CIMB-Mapletree Real Estate Fund 1 is said to have sold Menara CIMB to CIMB Group Holdings Bhd last year. MRCB had also divested Platinum Sentral to Quill Capita Trust. Last week, MRCB sold its 51% stake in the management company of Nu Sentral mall to Pelaburan Hartanah Bhd.
This article first appeared in The Edge Malaysia Weekly, on May 4 - 10, 2015.