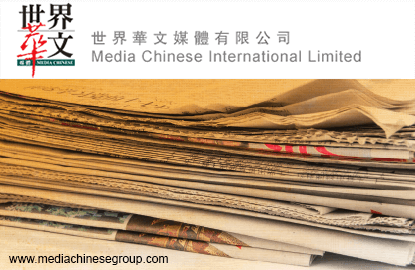 This article first appeared in digitaledge Weekly, on September 7 - 13, 2015.
DESPITE the challenging environment in the media industry, some analysts believe Media Chinese International Ltd's (MCIL) share price has fallen to levels that have made the counter a compelling buy.
Over the last two months, the stock has fallen 16%, hitting a low of 50.5 sen on Sept 2. It currently trades at a price-earnings multiple of six times, compared with other media counters such as Media Prima Bhd and Star Media Group Bhd, which are trading at 15 times.
Based on its closing price of 51 sen on Sept 3, MCIL (fundamental: 2.40; valuation: 2.40) is trading at only one times its book value while offering a dividend yield of 7.7%.
In fact, Maybank Investment Bank Research recently upgraded the stock to a "buy".
"All in all, we opine that the recent fall in MCIL's share price is unwarranted. We upgrade MCIL from 'hold' to 'buy', with an unchanged target price of 65 sen on 1.3 times end-2015 P/BV," it states in an Aug 27 report.
AmResearch, in a report with the same date, notes, "MCIL is currently trading at an undemanding FY2016F PER of 6.5 times, at the lower end of its five-year historical PER band of 6 to 10 times."
"The media group has been good at managing cost and it is trading at a single-digit PER. Based on my forecast dividend numbers, it has a yield of between 4% and 5%, and this is based on a 40% payout ratio. So, the yield can be higher actually," says a media analyst with a bank-backed research house.
MCIL saw its net profit for the first quarter ended June 30, 2015, rise 5.3% year on year despite a 13.4% drop in revenue. This was due to the group's ability to manage its cost efficiently as well as its earlier move to diversify its earnings. In 1Q2015, the group saw its travel business prop up its total earnings.
MCIL is continuing to focus on diversifying its income base. In its Aug 27 report, AmResearch says a potential rerating catalyst for MCIL is its possible venture to redevelop some of its properties.
"Management mentioned in the last briefing that it has been approached by a property developer to redevelop one of its properties. MCIL's freehold land size is known to be 269,000 sq ft. This move could positively diversify and improve its earnings, as successfully done by other media groups in Singapore," it says.
The Edge reported in June that MCIL is looking at diversifying into property development.
The group told shareholders at its annual general meeting last month that it was actively exploring new investment opportunities, including e-retail, education, property development and big data marketing.
Given that the group operates internationally, it has exposures to various currencies, primarily the ringgit, renminbi and Canadian, Hong Kong and US dollars.
When asked about the group's strategies to ride out the current renminbi devaluation and weaker ringgit, an MCIL management source says, "The financial impact of the depreciation of currencies is minimal. The use of a different foreign currency, for example the US dollar in our financial statements, is mainly for our consolidation and reporting purposes. Moreover, we also expect newsprint prices to remain weak, which will provide the group with some cushion against the difficult operating environment."
The source adds that each of the group's operating units is relatively self-contained and integrated within a particular country, with the functional currency being the local one.
"So, each operating unit's cash flow is primarily received and paid for in the currency of that particular country and does not directly affect the group's cash flow. Although the weakening of a unit's local currency, for example, the ringgit against the US dollar, may result in a lower translated amount being reported in the group's consolidated financial statements, this does not affect the underlying financial performance of the unit itself," says the source.
Apart from operating in Malaysia, MCIL has printing and publishing businesses in Hong Kong, China and North America. At home, it publishes the top four Chinese-language newspapers in the country — Sin Chew Daily, China Press, Guang Ming Daily and Nanyang Siang Pau.
Together, they command an average daily readership of 2.7 million and about 70% of all Chinese-language newspapers sold in Malaysia in its FY2015, notes MCIL in its annual report.
In the consolidated income statement, MCIL recognised net exchange loss of US$124,000 for FY2015.
According to Bloomberg data, there are nine analysts covering MCIL, of which five have a "hold" call, three "buy" and one "sell". The median target price of the nine for the counter is 56 sen.