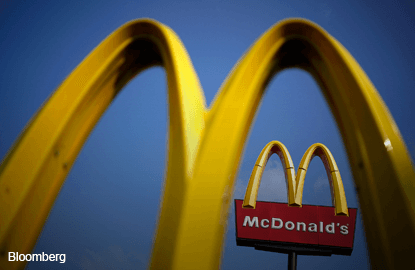 This article first appeared in
The Edge Financial Daily
, on August 11, 2016.
SHAH ALAM: McDonald's Corp's plan to seek a master franchise partner for its restaurants in Malaysia and Singapore is part of a global effort to streamline operations by empowering local master franchisors to make faster business decisions and accelerate growth, said Golden Arches Restaurants Sdn Bhd.
Golden Arches, the Malaysian subsidiary of McDonald's, confirmed that the American fast food restaurant operator is looking to sell its 20-year franchise rights in Malaysia and Singapore to a new investor.
"McDonald's Corp is re-franchising from 30,000 to 35,000 franchise restaurants globally," said Golden Arches managing director Azmir Jaafar.
"So we are looking at about 5,000 more restaurants to be franchised globally," he told reporters after launching a strategic partnership between McDonald's and Malayan Banking Bhd, which allows customers to pay for meals using the latter's debit card.
To recap, McDonald's Corp president and chief executive officer Steve Easterbrook on April 15 informed shareholders that the group would re-franchise some 4,000 restaurants between 2015 and 2018, with the long-term goal to be at least 95% franchised.
Currently, McDonald's franchises its restaurants to individuals who personally operate and are involved in day-to-day operations.
"In the long term, McDonald's Corp's master franchise plan is mimicking its operations in countries like Thailand, the Philippines and Indonesia," said Azmir.
It was previously reported that the sale of the 20-year franchise rights in Malaysia and Singapore could collectively fetch at least US$400 million (RM1.59 billion), but Azmir declined to confirm or deny the report "as it is merely speculative for now".
The most important factor in the franchise sale, he added, is to find the right partner that understands the local market, ensure continuity of McDonald's value and tradition, as well as be backed by strong capital to fund future investments.
"Many parties have come to talk to us, including private equities and other corporate giants. The company is negotiating with potential bidders. But so far, we have not reached any definite conclusion at this stage," said Azmir, adding that it is "business as usual" for the quick-service restaurants in Malaysia.
Azmir expects McDonald's Malaysia to continue its growth momentum despite weak consumer sentiment amid a slow economic pace.
"We've been having a great year, and growth is in the high teens," he said, adding that Golden Arches will continue its trend to opening from five to 10 stores every year.
"This year is about fixing our existing assets, improving our restaurants and customer experience, as well as remodelling our technology, which combined will continue to drive growth," Azmir said.
The latest data filed with the Companies Commission of Malaysia showed that for the financial year ended Dec 31, 2013, Golden Arches posted a net profit of RM130.19 million on an RM1.25 billion revenue.