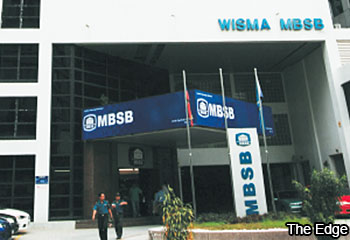 KUALA LUMPUR (Oct 1): RAM Ratings said the overall asset quality of Malaysia Building Society Bhd (MBSB) is still weak, despite having written off a large proportion of its legacy property portfolio.
In a press release, the credit ratings agency said MBSB's gross impaired financing ratio stood at 7.5% as at end-June 2014, while its credit-cost ratio for FY13 rose to 0.9%.
"MBSB's weak asset quality stems from its portfolio of mortgage financing, more than two thirds of which had been originated prior to the entry of the current management team," it said.
RAM added that regulations on personal financing that require more stringent underwriting criteria will compress its financing growth and earnings, although the company posted strong gross financing growth of 19% in 2013.
RAM also said MBSB's funding and liquidity profile remains constrained by the company's limited deposit gathering ability.
"This translated into a high financing-to-deposit ratio of 103.9% as at end-June 2014, and some level of depositor-concentration risk," said the agency.
Meanwhile, MBSB's recent rights issues had raised its tier-1 and total capital ratios to 10.3% and 11.4% respectively as at end-March 2014, albeit still below industry averages.
However, RAM expects MBSB's major shareholder, the Employee's Provident Fund (EPF) to provide financial support, should the need arise.
The agency has maintained its A2/-/P1/RW_Developing financial institution ratings on MBSB.
The company was put on Rating Watch with a developing outlook on July 14, 2014, after CIMB Group Holdings Bhd, RHB Capital Bhd and MBSB had obtained the central bank's approval to commence negotiations on the merger of their businesses.