This article first appeared in The Edge Malaysia Weekly, on May 13, 2019 - May 19, 2019.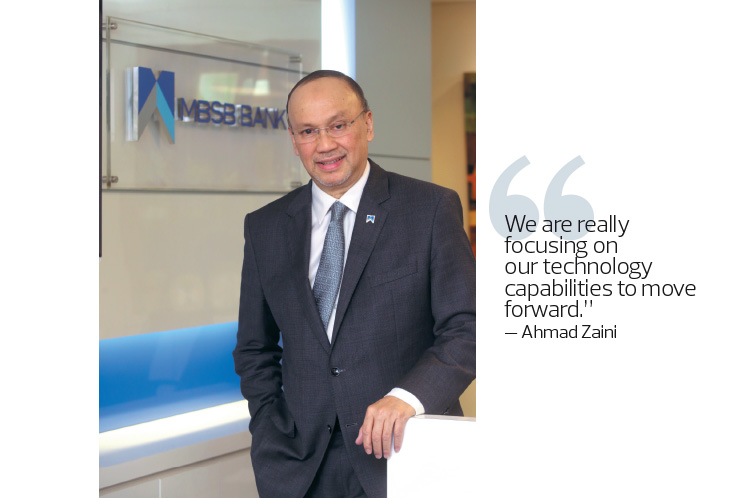 Photo by San Fong/The Edge
A fundraising exercise is on the cards for MBSB Bank Bhd. Just over a year since becoming a full-fledged Islamic bank, the lender is looking to grow its business further and boost capital.
According to CEO Datuk Seri Ahmad Zaini Othman, the bank is considering  undertaking a sukuk programme before the end of the year to raise up to RM10 billion in several tranches. It is currently in talks with investment banks.
"This is mainly for expansion of business — treasury and financing — and it will also help lift our net stable funding ratio and capital," he says in an interview with The Edge.
Recall that MBSB Bank — previously known as Malaysia Building Society Bhd — obtained an Islamic banking licence through its RM644.95 million acquisition of Asian Finance Bank in February last year. It started operating as a merged entity on April 2, 2018.
Islamic banking is highly competitive and, as the new kid on the block, MBSB Bank is under pressure to play catch-up with the more established players, especially in terms of digital capabilities, while also differentiating itself from the pack.
Ahmad Zaini is neverthless pleased with the progress the bank has made so far, particularly the speed at which it has built up its digital capabilities. Early on, the board had approved RM250 million for IT investments, which it is still in the process of spending.
"The last 12 months have been tough but very exciting. We put in place what other banks already have — we now have retail and corporate internet banking, cashline, debit cards, wealth management products and trade finance. Phone banking and cash management should be in place before the year ends. We are not doing credit cards as it is not part of our business model. We have hired good, experienced talent. So, it has been a busy time for us," he says.
Major events during the bank's first year of operations — the first change in government in about six decades last May and weaker global markets — did not derail its business plan. On the contrary, they worked in the bank's favour, he says.
"Actually, when there is deemed to be upheaval in terms of the markets, it is a good time to really set up your operational platform. If things were booming, we would be left so far behind. So, while banks were trying to figure out what's next, we were building up our infrastructure and platform, which worked out well ... it gave us time to do a lot of catching up. We have done things in record speed," he says.
The bank's biggest shareholders are the Employees Provident Fund (63.77%) and businessman Tan Sri Chua Ma Yu (8.14%).
Of the 22 initiatives outlined in MBSB Bank's business plan for the three years to 2020, it has already managed to cover 16, all of which are technology-oriented.
"From there, you can see that we are really focusing on our technology capabilities to move forward. The reason for that is simple — we have only got 44 branches, a lean number, which means we should be adopting a lot more technology-driven kind of initiatives. We plan to convert 16 into digital branches over a period of two years ... each branch will be manned by maybe five or six staff only," Ahmad Zaini says.
There are currently no plans to cut branches or the bank's 1,800 workforce as employees will be retrained for other roles, he says.
Mobile apps such as one relating to a referral management system (RMS) that it hopes to roll out soon, are among initiatives that will help set it apart from its rivals. "RMS is a system that allows us to reach out to our customers anywhere in the country, without branches. For example, if our marketing officer meets up with a customer, even in a remote area, he can channel the requirements of that customer through our network, so we can get in touch with the customer within 24 hours to enquire if he wants to pursue certain products and services," Ahmad Zaini says.
Without elaborating, he says the bank's 22 initiatives revolve around three broad areas — retention of the core business, going into new things such as trade finance and treasury activities, where it can draw fee-based income, and venturing into underserved markets. The last area involves, among other things, Islamic peer-to-peer financing, which it hopes to launch soon.
In particular, the bank is targeting to increase its fee-based activities to make up 35% of total income by end-2020, from about 15% now. "We will continue to do key businesses like personal financing (PF) and home mortagages, but we are pushing harder on businesses like trade finance — which we are rebranding — and treasury, trading, foreign exchange as well as industrial hire purchase (IHP)," he says.
Stable earnings ahead
With an asset size of RM45.42 billion as at end-2018, MBSB is the country's largest standalone Islamic bank after Bank Islam Malaysia Bhd (RM63.94 billion).
Last year, it reported a 54% increase in net profit to RM642.4 million, aided by a solid 82% drop in impairment allowances to RM115.9 million. About 95% of its income was derived from existing lines of business, with the remaining from new offerings like trade finance. Gross financing grew 2.8% to RM35.17 billion.
Ahmad Zaini says he expects earnings to be stable this year amid ongoing challenges, including from the impact of potentially higher expected credit losses under the MFRS 9 accounting standard.
The bank's net profit margin, at 3.06% last year, may come down by "a few basis points" this year, he adds.
He anticipates higher financing growth of about 5.5% this year. Gross impaired financing ratio — an indicator of asset quality — stood at 2.88% last year, above the industry average due mainly to legacy bad loans, and is likely to stay in that range this year, he says.
"In terms of asset quality, I am not worried about corporate loans as we are managing that quite well. But I will be keeping a watchful eye on retail loans ... we would be vulnerable if there is a spike in the number of government servants leaving employment. There has been some movement but we cannot establish a trend yet," he says.
PF, particularly to civil servants, makes up about 60% of MBSB Bank's financing portfolio. It is a safe segment for the bank — repayments are facilitated through an automatic monthly salary deduction system — unless the customer resigns or is laid off.
Ahmad Zaini aims for the bank's mix of retail and corporate assets, now at 72:18, to come in at about 60:40 by end-2020 as it looks to grow businesses like IHP further.
Analysts note that MBSB Bank is one of the least affected by Bank Negara Malaysia's move on May 7 to cut the overnight policy rate by 25 basis points to 3%, given that only 40.4% of its financing is pegged to the base rate — the lowest proportion among banks. As at last Thursday, the bank had not made any changes to its base rates.
MBSB Bank has no plans to embark on yet another merger anytime soon. "For now, I think the shareholders are quite happy with how we have transformed and are giving us space to find our own direction. We intend to be a premier Islamic bank over the next two to three years in terms of things like service and profitability," Ahmad Zaini says.
At 62, Ahmad Zaini, who has been MBSB's chief since 2009, will see his latest three-year contract come to an end next October. He is keen to retire, but this will ultimately depend on the board and shareholders, he says.
Bloomberg data shows that all three research houses that track MBSB Bank's stock have a "buy" call on it, with the average 12-month target price at RM1.21, suggesting a potential 23.5% upside from its closing price of 98 sen last Thursday. The stock has gained just 6.5% so far this year.