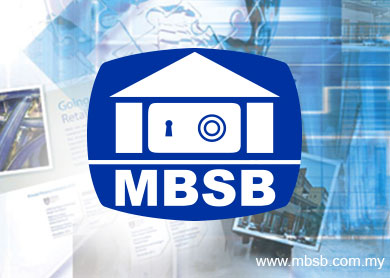 KUALA LUMPUR (Nov 3): Malaysia Building Society Bhd (MBSB), which is in a three-way merger to form a mega Islamic bank with CIMB Group Holdings Bhd (CIMB) and RHB Capital Bhd (RHBCap), saw its net profit for the third quarter ended Sept 30, 2014 (3QFY14) surge 45% on-year to RM192.37 million from RM132.72 million.
In an announcement to Bursa Malaysia this afternoon, MBSB said the higher profit was attributed to increase in its operating income from Islamic banking operations and conventional business, as well as lower allowances for impairment losses on loans, advances and financing. Revenue in 3QFY14 rose 5% on-year to RM678.99 million from RM644.03 million previously. However, earnings per share for the period fell 5.9% to 7.19 sen from 7.64 sen in 3QFY13.
For the cumulative nine months ended Sept 30, 2014 (9MFY14), MBSB saw its net profit grow 34% on-year to RM621.96 million from RM464.02 million, while revenue advanced 11% to RM2.02 billion from RM1.82 billion.
In a media statement accompanying the filing, MBSB president and chief executive officer Datuk Ahmad Zaini Othman said the group has maintained its growth momentum, by remaining focused in the expansion of corporate segment with total disbursement amounting to RM1.7 billion as at September this year. He noted that the group's corporate segment contributed 10.9% from the total gross loan and financing as at September 2014 as compared to 9.2% as at December 2013. The earnings from corporate segment were predominantly contributed by the property development sector.
On its tripartite merger with CIMB and RHBCap, he said MBSB will continue with its business growth plans and operational improvements in 2015 as these will only bring value to the new entity. "Being the smallest entity amongst the three with far less employees, a lot of our time and efforts will substantially be expended on the corporate exercise, nevertheless we shall ensure any impact on business is well managed and minimised," he said. As for its outlook, MBSB expects its 4QFY14 financial performance to be "satisfactory" as it foresee challenges in the operating environment.
"The group continues to strengthen its corporate and retail businesses, and other new business strategies in anticipation of expected challenges and changes in the operating environment to maintain its competitiveness. To meet these challenges, [the] group [will] continue to strive to improve operational workflows and assets quality based on risk management and compliance frameworks," MBSB added in its filing. Shares in MBSB have appreciated 17.19% or 38 sen year-to-date.
The stock has been on an upward trajectory since March, rising from RM2.11 on March 4 to RM2.59 as of 2.02pm today.